In this session, we take a deeper look into the most basic word we use to talk about our projects and our practice: "music".
About this event
In the third session of our Community music and ethics series, we take a deeper look into the most basic word we use to talk about our projects and our practice: "music".
We will think about questions like, What is "music" in your practice/projects? And, why does "music" help?
Based on her PhD research, Marion Haak-Schulenburg offers an exploration and a reflection of how we use the term "music" and how different discursive origins and traditions of thought can be found for the claims we make in regards to music's positive impact. Using the examples of two music projects based in Palestine, she traces how the idea of "music" and its positive effects shapes the reality of the projects and which unrecognized implications might be carried along.
Date: Thursday 6 May 2021
Location: ONLINE
The event will run from 2:00pm-3.30pm (BST) and 3:00pm - 4:00pm (CEST). We will open the room from 1.50pm to allow 10 minutes for set-up time, to say hello and to ensure a prompt start.
If you have any queries regarding this event please contact: Jo Gibson @ j.gibson1@yorksj.ac.uk
Events Access & Inclusivity
At York St John University we are committed to making our events as welcoming and inclusive for as many people as possible.
If you are planning to attend one of our events and have specific requirements, please contact us by either e: events@yorksj.ac.uk or t: 01904 876654 and we will make every effort to accommodate you. If you would like to use closed captioning please contact us as soon as possible. We will try our best but cannot guarantee provision.
Privacy Policy
York St John University will use the data you submit in Eventbrite for the purposes of administering this event. York St John University utilises third party software for data storage, tracking and analysis activity but your details will not be used by any of these third parties in order to contact you. Any data you share with us will be used to help us improve your event experience and for event tracking and analysis activity within the University.
We will only send you important information and reminders related to the event you have booked, unless you tell us otherwise. During the booking process, if you opt in to receive emails about the latest events hosted and supported by York St John University, you consent to York St John University contacting you with relevant information.
If you no longer wish to hear from us you can opt out at any time by changing your contact preferences via the link in emails you receive from us or by contacting us directly via E: events@yorksj.ac.uk or T: 01904 876654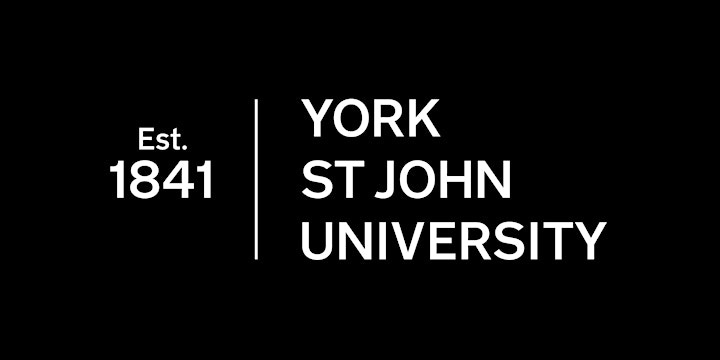 Organiser of ICCM Presents: Music? Exploration into terminology and its implications
York St John University was founded in 1841, born out of a socially conscious, ethical conviction in sharing education as a route to a fairer world. As a leading education, training and research institution in the heart of the historic city of York we serve a global campus of staff and students who thrive on academic excellence, graduate employability and a strong sense of community.