Ice Hockey RAIDERS vs BRACKNELL BEES - 18/03/18 - Sapphire Ice & Leisure RO...
Description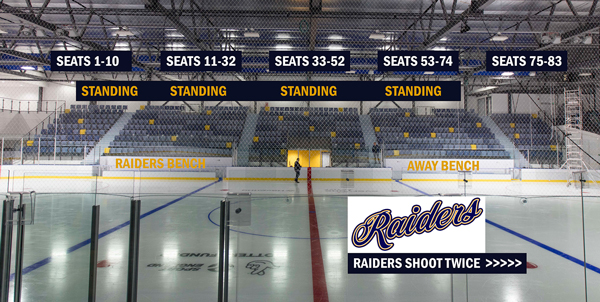 Raider face Bracknell in the second leg of the Play off tie! Raiders will want to secure their Play Off Spot with a home win!
~~~~~~WARNING~~~~~~~
Warning - this game will SELL OUT, so do not delay, get your tickets today for the first ever Play Off Game in the new Rink - vs BRACKNELL BEES
~~~~~~WARNING~~~~~~~
Make your way to the brand new Sapphire Ice and Leisure Centre in Romford as the Raiders as they take on their league rivals. Come on you Raiders!
This set to be an action-packed league game of ice hockey. Whether you're a seasoned Hockey fan or only just beginning to take an interest, this is guaranteed to be a whole puck-load of fun.
GRANSTAND SEATS - HOME FANS ONLY - RESERVED SEATING IS NOT IN PLACE FOR THIS GAME, SO GRANDSTAND SEATS ARE AVAILABLE TO HOME FANS ON A FIRST COME FIRST SERVED BASIS.

Away fans - seats are available if you arrive early. Please note that some of the the 3 rows of seats on the far side of the rink are restricted view but you are welcome to stand elsewhere in the rink if you decide to do so. These seats are unreserved and available on a first come first served basis, so arrive early.
Doors open at 4.30pm - Face Off is 5.15pm
All tickets are checked and ID may be requested if you are purchasing Concession or Child tickets. If you cannot produce ID you may not be admitted.
Enjoy the game!