Description
A rare opportunity to spend an evening in the company of renowned Icelandic author Arnaldur Indridason, who will be at Heffers on 18th May, talking to Quentin Bates about his latest crime novel, The Shadow District.
In wartime Reykjavik, a young woman is found strangled behind the National Theatre, a rough and dangerous area of the city known as 'the shadow district'. An Icelandic detective and a member of the American military police are on the trail of a brutal killer. The Present. A 90-year-old man is discovered dead on his bed, smothered with his own pillow. Konrad, a former detective now bored with retirement, finds newspaper cuttings in the dead man's home reporting the shadow district murder that date back to the second world war. It's a crime that Konrad remembers, having grown up in the same neighbourhood. A Missing Link. Why, after all this time, would an old crime resurface? Did the police arrest the wrong man? How are these cases linked across the decades? Will Konrad's link to the past help him solve the case and finally lay the ghosts of wartime Reykjavik to rest? The Shadow District is the First in a Major New Series of Novels from the Worldwide Bestseller Arnauldur Indrisason.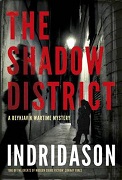 Tickets for the event are priced at £4 in advance and £5 on the door (inc VAT). They can be purchased through this page, by calling 01223 463200 or in person at Heffers bookshop. Please note that tickets are transferable but not refundable.