Description
Vision2020 is delighted to announce that we are organising an ICT/Virtual Reality event hosted by Laval Mayenne Technopole in Laval, France (2h west from Paris) as part of the Laval Virtual International Conference where more than 300 exhibitors and 20.000 visitors are expected. This event will focus on specific calls related to ICT and Virtual reality across the Horizon2020 Work Programmes.
AGENDA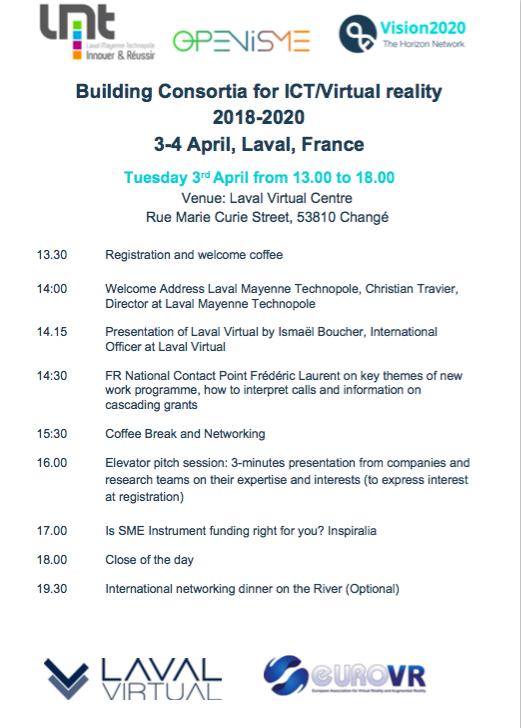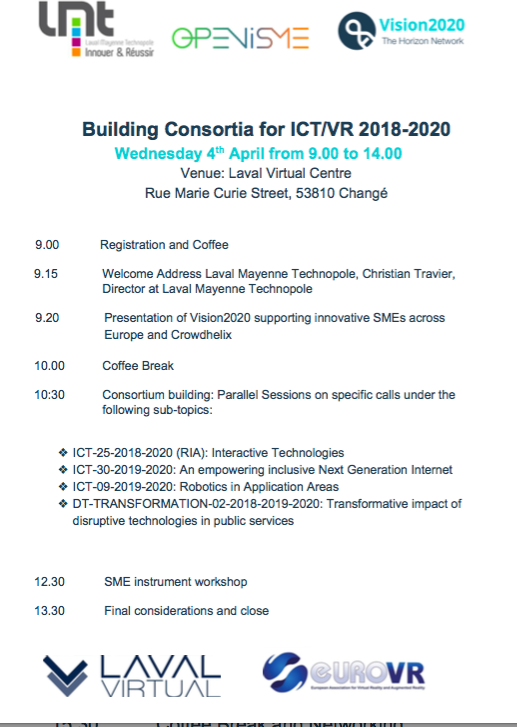 *** If you would like to attend the dinner on Tuesday 3rd, please register here and
Use this code to get a special price at 39€ :

Vision2020 ***




Since 1999, Laval Virtual is the number 1 event in Europe dedicated to Virtual and Augmented Reality (VR/AR) technologies and uses. 300 exhibitors 20,000 visitors are expected in 2018.

Uses of VR / AR are very large, and you will find application of these technologies in the following sectors : Industry, Heritage, Health, Training, Marketing, Culture, etc. If you are interested to attend the exhibition or for any information, please contact Valérie MOREAU valerie.moreau@laval-technopole.fr - phone : + 33 676 753 598

TECHNOLOGICAL AXES

Rendering

Interactivity

Content creation

Emerging Related Techs

TRAVEL INFORMATION
BY CAR
From Paris: 2 hours 30 minutes (Exit nr 3 on Motorway A81)
From Rennes: 1 hour
From Nantes: 2 hours
BY TRAIN
From Paris-Montparnasse : 1 hour 30 minutes
From Charles-de-Gaulle airport : 2 hours 30 minutes
From London : 4 hours 30 minutes
From Brussels : 5 hours

ACCOMMODATION
Make sure you book your accommodation as soon as you can, as the hotels in Laval tend to be pretty full during the Laval Virtual period.
You can book via your prefered website or on find hotels on : http://www.laval-tourisme.com/votre-sejour/ou-dormir/hotels#!/page/1
For any question / information, please contact
Valérie MOREAU valerie.moreau@laval-technopole.fr - phone : + 33 676 753 598 or Alexia Honore alexia@2020visionnetwork.eu
Organiser of ICT and Virtual reality Event
Crowdhelix is an Open Innovation platform connecting a network of universities, research organisations & companies across the world, so that together they can plan and deliver pioneering collaborative projects.
Shaped by themes mirroring the current challenges of the world, and the EU's "Horizon Europe" funding topics, our custom-built platform hosts 30+ technology clusters called "Helixes", in which users can post collaboration opportunities. Through this unique technology-driven platform Crowdhelix matches opportunities with suitable prospective collaborators across countries and disciplines.
With network members in over 50 countries around the world, Crowdhelix is open to applications from any organisation, of any size, anywhere in the world, that can demonstrate a strategic commitment to collaborative research and innovation, and would like to target funding from international programmes like #HorizonEurope.