Ideal Home Show at Christmas Singing Workshop (Thur 17th Nov @ 3.30pm)

Thursday, 17 November 2011 from 15:30 to 16:00 (GMT)
Event Details
Ideal Home Show at Christmas
Singing Workshop! 
Thursday 17th November @ 3.30pm

Visitors are welcome to this 30 minute Community Singing Workshop
www.TheVoiceBox.biz brings communities together with singing!
A little singing can help with your health & well being,

building vocal confidence within our community & encourage leadership.
Whether you want to prepare for the X Factor, improve your presentation & public speaking skills or want to improve your health & well-being, Aneesa Chaudhry's singing workshops can benefit you and your staff! Participants can learn to sing in 4-part harmony & improvise in less than 30 minutes!  Aneesa popular teaching style means, there's not too much thinking. She doesn't even like to think of it as singing but having a good time & feeling great!
You just have to feel the groove, enjoy the vibe and let yourself be YOU! The emphasis is on having fun, laughing and leaves participants simply wanting more!
Workshops typically consist of physical & vocal warm ups, exercises to develop your vocal confidence be it for speaking in public or at meetings, building confidence in a social setting or as a singer wanting to develop their technique and performance skills. Everyone has a go at everything from vocal & body percussion to Unison, harmony & solo singing & improvising! Sounds scary but you'll experience first hand, in a safe environment so many things you didn't know you can do!
Workshops are carefully tailored to suit the group and are suitable for small groups up to large corporate organisations be it for a Team Away Day, Workplace energizer, office choir and even private parties.
Participants are welcome to attend the

Community Singing Workshop & Concert
on
Wed 14th December
Time: 5-7pm
at
The London Lighthouse, 111-117 Lancaster Road, London, W11 1QT.
------------------------------------------------------------------------------

BOOK ANEESA TO COME TO YOUR GROUP

Aneesa will come to your group and run a singing workshop with you, your clients and your staff.
You'll choose a song of your own which you could perform at the event as well as learn a joint song which other groups across the Borough will also sing with you.
Aneesa will teach you some techniques for building vocal confidence and
work with participants to capture their stories. 
Contact Aneesa to book your session: aneesa@aneesachaudhry.com / 07957 395 293
Aneesa holds a current CRB Enhanced Disclosure so can work with children, vulnerable adults as well as local organisations. 
Please tell us of any groups you think might like to take part in the Kensington Community Project. Give contact Name, tel & Email
All Welcome!
Comments from the last workshop include:
Aneesa
Your workshop was quite magical.  Thank you very much.  It was absolutely fantastic to see you galvanising everyone into full voice – the great day was a great sound and all the soloists were really moving.  I loved it all and it was very energising and inspiring.  Thank you.  I would love to come to another.  You are a wonderful and inspiring teacher and  the whole things was truly impressive.       VB, RBKC
www.thevoicebox.biz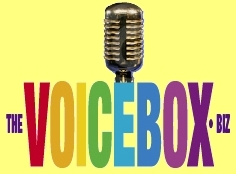 When & Where

Earls Court Exhibition Centre
Warwick Road
SW5 9TA


Thursday, 17 November 2011 from 15:30 to 16:00 (GMT)
Add to my calendar
Organiser
 Welcome from TheVoiceBox Director, Aneesa Chaudhry

TheVoiceBox was set up by Aneesa Chaudhry, a woman with a huge zest for life, all that it can offer & all that she can offer to it! Aneesa is a Professional Singer and 
Community Engagement Specialist. She works as a Vocal Coach, Team Building Facilitator & Event Manager and has a huge passion for helping people to make a BIG difference in their own lives and the lives of others. Having trained as a Barrister, Aneesa loves working with clients to improve their overall performances so that they can reach their full potential in both community settings, at work, in social settings and on the stage.  As an artist she tours internationally and making sure her audience have a fantastic time at her shows: (see www.reverbnation.com/aneesachaudhry).
What does the voice box offer?
For Singers
Vocal Coaching / Singing Workshops for individuals, groups & organisations / Performance coaching. Help with PA systems & set up, Microphone Technique, Repertoire selection for Gigs, Set List Preparations so musicians in your own band and other bands can do their best for you! Open Mic Support & Gig support

For Organisation Managers & Staff

Vocal Coaching to build vocal confidence and develop your public speaking and presentation skills
Encouraging & empowering clients to use their voices effectively to be heard. We work with clients to help them and their employees fulfill personal goals and improve their performance whether they are making important presentations to a board of directors or singing at professional gigs.
We also work with clients to fulfil the strategic objectives of their business plans and community engagement initiatives.  In particular we offer project management and workshop facilitation to build vocal confidence in a fun and inspiring way!
For further information contact Aneesa Chaudhry on aneesa@aneesachaudhry.com / 07957 395 293