iDISCOVER: AN INTRODUCTION TO E.I.P.

Wednesday, 9 July 2014 at 18:00

-

Thursday, 10 July 2014 at 20:30 (IDT)
Event Details
סדנאת הדגל של וואו טוקס בדרך לישראל.
...אנו מזמינים אותך לבוא ולגלות את עצמך מחדש
התוכנית תונחה על ידי גל שטיגליץ, מייסד וואו טוקס והינה בעלת שלוש מטרות עיקריות:
ראשית, היכרות חדשה, חדה ומעמיקה עם עצמך תוך לימוד מודל מקורי ומעשי להבנת טבע האדם.
שנית, בירור עמוק ופנימי בנוגע לנטיותיך הטבעיות בהקשר של כיוון מקצועי המותאם אליך ולמאפיניך האינדיבידואלים.
ושלישית, ניטרול מטענים רגשיים וחסמים בתקשורת בין אשית המונעים ממך להתמקד במה שאתה שחשוב לך באמת.
בראשונה ובשלישית נתמקד בפיילוט הקרוב
Practical Emotional Intelligence (E.I.P.) - אינטליגציה רגשית פרקטית
בתוכנית נעשה שימוש במתודולוגיות המבוססות על פילוסופיה פסיכולוגית חדשנית ומהפכנית המתמקדת בהגברת והטמעת האינטילגנציה הרגשית באופן מעשי ומיידי ושאלפים כבר התנסו בה בהצלחה במסגרת הסדנאות של וואו טוקס בלונדון.
אנו מעוניינים להביא את התכנים לישראל ולשם כך נוצר הפיילוט. כדי שנוכל להתאים את התכנים לתרבות המקומית בצורה מובנית והדרגתית.
הפיילוט מותאם גם לאנשים עם נסיון בתחום הטיפולי\ההתפתחות אישית וגם לאנשים ללא כל רקע
בתחום.
תוכנית:
יום ד 09.07 17:30 - 21:30 מבוא ומיפוי ערכים אישי
יום ה 10.07 08:30 - 20:30 תהליך דיסקוברי (EIP Model) קבוצתי\אישי
יום ב 14.07 20:00 - 21:00 וובינר סיכום
תוכנית הפיילוט מתומחרת במחיר סימלי לכיסוי הוצאות בסיסיות.
דמי ההשתתפות אינם כוללים אוכל או שתייה.
משתתפי הסדנא צריכים לתכנן את זמנם כך שיהיו נוכחים בה באופן מלא
מספר המקומות מוגבל ביותר אנו ממליצים להירשם בהקדם
גל (קשת) שטיגליץ הוא מומחה לאינטליגציה רגשית פרקטית ולמימוש פוטנציאל אישי\מקצועי. ב 2009 ייסד את וואו טוקס בלונדון עם החזון לספק השראה וכלים לאנשים ברחבי העולם ליצור חיים בהם הם מתפרנסים ממה שהם אוהבים. הוא משתמש בתהליכים ומתודולוגיות שהוא יצר על מנת לחסוך זמן ואנרגיה בפתרון קונפליקטים פנימיים ובין אישיים. גל עזר לאלפי אנשים לברר למצוא ולחדד את היעוד המקצועי שלהם לכיוון מספק ומעורר השראה. גל למד ולימד במשך עשור כמעט ביחד עם דוקטור ג'ון דמרטיני, מומחה בעל שם עולמי למדעי ההתנהגות. בימים אלו הוא מחלק את זמנו בין לונדון וישראל
אינטליגציה רגשית פרקטית- Emotional Intelligence Practicals (E.I.P.) - על המתודולוגיות
גל פיתח את המתודולוגיות כאמצעי להגברת האיניטיליגנציה הרגשית בשני רבדים פרקטיים האחד הגברת המודעות המיצוי והסיפוק ברמה האישית\מקצועית, והשני הגברת התקשורת והמודעות הבין אישית עם יכולת לפתרון קונפליקטים ומצבים רגשיים טעונים במהירות רבה. ייחודן של המתודולוגיות שהן עובדות במישור המודע אך בעזרת סדרה של שאלות ממוקדות, מכוונות ליצור קשר חזק וברור יותר בין המודע לתת מודע וליצור מבנה אישיות רציף ברור ועצמאי יותר ובכך הם בעצם מייצרות שינוי תפישתי התנהגותי עמוק וארוך טווח. המתודולוגיות מהוות זרז לתהליך צמיחה אישי ומאפשרות הכלה של מצבים רגשיים או בין אשיים שבעבר היוו אתגר אישי\רגשי עצום. יתרון מובהק של השימוש בהן הוא המהירות בהמתרחש שינו מובהק ויציב ומשתתפי הסדנא יחוו זאת בעצמם.
gal@stiglitz.com במידה ויש לכם שאלות או שתרצו הבהרות נא לפנות לגל ישירות באימייל
Discoveries - Re-Discover Yourself
Here is an opportunity to start a fresh new relationship with your self and the world.
Emotional intelligence is critical to managing our behavior, helping us move smoothly through social situations and make critical choices in our lives. This program will focus on how to accurately understand and manage our key powerful emotions by discovering fresh perspective which will alter the way we feel and behave towards others. It is a gold opportunity to start a new relationship with your self and the people that really matter to you. 
Day 1: 6pm - 9.30pm: Intro + Mapping your unique hierarchy of values. 
Day 2: 8.30am - 8.30pm: Discovery Process Part 1.
As a result of this 15 hours program you will:
Be able to me more focus and intentional with the things that really important to you

Become more present in your personal and professional life 

Improve your performance levels professionally

Become more effective in your communication

Increase your self awareness

Increase your self esteem and self value

Clear your emotional baggage and tension with other people
Based on an integration of Practical Mindfulness and the Quantum Collapse Process.
Students at the Program: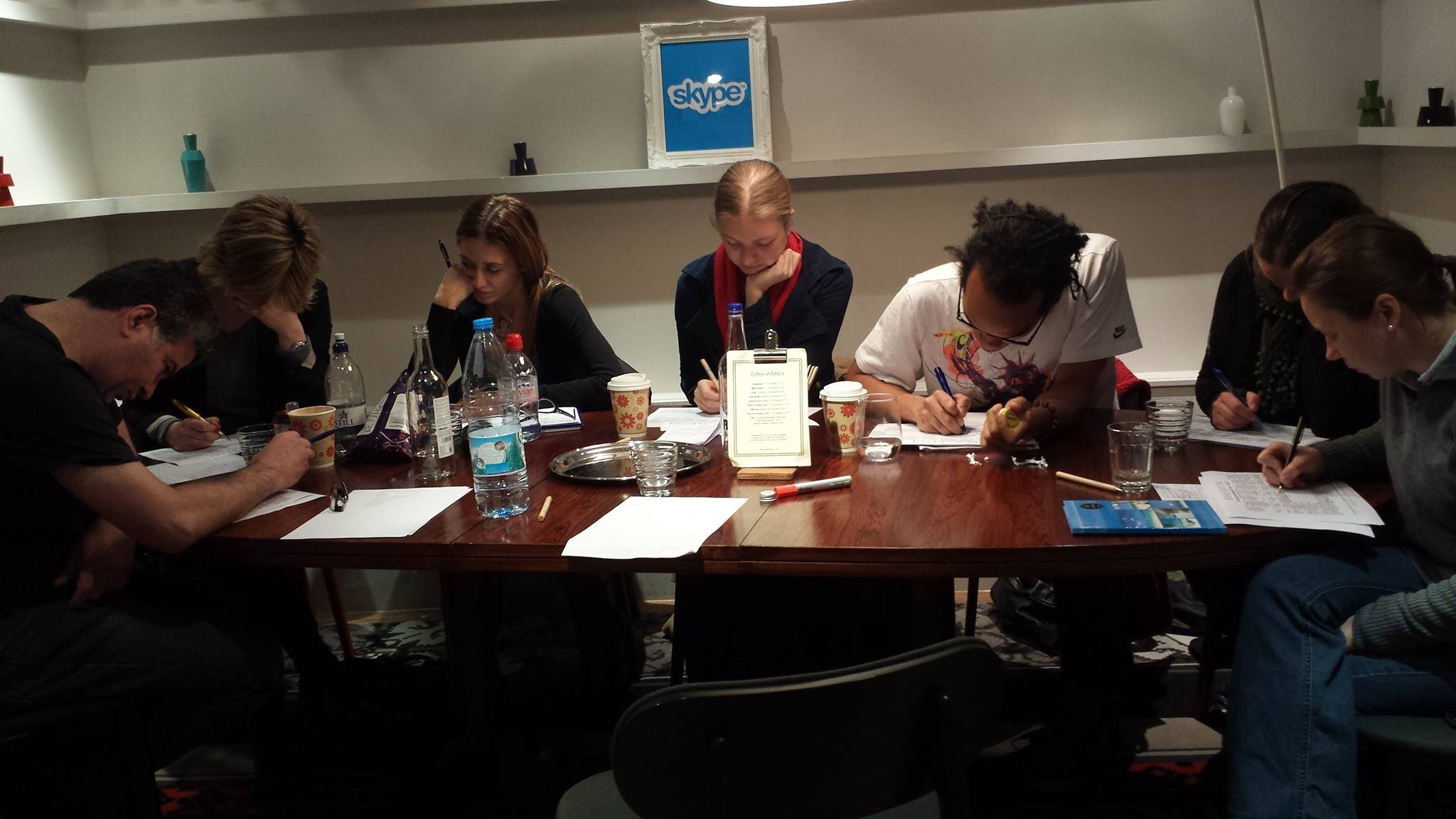 All of us carry emotional baggage, events or people in the past which have left us angry or upset. This can get the better of us, affecting our personal and professional lives negatively by trapping us in a perpetual cycle of repeated mistakes, causing us physical and mental anguish, and wasting valuable time and energy. It is important to clear the air, embracing all facets of our past, whether good or bad, as necessary parts of us that we can learn from. Only then can we move forwards, channeling this energy into something constructive. Problems are an unavoidable part of life and if we are to succeed, either personally or professionally, it is important we learn to face them head on, and turn them into opportunity.
In this program, you will go over the a pre-determined series of questions with the objective of assisting an individual feel certainty and gratitude. It is an intense process, but at the end of it you will feel inspired and relieved, ready to deal with problems in a constructive and creative manner. It opens the heart and clears the mind, allowing for mental and emotional balance regardless of the problems and circumstances we face. 
Testimonial:
'It was a real eye-opener. I was able not just to change my perception of pivotal events in my past which have caused a lot of pain, but to really embody the new understanding as well. I can recommend it as a truly great learning modality.'    
Ben Hewitt
Led by: Gal Stiglitz
Gal Stiglitz | Educator | Founder of WOW Talks | Gal worked with hundreds graduates and professionals, helping them to increase their emotional intelligence and define a fulfilling professional direction. He uses the Practical Emotional Intelligence  processes (P.E.I) he created to increase emotional intelligence, resolve conflicts, bring clarity and improve performance in a matter of hours. He is the founder of WOW Talks, an educational platform that inspires people to make a living by doing what they love. He now teaches Practical Emotional Intelligence with his flagship program 'Discoveries' around the world.
Have questions about DiSCOVERIES PART I: iPOWER: ENHANCE EMOTIONAL INTELLIGENCE & PERFORMANCE? 
Contact WOW TAL
When & Where

אכסנית בני דן
רחוב בני דן 36
צפון תל אביב - פארק הירקון
Tel Aviv-Yafo, Israel 62260


Wednesday, 9 July 2014 at 18:00

-

Thursday, 10 July 2014 at 20:30 (IDT)
Add to my calendar
Organiser
WOW TALKS
Inspiring people to make a living doing what they love
WOW Talks is a social enterprise that delivers engaging live events and digital content to inspire people to reconnect with their WHY – their purpose - so they can attain greater fulfilment in their professional lives. 
Using a unique format of multiple short talks, WOW Talks events create an insightful, entertaining and inspiring experience. The events feature people from different industries, cultures and disciplines who are committed to creating a life doing what they love most and who share their personal stories and Words of Wisdom (WOW).
iDISCOVER: AN INTRODUCTION TO E.I.P.