iDiversity in partnership with iansyst are hosting an Assistive Technology event in Edinburgh on the 4th November 2021.
About this event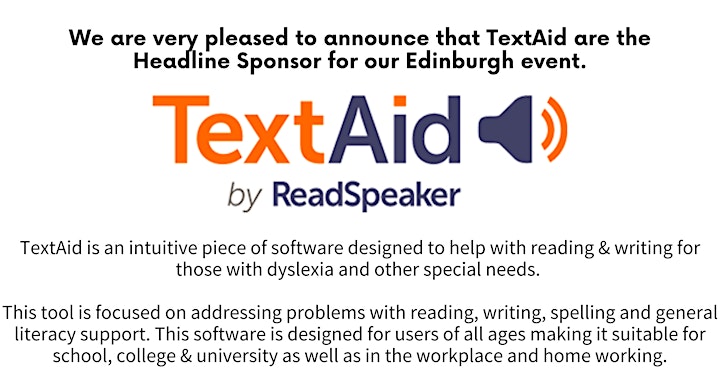 iDiversity Consulting in partnership with iansyst will be bringing together the very best Assistive Technology publishers to showcase new and innovating projects that follow a theme of supporting students through collaboration, inclusivity and accessibility.
Given the success of our previous two Scotland events, we have decided to run this large Assistive Technology Event to Needs Assessors and education staff at Murrayfield Rugby Stadium, set close to Edinburgh's city centre.
This event will hosted in a number of different suites at Murrayfield to offer extended exhibition space as well as seminar & workshop opportunities.
Event Agenda
9:00am - Event opens - Tea & Coffee
9:30am - Introduction from Gill Hudson and Jay Cochran, Iansyst Ltd & iDiversity Consulting
9:40am - Glean Presentation
10:00am - TextAid Presentation
People who need assistance with reading, understanding, annotating and storing documents would benefit from taking a look at TextAid. It works online so you can access all the tools from any device. Join Mary at Aventido to watch a demo.
10:30am - Headline presentation from Edinburgh University (Autism Presentation)
11:00am - Break - Tea & Coffee
11:20am - TextHelp Presentation
11:40am - Caption.Ed Presentation
12:00pm - LightKey Presentation
Focus On Your Ideas, Forget About Typos. Lightkey's AI-Powered spelling correction technology offers real-time suggestions for misspelled words. In addition to its built-in vocabularies, Lightkey will learn and offer spelling corrections based on your unique vocabulary.
12:20pm - Lunch [Sponsored by Iansyst] - Exhibition Area
1:00pm - Spellex Presentation
1:20pm - Lexable Presentation
1:40pm - Inspiration Presentation
2:00pm - Tea and Coffee - Exhibition Area
2:20pm - Claro Software Presentation
2:40pm - FindMyFlow Presentation
FindMyFlow; empowering students to build effective study habits using Assistive Technology and Study Skills. FindMyFlow takes a unique approach to engagement by focusing on the Student themselves. Rather than concentrate on a specific piece of AT and its functionality, we contextualise the AT by asking "What do you want to achieve, and what tools do you have at your disposal?"
3:00pm - Pro-Study Presentation
With blended learning set to become the new norm. Pro-Study and the newly released companion app Pro-Study Assist, collecting and organising study material has never been more accessible. Even for group work! Join Sam for a 20 minute demo showcasing this invaluable research tool.
3:20pm - End of presentations
3.45pm - End of event
About the Venue
Murrayfield Rugby Stadium in Edinburgh
This prestigious venue offers us a great amount of space, allowing us to accommodate our many exhibitors whilst maintaining social distancing standards. This event will hosted in a number of different suites at Murrayfield to offer extended exhibition space as well as seminar & workshop opportunities.
Murrayfield offers onsite parking, tram connections, easy access to the train station and is only a 20 minute drive from Edinburgh airport.
Organiser of iDiversity & Iansyst Assistive Technology Event in Edinburgh