IDS Conference: Power of Cooperation

Saturday, 1 March 2014 from 10:00 to 19:00 (GMT)
Event Details
We all hold an ideal of beco
ming those strong self-reliant and independent individuals that our society celebrates. We are preparing to survive in the world of competition which is often ruthless and takes no prisoners. But what happens when we come together? As a group, are we able to achieve ends that go beyond the scope of our individual self-interest? Is a group much more than an aggregation, and is there really anything such as synergy?
Let's get together and look for answers helping us to overcome the challenges of collective action, let's get inspired to re-enter our societies and seek innovative and collaborative solutions to the socioeconomic challenges we face together. Most importantly, let's get advice and guidance on how to do so!
The International Development Society at the University of Westminster will be hosting a one-day conference exploring various modes of cooperation with an aim to engage the participants in considering the potential of collective action to help us finding solutions to challenges in our communities. The conference is inspired by current development in world politics which has witnessed the grassroots level gained an increasingly prominent role while at the same time cooperative businesses have occupied an important space in global economy. We wish this event to inspire and encourage the participants to become engaged in the political life of their communities be it a university, workplace, borough or a country.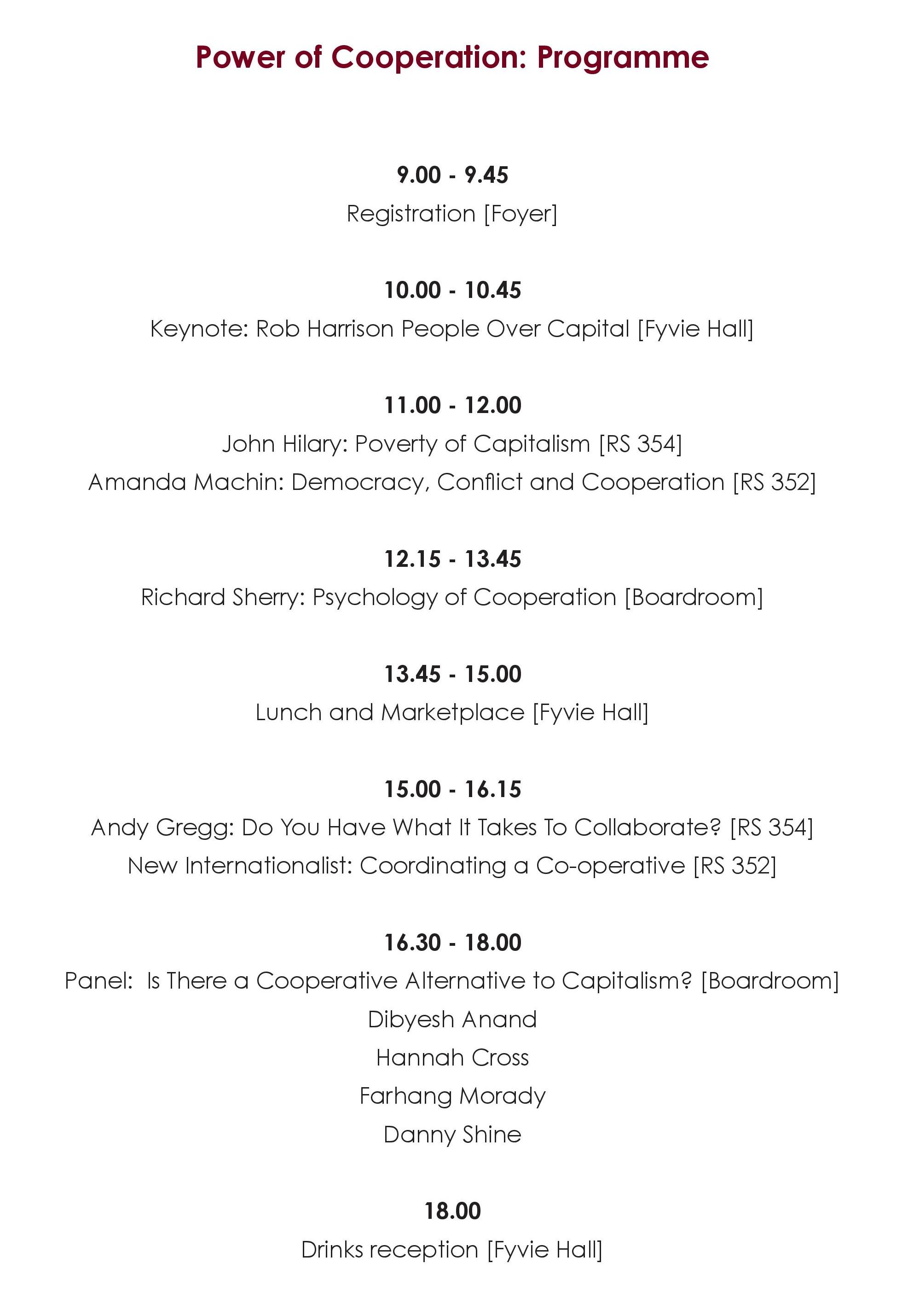 SPEAKERS:
Dibyesh Anand has been heading the Department of Politics and International Relations, University of Westminster since 2013. His publications are in the areas of Global Politics, Identities, Tibet, China, Hindu Nationalism, and Security. He is currently working on a book China's Tibet? and a research project on the Sino-Indian boundary dispute.
Hannah Cross is a Lecturer in International Relations at the University of Westminster. She has recently published a monograph titled 'Migrants, Borders and Global Capitalism: West African labour mobility and EU borders (Routledge 2013). She is also an editor of the Review of African Political Economy.
Andy Gregg is now the chief executive of Race on the Agenda, a social policy think tank that focuses on race equality. Having previously worked as a consultant with a number of voluntary organisations Andy Gregg was the chief executive of the Charities Evaluation Service between September 2010 and the summer of 2012, and before that held the same role at Lasa.
Rob Harrison is a founder and a director of the Ethical Consumer, magazine and website reporting on the social, ethical and environmental behaviour of companies. He has worked as a consultant to NGOs as well as the government and campaigned widely on the importance of facilitating of ethical consumption. He is also the editor of a recent book 'People Over Capital' published (2013).
John Hilary is Executive Director of War on Want. He has worked in the field of international development and human rights for the past 25 years and in 2013 was appointed Honorary Professor in the School of Politics and International Relations at the University of Nottingham. His new book 'The Poverty of Capitalism' was published by Pluto Press in October 2013.
Amanda Machin is a visiting lecturer in the Centre for the Study of Democracy at the University of Westminster. Her research is on democracy, identification and environment and she has recently published a monologue Negotiating Climate Change: Radical Democracy and the Illusions of Consensus (2013) with Zed Books. A new book, Nations and Democracy, will be published in 2014 by Routledge.
Farhang Morady is a Senior Lecturer in Globalisation and Development in the Department of Politics and International Relations. He pioneered the International Community Project, which is run by students in the Department of Politics and International Relations. This project has built links to a number of different ethnic communities in London, working closely on issues such as politics, power, democracy, diversity, gender and remittance.
New Internationalist is a workers' cooperative that exists to report on the issues of world poverty and inequality; to focus attention on the unjust relationship between the powerful and powerless worldwide; to debate and campaign for the radical changes necessary to meet the basic needs of all; and to bring to life the people, the ideas and the action in the fight for global justice.
Richard Sherry has worked for more than fifteen years treating aspects of psychological trauma. Within his work he has specialized in assessing and treating vulnerabilities in both individual and organisational systems and their interactions. His research focuses on the pervasive effects of stress and the impact this has across every aspect of neurobiological processing, including social functioning.
When & Where

Regent Campus
309 Regent St
W1B 2HW London
United Kingdom


Saturday, 1 March 2014 from 10:00 to 19:00 (GMT)
Add to my calendar
Organiser
The IDS is a thought-provoking society created by students for students, with the aim of offering anyone with an interest in international development an opportunity to discuss and debate issues within development in friendly environment and without preaching.