This panel will explore the role of values in positive futures for nature and humans, using the Arctic and coral reefs as examples.
About this event
NOTE: THIS EVENT WILL BE RECORDED. If you are unable to attend but would like a copy of the recording, please fill out the form here instead of registering for a ticket and we will send you the recording afterwards.
To access the event:(1) Go to the reminder email that you have been sent on the day of the event. (2) Scroll down until you are below the 'View the Event' button. This is where the Zoom invitation is. (3) Click on the link in the Zoom invitation. You will be taken directly to the Zoom call.
We look forward to seeing you soon!
-----
As a contribution to the UN Climate Conference (COP26), and in partnership with the Adora Foundation, the International Environment Forum invites you to participate in its 25th Annual Conference, November 1-5, 2021: Action on Climate Change: Multiple Paths to a Better Future, with panels covering the areas of Health, Biodiversity, Governance, Resilient Communities and Engineering. Below are the details for the Biodiversity panel.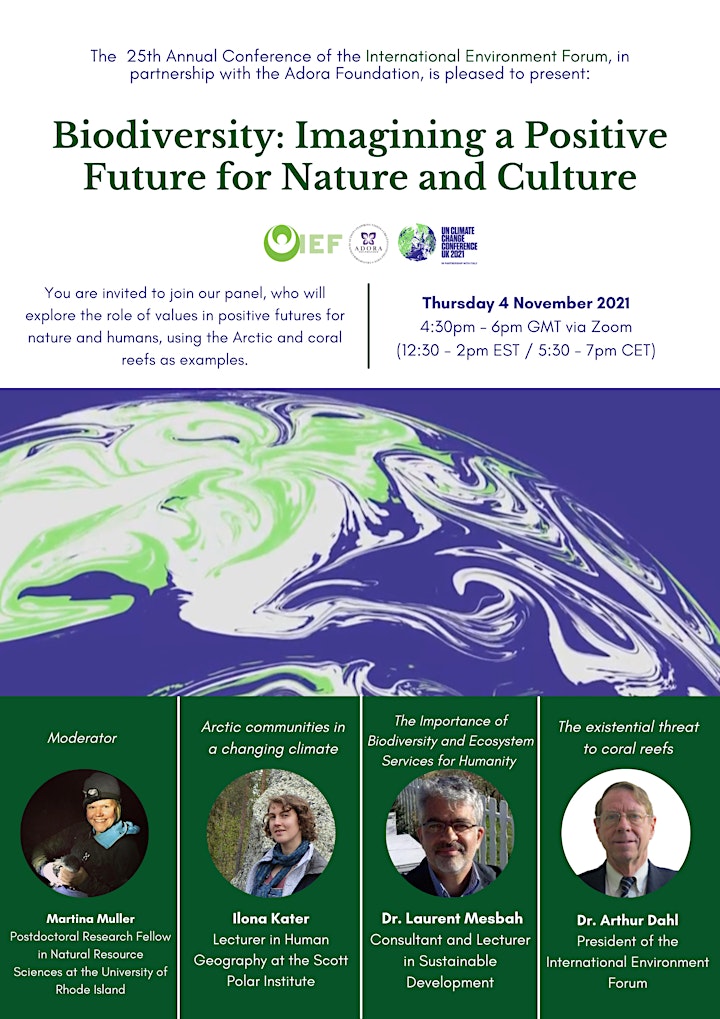 Biodiversity: Imagining a Positive Future for Nature and Culture
This panel will explore the role of values in positive futures for nature and humans, using the Arctic and coral reefs as examples.
----------
Arctic communities in a changing climate
Communities living in the Arctic have long had to pay careful attention to the environment around them in order to survive and thrive in this often harsh region. However, the rapid changes in climate being experienced today, along with a rapid shift in culture, is creating difficulties for these communities. In this talk we will explore how changes within the Arctic are affecting the people living there, why past methods of adaptation are struggling to keep up with this change, and how some new efforts in the region may prove to be an important model for the rest of the planet when we try to build a more sustainable world.
Ilona Kater is a lecturer in Human Geography at the Scott Polar Institute in Cambridge, and is completing a PhD in Arctic Ecology with the University of Durham. Her research examines how reindeer in Northern Europe are being impacted by changes in climate and the built environment around them, drawing on both scientific work and traditional ecological knowledge of indigenous Saami reindeer herders. She is fascinated by the complex relationship between humans and our environment, how different experiences and forms of knowledge can teach us much about the world around us, and how we can use this diversity of perspectives to build a better and more sustainable future.
----------
The importance of biodiversity for ecosystem services
Humanity has been blessed with many benefits from a large range of services provided by the rich diversity of natural systems on our planet earth. With a growing demography and increasing consumption habits, we have good reasons to worry about our sustainable use of these resources and services. The main question is therefore how to ensure a sustainable use of these ecosystem services. Action needs to take place at every level including the global, regional, national and local. We will discuss how the vision needed for a sustainable and prosperous future includes not just material progress but also the practice of essential spiritual values such as justice, respect, cooperation, moderation and wisdom.
Dr. Laurent Mesbah was born and grew up in France in a multicultural background. He did research and teaching in plant genetics at the free university in Amsterdam, the Netherlands, where he completed his PhD. In addition, Dr. Mesbah completed a certificate of advanced studies in Environmental Diplomacy at the University of Geneva and is a member of the International Environment Forum since its foundation in 1997, and a governing board member since 2017. Laurent Mesbah has been living in Bosnia and Herzegovina since 2000 with his family. He has been designing, managing, implementing and evaluating projects related to sustainable development with international organizations including with the United Nations, the European Union, IUCN, etc. Dr Mesbah develops and leads school and community educational gardens and environments. In addition he teaches environmental sciences, value based leadership, botany, plant physiology, and climate change at the university.
----------
The existential threat to coral reefs
Coral reefs, one of the most ancient, diverse and productive ecosystems on the planet, are in steep decline due to ocean heating and acidification, and only remnants may remain in a few decades, threatening the security and livelihoods of hundreds of millions of people in tropical coastal areas and islands. What do we need to do to save them?
Dr. Arthur Dahl is President of the International Environment Forum, and a coral reef ecologist who started monitoring long-term changes on reefs a half century ago. He dove on many of the world's great reefs before their decline began, and spent two weeks as an aquanaut living at the bottom of a coral reef. He chose the coral reef ecosystem as his research subject to try to understand unity in diversity as expressed in nature. His career was then devoted to building environmental cooperation at the regional and global levels. As a systems scientist, he now applies the same principles to the challenges of managing the global environment.
----------
Moderator
Martina Muller was born in Switzerland, grew up and studied in the US and then moved to Europe for her PhD at the University of Groningen in the Netherlands. She has conducted field research on the behavioral eco-physiology of seabirds in the Galapagos Islands, Peru, Patagonia, arctic Norway, Iceland, islands in the Mediterranean and the sea of Japan. In the past four years she has increasingly become involved in advocacy and education surrounding climate change in Rhode Island (USA), where she currently lives. She is a board member of Rhode Island Interfaith Power & Light, and 350+ Rhode Island.
Organiser of IEF Conference Panel (COP26): Biodiversity: Imagining A Positive Future
The Adora Foundation works with individuals, communities and networks to address social problems and achieve positive change.  We rigorously incubate, replicate and scale up projects and initiatives in a wide range of fields, from environmental sustainability to suicide prevention, in local neighbourhoods, nationally and on the global stage.
Our expertise focuses on the cross-cutting factor of motivation: how to inspire attitude and behaviour change in individuals, build relationships across divides, and mobilise collective action.  Combining social research, arts and technology we generate inspirational vision, creative connection and transformational action across a maximum diversity of people. We use each project to generate evidence, methods and models to influence policy and practice.
For more information see www.adorafoundation.org