Technology can either accelerate climate change or mitigate it - our panel will discuss how engineers can make the right decisions.
About this event
NOTE: THIS EVENT WILL BE RECORDED. If you are unable to attend but would like a copy of the recording, please fill out the form here instead of registering for a ticket and we will send you the recording afterwards.
To access the event:(1) Go to the reminder email that you have been sent on the day of the event. (2) Scroll down until you are below the 'View the Event' button. This is where the Zoom invitation is. (3) Click on the link in the Zoom invitation. You will be taken directly to the Zoom call.
We look forward to seeing you soon!
-----
As a contribution to the UN Climate Conference (COP26), and in partnership with the Adora Foundation, the International Environment Forum invites you to participate in its 25th Annual Conference, November 1-5, 2021: Action on Climate Change: Multiple Paths to a Better Future, with panels covering the areas of Health, Biodiversity, Governance, Resilient Communities and Engineering. Below are the details for the Engineering panel.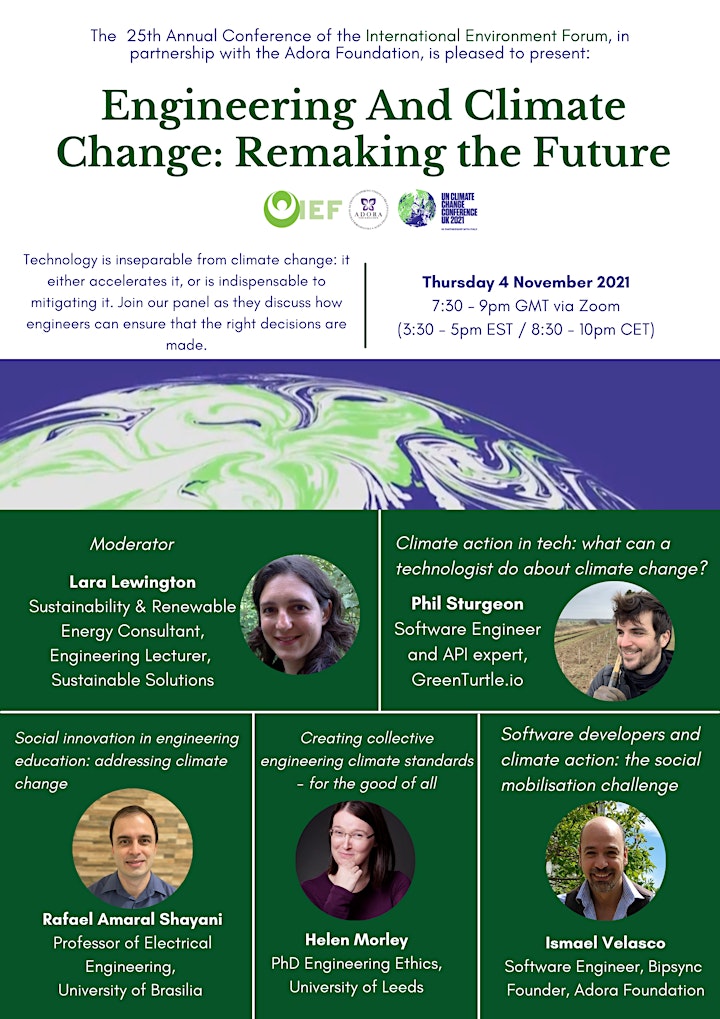 Engineering And Climate Change: Remaking the Future Panel Programme
Technology is inseparable from climate change: it either accelerates it, or is indispensable to mitigating it. The difference lies in great measure in the choices engineers make. How do we ensure we make the right ones?
------
Climate action in tech: what can a technologist do about climate change?
This talk will present a roadmap to climate actions every engineer can take to make a difference, and offer an overview of resources and web technologies one can use to achieve impact.
Phil Sturgeon (https://philsturgeon.com), works on reforestation with Protect Earth (www.protect.earth), matching land owners and non-traditional funding streams to scale up reforestation and rewilding around the UK; using APIs and software to track, maintain, and fund the tree planting. Phil also works on "Green Tech" software solutions with Green Turtle (https://www.greenturtle.io), teaching folks to reduce the carbon footprint of APIs and system architecture.
------
Social innovation in engineering education: addressing climate change
University programs need to be modernized to align themselves with the global effort to reduce greenhouse gas emissions. Students graduating from universities need to acquire new capabilities for social innovation to deal with climate change.
Dr. Rafael Amaral Shayani, IEF member, has an electrical engineering degree with a focus on power, energy and electrical systems.. He obtained his MS and PhD in photovoltaic solar energy. He is Professor of Electrical Engineering at University of Brasilia, Brazil, and his research focuses on renewable energy, energy transition and engineering education.
------
Creating collective engineering climate standards - for the good of all
Climate change is an engineering challenge. Engineers training today will see changes in agriculture, land use, civil planning requirements, water availability and mass human migration as the scale of the climate crisis becomes manifest. Engineering is fundamentally an enabling activity. It enables individuals, companies and communities to do this that would be beyond impossible without the skills and practices that engineers bring. With this vital role, comes an equally important responsibility to ask "what should we enable?" Since many of the causes of climate change have been enabled by engineers, it is now more important than ever that we take stock of the role of the engineering profession on the wellbeing of humanity and the common global home.
Dr Helen Morley started as an electronic engineer before pursuing a PhD in Engineering Ethics at the University of Leeds, UK. Her work has included teaching ethics to engineers, working with Engineers Without Borders and co-organising an ethics and climate change event with the Royal Academy of Engineers. Her research focused on understanding how engineers can be supported in making ethical decisions. In 2017 she co-authored a paper on engineering ethics and climate change.
------
Software developers and climate action: the social mobilisation challenge
As an industry, software development is brimming with altruistic professionals with strong ethical orientations and a desire to be of service. At the same time, the software industry provides the enabling tissue that makes the degradation of our environment possible and aggravates the polarisation of our societies. How can we harness the collective altruism and strategic position of software engineers for climate action? How do we coordinate for maximum impact? Where do global institutions fit? Can we aggregate into a net force for good?
Ismael Velasco is a Software Engineer building web applications in sectors including education, fintech, mental health and the public sector. His initiative for crowd sourcing resources during the peak of the pandemic won the Global Hack prize for Solidarity and Empowerment out of 1000+ projects entered by 10,000 innovators. He founded the Adora Foundation in 2012 and has worked in 20+ countries in the areas of sustainability, resilience education and values and behaviour change.
------
Moderator
Lara Lewington is a sustainability specialist in engineering for international development, renewable energy and appropriate technology for climate change mitigation. Lara's work focuses on energy & carbon reduction and retrofitting, and fuel-poverty alleviation in the UK and the Global South. She also brings a broad range of experience in engineering education, with over 25 years working with organisations including Engineers Without Borders UK, both the Universities of Sussex and of Brighton, and the Royal Academy of Engineering.
Organiser of IEF Conference Panel (COP26): Climate Change: Engineering the Future
The Adora Foundation works with individuals, communities and networks to address social problems and achieve positive change.  We rigorously incubate, replicate and scale up projects and initiatives in a wide range of fields, from environmental sustainability to suicide prevention, in local neighbourhoods, nationally and on the global stage.
Our expertise focuses on the cross-cutting factor of motivation: how to inspire attitude and behaviour change in individuals, build relationships across divides, and mobilise collective action.  Combining social research, arts and technology we generate inspirational vision, creative connection and transformational action across a maximum diversity of people. We use each project to generate evidence, methods and models to influence policy and practice.
For more information see www.adorafoundation.org