In this panel we'll explore strategies concerning transport systems, disaster preparedness and response, and unity building in communities.
About this event
NOTE: THIS EVENT WILL BE RECORDED. If you are unable to attend but would like a copy of the recording, please fill out the form here instead of registering for a ticket and we will send you the recording afterwards.
To access the event:(1) Go to the reminder email that you have been sent on the day of the event. (2) Scroll down until you are below the 'View the Event' button. This is where the Zoom invitation is. (3) Click on the link in the Zoom invitation. You will be taken directly to the Zoom call.
We look forward to seeing you soon!
-----
As a contribution to the UN Climate Conference (COP26), and in partnership with the Adora Foundation, the International Environment Forum invites you to participate in its 25th Annual Conference, November 1-5, 2021: Action on Climate Change: Multiple Paths to a Better Future, with panels covering the areas of Health, Biodiversity, Governance, Resilient Communities and Engineering. Below are the details for the Resilient Communities panel.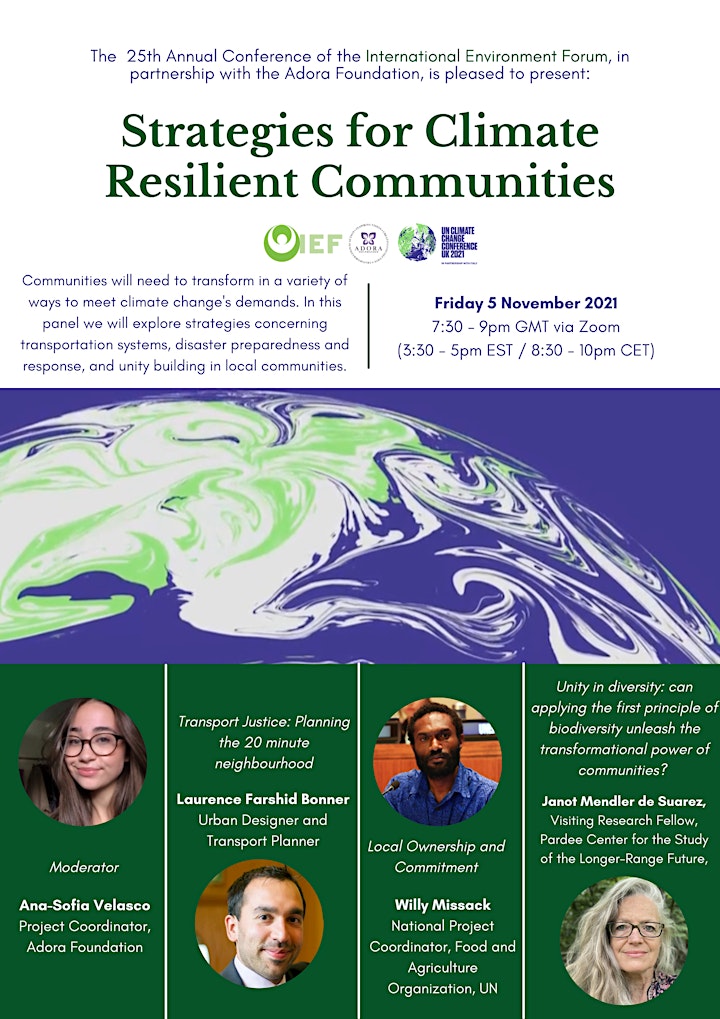 Strategies for Climate Resilient Communities
Communities worldwide will need to transform in a wide variety of ways in order to meet the demands of climate change. In this panel we will explore strategies concerning transportation systems, disaster preparedness and response, and unity building in local communities
----------
Transport Justice
Planning the 20 minute neighbourhood, and the role of walking, wheeling, and cycling in creating a more accessible transport system. My work is primarily concerned with the spatial reorganisation of cities and towns, supporting local governments to reallocate space in favour of walking, wheeling, cycling and public transport/transit, enabling more resilient communities and neighbourhoods.
Laurence Farshid Bonner is an urban designer and a transport planner working in the UK, Laurence designs and delivers transport infrastructure projects to create more people friendly environments which are healthier, more accessible and efficient.
----------
Local ownership and commitment
This talk will explore community building capacities to allow a population to make use of external resources in ways that recognize their own abilities and do not create dependency.
Willy Missack is a National Project Coordinator of the Ecosystem Restoration and Sustainable Land Management in Tongoa Island in Vanuatu; He is Advisor to the Vanuatu Climate Action Network secretariat working with community based organisations (CBO) and Vanuatu's Negotiator on Loss and Damage. Willy was presented with a Queen's Young Leaders Award in 2015 for his work to create a sustainable water supply in his community. His project expanded across the island and empowered young people to focus on water projects and to contribute to sustainability.
----------
Unity in diversity - can applying the first principle of biodiversity unleash the transformational power of communities?
Insight on community-driven clean water from a psychologist in the Dominican Republic. Questioning gender assumptions with community resilience animators in Mali. Leapfrogging linear learning in Togo. What I've learned about how change actually happens: the importance of linking knowledge -> volition -> action -> serious games. Cultivating co-learning and how humor can open difficult conversations and help bridge differences. How does community resilience take root? Cultivating connections - relationships as infrastructure; building collective intelligence; communities as self-organizing systems.
Janot Mendler de Suarez is a Visiting Research Fellow with Boston University's Pardee Center for the Study of the Longer-Range Future, consults with the World Bank Caribbean CREWS initiative on Climate Risk Early Warning Services, co-develops arts-infused global Anti-Racism trainings with the Social, Sustainability and Inclusion unit, and is co-designing Hurricane Hurry, a virtual Disaster Risk Financing game with a Caribbean technical support team. As a Technical Advisor with the Red Cross Red Crescent Climate Centre, Janot has helped conduct conflict zone climate screenings in West Africa with the International Committee of the Red Cross, and in the Caribbean. She supports a dengue risk forecasting pilot and is forging links between social protection and climate resilience at the river basin scale. An expert facilitator and climate policy advisor, she is a recognized innovator in bridging art and science, through data visualization, the use of serious games for co-learning, and collaborative multi-stakeholder consultations. Janot piloted the first internet-mediated MSc program targeting developing country students while Senior Lecturer in Geography at Royal Holloway University of London, spent over a decade developing the Global Environment Facility's International Waters knowledge-sharing platform, GEF-IW:LEARN, and has worked in over 75 countries. With the Metro Boston Race Amity taskforce she helped to establish Massachusetts Race Amity Day, and currently serves as a member of her municipal Human Rights, Diversity, Equity and Inclusion Committee and Town Administrator's Racial Justice Advisory working group.
----------
Moderator
Ana-Sofia Velasco is a recent graduate from the University of Leeds in Philosophy, Politics and Economics. She is a disability campaigner for Scope, and a Projects Coordinator for Adora Foundation, a social impact organisation. Ana-Sofia is a deaf youth advocate for various social justice issues, including climate justice, equity for marginalised groups, disability representation, and the reform of the criminal justice system, campaigning for Climate Youth Strikes, Black Lives Matter, and Disability History Month, to name a few. Disability & Academia, Living at the Intersection: Disability, Race & Gender, and Women in Conversation Leeds: Our Bodies, Our Selves, are some of the events that she has hosted throughout her time at university. She is a British Mexican who is currently based in Bath, having grown up across Tenerife and the UK.