Paris commitments are voluntary and implementation inadequate. Strengthened mechanisms of global climate governance are needed.
About this event
Please note that this is the registration page for the IN-PERSON attendance of the hybrid event. If you wish to attend the ONLINE version of the event, please click here.
As a contribution to the UN Climate Conference (COP26), and in partnership with the Adora Foundation, the International Environment Forum invites you to participate in its 25th Annual Conference, November 1-5, 2021: Action on Climate Change: Multiple Paths to a Better Future, with panels covering the areas of Health, Biodiversity, Governance, Resilient Communities and Engineering. Below are the details for the Governance panel.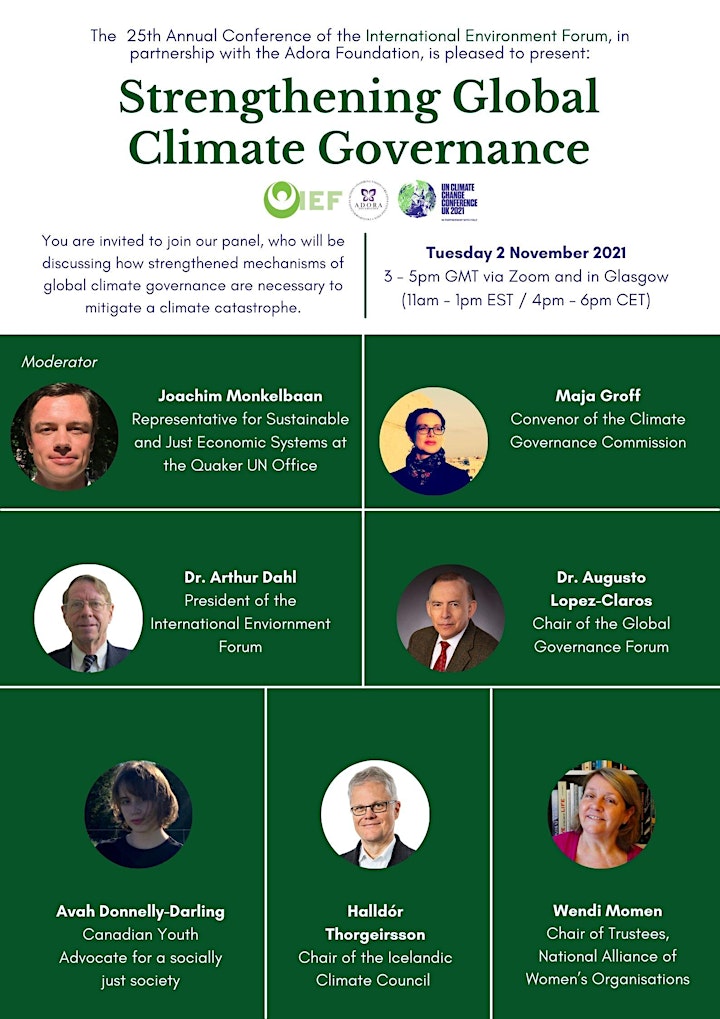 STRENGTHENING GLOBAL CLIMATE GOVERNANCE PANEL PROGRAMME
While the 2015 Paris Agreement set important targets for climate change mitigation and adaptation, commitments are voluntary and implementation has fallen far short. Strengthened mechanisms of global climate governance are necessary to avoid or at least mitigate a climate catastrophe.
----------
Highlights from the interim report of the Climate Governance Commission, "Governing our Climate Future"
Highlights of its key proposals and approaches to catalyzing greater climate action, in line with the Paris Agreement, worldwide.
Maja Groff is an international lawyer based in The Hague, and is a Convenor of the Climate Governance Commission, which seeks to propose high impact global governance innovations adequate to meet the climate challenge. She has assisted with the development and servicing of multilateral treaties for more than a decade, also working at various international criminal tribunals (ICTY, STL), teaching at the Hague Academy of International Law and is currently a Visiting Professor/Scholar at Leiden University, Faculty of Governance and Global Affairs. She has worked on a wide range of existing and potential global treaties addressing contemporary human rights issues and cross-border legal cooperation, including the pioneering International Hague Network of Judges. She has conducted extensive liaison work with international organisations, international professional associations, NGOs and has played a key role in the convening of international legal expert groups for the purpose of developing new international legal norms. She has drafted a wide range of international legal policy documents and published academically on private and public international law, human rights and global governance. She holds degrees from McGill (civil law and common law), Oxford and Harvard Universities, and is an attorney admitted to practice in the state of New York, formerly working in corporate law. She has served on the International Law and UN Committees of the New York City Bar Association, and the (Advisory) Boards of BCorp Europe and ebbf, organisations devoted to ethical business. She was a co-winner of the 2018 New Shape Prize for global governance innovation, and is a co-author of the 2020 book, Global Governance and the Emergence of Global Institutions for the 21st Century.
----------
Bringing environmental governance to the global level
The climate emergency, the collapse of biodiversity, contamination with pollutants, and other environmental threats are planetary in nature, and can only be governed at the global level. No country is protected from their impacts. Only global cooperation, with governance mechanisms for legislation, implementation and judicial review, will enable us to act fast enough to avoid an environmental catastrophe. This could take the form of a Global Environment Agency.
Dr. Arthur Lyon Dahl is President of the International Environment Forum, on the Advisory Board of the Global Governance Forum, and a retired Deputy Assistant Executive Director of the United Nations Environment Programme, with 50 years' experience in international organisations, including representing the Baha'i International Community at the 1972 Stockholm Conference on the Human Environment, and serving in the secretariat for the 1992 UN Conference on Environment and Development (Rio Earth Summit). He spent many years in the South Pacific and organised the Secretariat of the Pacific Regional Environment Programme (SPREP). With two colleagues, he won the New Shape Prize of the Global Challenges Foundation in 2018 for proposals on UN reform, and their book "Global Governance and the Emergence of Global Institutions for the 21st Century" has been published by Cambridge University Press.
----------
Financing Instruments for Climate Change Mitigation and Adaptation
Drawing from Dr. Lopez-Claros'' recent paper: "Financing Instruments for Climate Change Mitigation and Adaptation". He will discuss half a dozen mechanisms which could be used not only to shift incentives to facilitate the transition to a renewable energy economy but also to raise the revenues, in the trillions of dollars, which will be necessary to successfully finance that transition.
Dr. Augusto Lopez-Claros is Chair of the Global Governance Forum. He has held senior positions at the International Monetary Fund, the World Economic Forum and the World Bank, where he was Director of the Global Indicators Group. He has a Ph.D. in Economics from Duke University and a Diploma in Mathematical Statistics from Cambridge University. He has lectured and published widely; his book (with Arthur Dahl and Maja Groff) Global Governance and the Emergence of Global Institutions for the 21st Century was published by Cambridge University Press in 2020.
----------
Bringing the global home: How to achieve cohesion between global and national governance
Dr. Thorgeirsson explores how cohesion needs to be and can be created between global and national governance through empowerment of national change agents. In that context he also explores the potential role of national advisory climate councils.
Halldór Thorgeirsson is currently the Chair of the Icelandic Climate Council. He served in strategic positions at the UN Climate Change Secretariat from 2004-2018 which included managing substantive support to negotiations resulting in the transformation in global climate governance with the Paris Agreement in 2015. Prior to that he was a climate negotiator for Iceland. He holds a PhD in plant ecophysiology and has conducted research on ecosystem restoration with focus on carbon and nutrients.
----------
SDGs 5 + 13: Women and Girls + Climate Action
This presentation will look at the intersection of Sustainable Development Goal #5, Gender equality and women's empowerment; and Sustainable Development Goal #13, Climate change, and how progress toward both is closely related.
Dr. Wendi Momen is a social activist and advocate, focusing on a cluster of issues that promote social justice: the advancement of women, poverty eradication, health, criminal justice, interfaith harmony, housing, the environment and business ethics. She is chair of Trustees of the National Alliance of Women's Organisations, a Trustee and secretary of Widows Rights International, and Executive Board member of the UK Civil Society Women's Alliance. The author of 13 books, she holds a PhD in International Relations from the London School of Economics, where she is a Governor. She is a member of the National Spiritual Assembly of the Bahá'ís of the UK, and serves as a Governing Board member of Ethical Business Building the Future (ebbf) and of the International Environment Forum.
----------
A Change in Thinking: A Youth Perspective on the Future of Global Governance
Avah will offer her and other youth's views and opinions on how we can reform the institutions and basic ethics of our world, and move towards a more just and unified society.
Avah Darling-Donnelly is a high school student from Canada who is trying her best to direct her future towards the service of humanity. She has come into contact with the most incredible people, who have taught her about this concept of global solutions in order to handle global issues.
----------
Moderator
Dr. Joachim Monkelbaan is Representative for Sustainable and Just Economic Systems at the Quaker United Nations Office (QUNO) in Geneva. He lectures on sustainability governance at International University in Geneva. Previously, Joachim has worked with organizations such as UNEP (Economics and Trade Branch), the International Union for Conservation of Nature (IUCN), the International Centre for Trade and Sustainable Development (ICTSD), WHO, and Climate-KIC. He led several Sustainability Impact Assessments of trade agreements for the European Commission (DG Trade). Joachim's book on governance for the Sustainable Development Goals (SDGs) is available now. He holds a Ph.D in governance for sustainable development from the University of Geneva and Master's Degrees in international law and economics from the World Trade Institute and Maastricht University.
Organiser of IEF Conference Panel (COP26): Strengthening Global Climate Governance
The Adora Foundation works with individuals, communities and networks to address social problems and achieve positive change.  We rigorously incubate, replicate and scale up projects and initiatives in a wide range of fields, from environmental sustainability to suicide prevention, in local neighbourhoods, nationally and on the global stage.
Our expertise focuses on the cross-cutting factor of motivation: how to inspire attitude and behaviour change in individuals, build relationships across divides, and mobilise collective action.  Combining social research, arts and technology we generate inspirational vision, creative connection and transformational action across a maximum diversity of people. We use each project to generate evidence, methods and models to influence policy and practice.
For more information see www.adorafoundation.org