Climate change and health are tightly linked. This panel will explore how climate change factors inequitably impact health outcomes.
About this event
NOTE: THIS EVENT WILL BE RECORDED. If you are unable to attend but would like a copy of the recording, please fill out the form here instead of registering for a ticket and we will send you the recording afterwards.
To access the event:(1) Go to the reminder email that you have been sent on the day of the event. (2) Scroll down until you are below the 'View the Event' button. This is where the Zoom invitation is. (3) Click on the link in the Zoom invitation. You will be taken directly to the Zoom call.
We look forward to seeing you soon!
-------
As a contribution to the UN Climate Conference (COP26), and in partnership with the Adora Foundation, the International Environment Forum invites you to participate in its 25th Annual Conference, November 1-5, 2021: Action on Climate Change: Multiple Paths to a Better Future, with panels covering the areas of Health, Biodiversity, Governance, Resilient Communities and Engineering. Below are the details for the Health panel.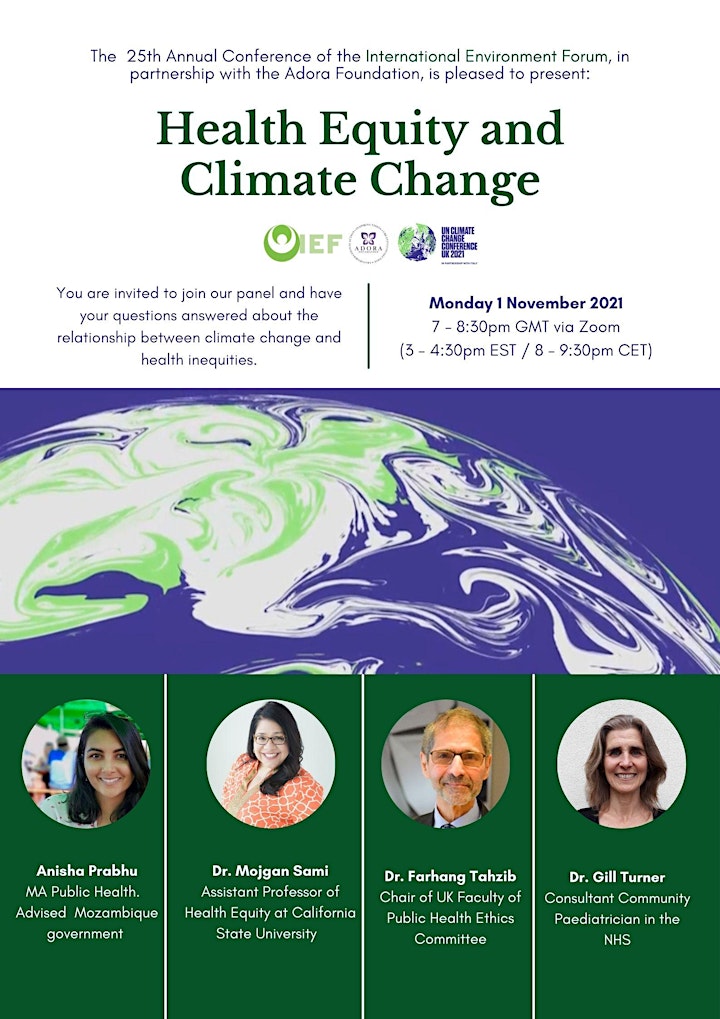 HEALTH EQUITY AND CLIMATE CHANGE PANEL PROGRAMME
The relationship between climate change, health and equity is tightly linked and one cannot talk about climate change without mentioning the other two. In this panel we will discuss how many factors that lead to climate change are often the same that impact health inequities.
--------
A planetary perspective of health and climate change in the 21st century
Every age has its challenges. The challenges of the 21st century are much more global in nature, from the COVID-19 pandemic to climate change, and demand much broader visions than previously conceived in former centuries. The institutions and systems of the 21st century do not meet the needs and exigencies of an increasingly interdependent global society that is suffering the consequences of ecological destruction, which impact population health and wellbeing. A planetary perspective for the challenges of the 21st century may provide a conceptual framework for action towards a world that is healthier, more just and equitable in the 21st century.
Dr. Mojgan (Mo) Sami is an Assistant Professor of Health Equity at California State University Fullerton (CSUF) where she investigates the links between the built environment, global health and climate justice. Prior to joining CSUF, Dr. Sami worked for the World Health Organization and the World Bank and is a current member of IEF and the International Union for Health Promotion and Education's Global Working Group on Planetary Health.
-------
Prescription for a healthy climate
The health community from around the world has written a letter to all the Heads of State and National Delegations ahead of COP 26 calling for urgent climate action. The statement noted that it recognised "ethical obligation to speak out about this rapidly growing crisis that could be far more catastrophic and enduring than the Covid 19 pandemic". This presentation will explore and reflect on the nature of the ethical obligations of the health community and the wider community and their implications for policy and practice.
Dr. Farhang Tahzib is a senior public health physician, educator, Chair of the UK Faculty of Public Health Ethics Committee, public health advocate and member of various International and National committees. Formerly Director of Public Health.in UK, worked internationally, teaching and Principal Investigator and Director of various programmes in particular around maternal health, prevention of maternal mortality and morbidity and traditional health care delivery system and primary care, funded by WHO, Carnegie Corporation, UNDP, World Bank and others.
-------
Why climate change matters to Paediatricians and what we can do
This presentation will briefly outline the impact of the climate emergency on children and young people's health. It will also explore, from a UK perspective, how paediatricians and other health professionals can be an effective part of the change that is necessary.
Dr. Gill Turner is a Consultant Community Paediatrician within the NHS, in Northumberland, North of England. She has a longstanding commitment to young people's health and was the first convenor of the RCPCH's Young People's Health Special Interest Group (YPHSIG) and an active member of the Association of Young People's Health. She has always been aware of the impact of oppression and inequality on health and has a passion for young people's rights including young people's involvement in healthcare. She co-authored "Not Just a Phase" (RCPCH). Gill is active in Doctors for Extinction Rebellion, Medact (Green New Deal) and part of the Royal College of Paediatrics and Child Health's Climate Change Working Group.
-------
Moderator
Anisha Prabhu grew up in Southern Africa and is a public health professional passionate about the intersectionality of gender and health in the region. In 2013 she received the Fulbright Scholarship to pursue a Masters in Public Health from the University of South Florida in Global Health and Maternal and Child Health. She has worked with the Ministry of Health of Mozambique, where she was the laboratory coordinator for the national cholera surveillance-testing center and implemented the quality control and assurance program. Most recently, she worked as a consultant at the World Bank-Mozambique, implementing the country's first national preschool program and promoting discourse on early childhood education because this period of life is critical to creating a civically engaged and globally conscious society.