Description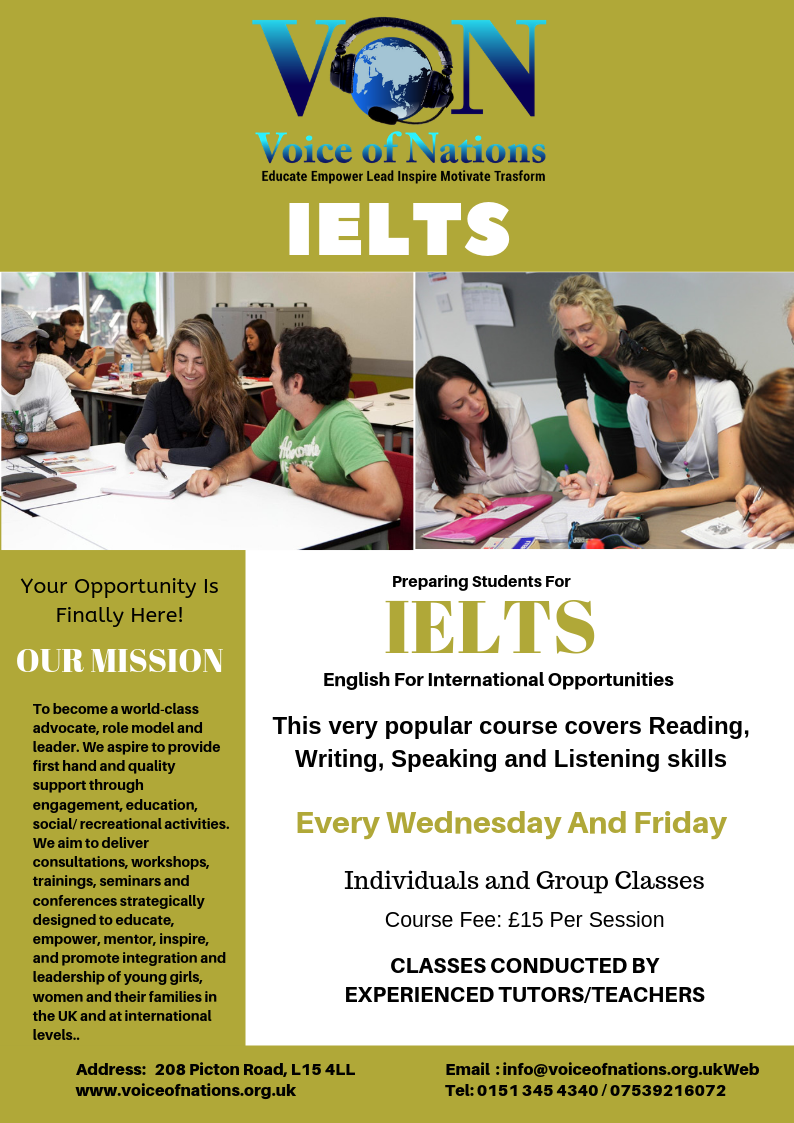 IELTS Preparation Classes
The International English Language Testing System (IELTS) is the world's most popular English language test for studying in higher education. It is also recognized by many employers and government immigration agencies as proof of your ability to communicate in English.
Voice of Nations' IELTS exam preparation courses will help you to develop the language and confidence you need to pass your IELTS exam, focusing on the reading, writing, speaking and listening components. Our IELTS preparation courses are available at our organization, Voice of Nations.
Who is this for?
For those preparing to take the IELTS exam, our IELTS Preparation classes will be great beneficiaries is recognized as an entrance requirement by British, Australian, New Zealand and Canadian universities and for, vocational and training programmes. This IELTS course is for you if you are planning to apply to these academic institutions or if you would just like to challenge yourself and work towards a recognized qualification in English.
The Benefits
At the end of the IELTS course you can expect to:
1.

Achieve the best possible IELTS result
2.

Be able to approach the four components (listening, reading, writing and speaking) with greater confidence
3.

Be able to speak and write more accurately and confidently
4.

Be able to use a wider range of academic and general vocabulary and grammar
5.

Be able to recognize the areas you need to improve
Course Content
The IELTS course is a highly intensive programme focusing on the skills required including reading, writing, listening and speaking as well as improving vocabulary and grammar. You will also concentrate on developing effective examination techniques.
You will do regular examination practice, including a mid-course full-practice exam, and receive feedback, correction and advice from your trainer.
I'm interested in this course, what do I do next?
Please visit us at 208 Picton Road, L15 4LL or contact us directly on 01513454340 or email
info@voiceofnations.org.uk
to enroll
Courses start on 11th March 2019, but you can enroll at any time, as the courses are ongoing.
Location: Voice of Nations
208 Picton Road, L15 4LL