IEMT Practitioner Training with Matt Kendall.
About this event
What is IEMT?
IEMT is an incredibly powerful and useful changework technique that should be in every therapist's tool kit.
Integral Eye Movement Technique (IEMT) is a developing area brief change work that explores the area of undesired emotions and our ways of being. The process explores the question, "How did we learn to feel the way that we feel?" and opens up the possibility of creating the appropriate change in our emotional lives.
By teaching resources and skills inside the problem state, IEMT appears to bring the client more into the present moment and enables them to better stay out of past negative experiences.
Practitioners consistently report that IEMT has created change in their clients where no other approach has worked previously.
Please see the video below of an interview with Andrew Austin, the creator of IEMT.
What is IEMT used for?
IEMT is incredibly effective in dealing with PTSD, anxiety, fears and phobias and depression. It is a very versatile tool that can be used in combination with other therapies and coaching models to achieve maximum result for the client.
Who is this training for?
The certification weekend is open to all and does not have any prerequisites. Typically we have a lot of Hypnotherapists, coaches, psychotherapists, EMDR therapists and counsellors.
You do not need to be a therapist or have any intention of becoming a therapist to attend. This is suitable if you are interested in your own personal development.
For the practitioner, IEMT is about precise calibration to the client. Unlike other treatments involving eye movements, with this model the eye movements are neither random nor simply a repetitive left and right movement in the hope that change will occur. The training provides the tools for the practitioner to precisely calibrate which axis through which to move the eyes enabling the exploration work to occur with precision and at a remarkable speed.
IEMT is not the grand unified theory of therapy and change work and is still a developing model, but is a very useful adjunctive for the trained therapists and when used in the right hands can provide an excellent remedial tool for emotional change and a generative tool for identity change. Practitioners are reporting that IEMT enables excellent results where previously a good outcome might have appeared improbable.
Here is some feedback from those who attended this training in July 2021.
How is the course structured?
This extraordinary training course is divided into two days. On day one participants discover how to use the eye movements in conjunction with the IEMT algorithms to address emotional imprints. On day two, we explore issues relating to identity and ways of being.
The entire training is conducted online via Zoom. You will need to have a decent internet connection, a private room and suitable equipment (a decent webcam and possibly microphone).
This will be a very interactive course. We will be using break out rooms for you to practice the technique with the other participants.
What is the certification process?
After the course, you are to complete two case studies and submit them for review. Example case studies and full guidance will be provided. Once reviewed and approved, you can then apply to join the Association of IEMT. You will then be provided with your certificate and you can then apply for insurance (or add it to your existing policy). Those who do not submit case studies are not eligible for full membership of the Association of IEMT.
Course Details
Trainer: Matt Kendall
Venue: Online - In your own home!
Dates & Time: Saturday 2nd & Sunday 3rd July 09:30 – 17:00 on both days.
Price: £397 for new attendees. £197 for returning practitioners. There are concessions available for students, NHS and front line service staff. Please book a free call with me to discuss.
What is included:
Full certification course
Accredited 14 hours CPD certificate https://cpduk.co.uk/providers/the-association-for-iemt-practitioners-ltd
Plus
Access to IEMT Academy Support and Help FB group
The manual plus a series of videos a week in advance to prepare for the course.
Modular training. The training has been broken down into modules to make it easier to learn and apply.
Complete session structures flowcharts so using the techniques is simple.
A recording of the training for future reference.
1-2-1 zoom consultation to help with your case studies.
Unlimited email and phone aftercare support.
A private membership community with a monthly Q&A and practice session.
Do you have any reviews?
There are over 30 interviews with past attendees of IEMT Practitioner on YouTube.
Below are some interviews I have done with past attendees. If you want to ask any questions about the course, please email me at matt at iemtacademy dot com.
Here are the most recent LinkedIn Recommendation reviews from people who attended in January 2022.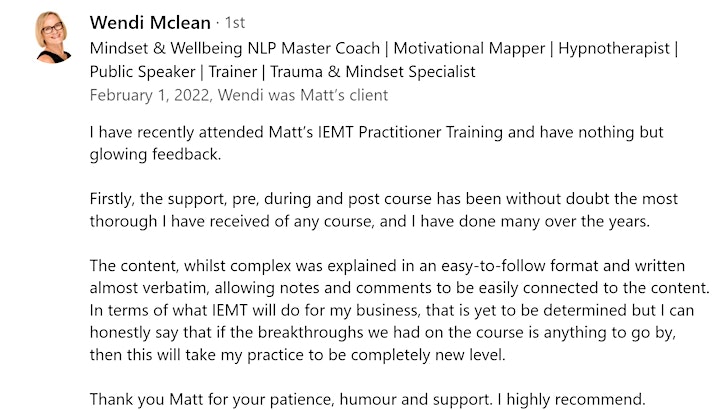 If you have any questions at all, please email me at matt at iemtacademy dot com or connect with me on social media.
This is the course you have been looking for!