IEP SUMMIT 2021 - 'Developing Productive People' An industry event for senior Employability Professionals
About this event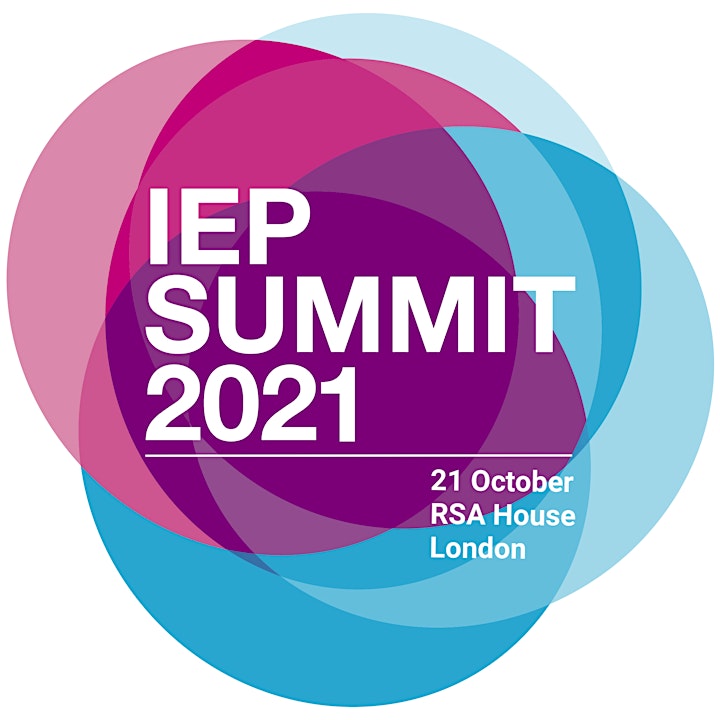 IEP SUMMIT 2021 - 'Developing Productive People'
Date: Thursday 21st October 2021
Location: Great Room, RSA House, 8 John Adam Street, London, WC2N 6EZ
Registration: 10.00am including light breakfast, refreshments and networking
Keynotes, panel and open discussion: 10.30am
Drinks Reception: 4.00pm - 5.00pm
Twitter: #IEPSummit2021 @IEPInfo
IEP Summit 2021 Fellows Networking Dinner - Quaglino's - get tickets here https://www.eventbrite.co.uk/e/iep-summit-2021-fellows-dinner-and-networking-event-london-tickets-167861633665
Event Description
The IEP Summit is an exciting industry event for IEP Members and senior colleagues from the Employability sector to be held at the historic and culturally significant RSA House.
Presenting an opportunity for networking, discussion and sharing of good practice, the IEP Summit is designed to provide challenging content that looks to the future of the profession bringing senior people together for both formal seminars and informal conversation and networking.
Building on the success of last year's inaugural event, this year will be presented on a larger scale and we are looking forward to welcoming senior professionals from public employment services, major providers, supply chain partners and other opinion-formers across the sector both in person and online to maximise participation from our international colleagues and partners.
Speaking of the event, David Gallagher FIEP, CEO of headline sponsors NCFE, said "At NCFE, we're incredibly proud to once again be supporting the IEP Summit, following the success of last year's event which was so valuable in stimulating important debate around lifelong learning and its impact in helping people move into meaningful work. Through my years of experience in the employability sector, I know how vital it is that colleagues within it have the platform to connect and collaborate; to explore labour market challenges, and work together to find solutions that stitch together the very best of both skills and employability provision. As we continue to navigate the seismic changes brought about by the pandemic, now is the perfect time to look at future-proofing employment initiatives, complementing DWP programmes with the right skills and learning options to ensure that all individuals have the opportunity, means and motivation to fulfil their potential. I look forward to discussing this in more detail with colleagues at the upcoming summit, as we learn and grow together."
The IEP Summit is a unique opportunity for senior leaders and key industry figures, who are responsible for driving the sector's strategic agenda, to come together in one space. It provides a platform to learn from and debate with colleagues offering perceptions, insights and solutions to some of the challenges and priorities facing the employability sector now and in the future.
We are creating a robust and dynamic sector voice to serve both practitioners and customers better and this is a great opportunity to have your say, build new business opportunities, partner with different people and develop 'what works'.
At the heart of our event will be up to the minute keynote seminars from our guest speakers and industry experts:
'In conversation with' DWP's Director General for Work and Health Services, John-Paul Marks and Steve Hart FIEP, Chief Operating Officer (COO) for Employment Services at Ingeus
Tony Wilson FIEP, Director, Institute for Employment Studies
Dr Deirdre Hughes OBE, Chair, UK matrix quality standard review & Director, DMH Associates
Professor Christina Beatty, Centre for Regional Economic and Social Research, Sheffield Hallam University
Sessions will be led by our co-chairs, Samantha Windett MIEP, Deputy Director at Learning and Work Institute and co-founder of the Youth Employment Group and Dave Simmonds OBE FIEP, Emeritus Fellow at Learning & Work Institute.
Each speaker will challenge the audience and prompt debate, looking at the issues affecting our society and addressing the emerging labour market and delivery challenges we face. A panel of key responders from the Institute's Fellowship community will provide an opportunity for further debate followed by informal networking sessions to continue your discussions.
IEP will facilitate throughout, making introductions and ensuring the best opportunities for conversation between leaders, practitioners and influencers as well as strategic partners, policy makers and government representatives.
The day's events will culminate in a Networking Drinks Reception, sponsored by Nous Group, with the event closing at 5.00pm.
The Summit is an opportunity for anyone who is passionate about employability services, policy, strategy and what they mean not just for our sector but to the wider world.
The IEP Summit is delivered at pace with our keynote seminars being followed by open and honest networking sessions and the fast-exchange of ideas so be prepared to come along, give your views, share your opinions and get involved!
Proposed Itinerary:
10.00 - 10.30 - Coffee and Registration
10.30 - 11.30 - Seminar 1
11.30 – 11.50 - Refreshments and Networking
11.50 – 12.50 - Seminar 2
12.50 - 13.30 - Lunch and Networking
13.30 - 14.30 – Seminar 3
14.30 - 14.50 – Refreshments and Networking
14.50 – 15.50 – Seminar 4
15.50 – 16:00 - Seminar Close
16.00 - Networking Drinks Reception
17:00 – Summit Close
Further Information:
For sponsorship opportunities please contact Scott Parkin FIEP, Chief Executive, IEP at scott.parkin@iemployability.org
For all other enquiries please contact heather@iemployability.org
RSA House Covid-19 information:
RSA staff will be wearing masks
Guests are encouraged to wear masks when moving around the public spaces of RSA House
Heightened cleaning procedures are still in place
Sanitising stations are available in reception
We are asking guests to scan in via the test and trace NHS app or they can write their contact details down (we dispose of this information 21 days after)
Refund Policy:
Due to Covid-19 and its changing restrictions, in the event that the IEP Summit cannot take place on 21 October at RSA House as advertised IEP will instead deliver the event online via digital technology. All delegates who have purchased tickets will get access to the digital stream and no refunds will be issued. We are also unable to refund any travel or accommodation costs should the event need to be held online.