Description
The University of Huddersfield is joining forces with The Institution of Engineering and Technology to give parents and their children an insight into what it's like to be an engineer.
Join us for our second Engineering Open House Day on Friday 28th July - a day of family fun to learn about the important roles engineers play in our everyday lives. Come and discover the creativity and excitement that engineering has to offer.
All events are completely free and refreshments are available to purchase from our cafe throughout the day. Please check individual activities for age suitability recommendations. All children under 16 must be accompanied by an adult.

Please note, it's advisable to book in advance as our capacity is limited.

Please see the programme below for details and click on 'Register' to book your spaces.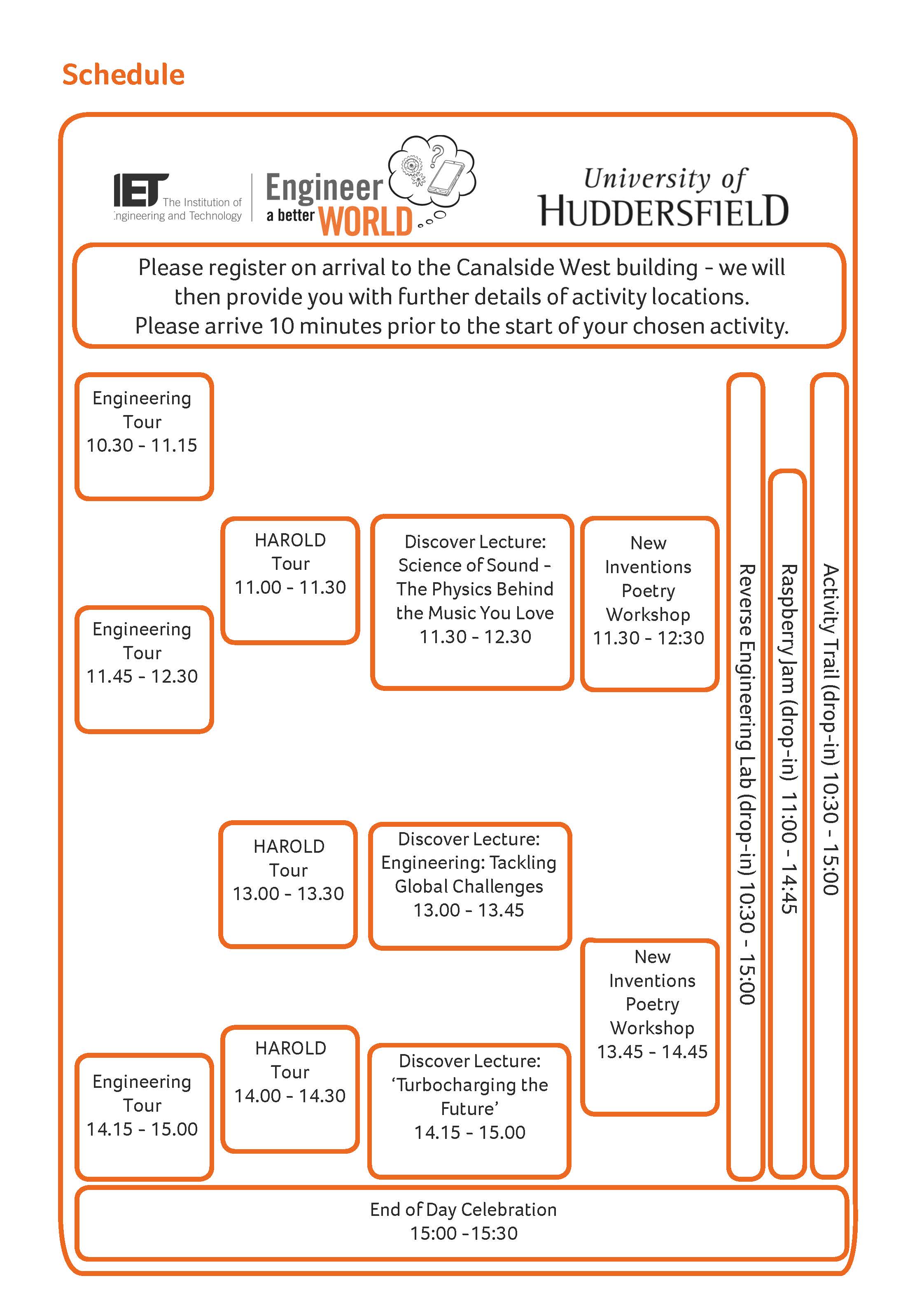 Activity descriptions
Behind the Scenes Engineering Tour - enjoy a rare opportunity to sneak a peek behind the scenes in a tour of our engineering facilities.
HAROLD Tour - don your hard hat and join us for a unique adventure into the world of rail technology as we explore HAROLD (the Huddersfield Adhesion & Rolling Contact Laboratory Dynamics rig), one of only a dozen or so test facilities of its kind in the world.
Discover Lectures - choose from three separate talks to gain a fascinating insight into the exciting subject of engineering and its place in our everyday lives.
New Inventions Poetry Workshop - if you could invent something, what would it be? An ice cream that doesn't melt? Or maybe shoe laces that fasten themselves? Famous Huddersfield children's author, poet and broadcaster Gez Walsh will help bring your 'New Inventions' ideas to life in this fun and entertaining poetry workshop (in association with European Researcher's Night 2017).
Reverse Engineering - ever wondered what makes electronic items work? Find out in this workshop by taking them apart bit by bit! Discover what's inside toys, phones and computers with the help of our resident electronic engineering experts.
Raspberry Jam - a Raspberry Jam is a meetup of people interested in digital making. Whether you're a complete beginner or you've already got a cool project on the go, drop in to learn more and have some fun!
Drop-in Activity Trail - a fun-filled trail of hands-on engineering activities for all the family. Activities include: doodlebots, balloon powered race cars, science busking, construction challenge and more. Complete the trail to be entered into a prize draw. Allow at least one hour for this part of your visit (maybe even two!).
FAQs
What are my parking options?
Unfortunately, we are not able to offer parking on campus, but there are a number of public car parks within walking distance of the University: http://www.hud.ac.uk/about/maps/carparking/
Where can I contact the organiser with any questions?
Please email: sce-marketing@hud.ac.uk or telephone 01484 473116