iEXPLORE: THE 'START-UP NATION' EXPEDITION

Sunday, 20 April 2014 at 11:00

-

Sunday, 27 April 2014 at 18:00 (BST)
Event Details
The Start Up Nation Expedition
Discover Secret Israel
Join us for 8 days expedition to explore Israel's culture, landscape and innovative society. 
We invite you to join an international group of entrepreneurs and professionals for a fun trip that is also a fascinating learning experience. In our bespoke expeditions we explore innovation, collaboration, creativity, identity, art and culture around the world.
Click here to view photos from previous trips
This trip is designed to be insightful and adventurous. It is for a small group of people (up to 18 max, age 25-45) who are looking to have a deep insight into the countries they are travelling to and make the most of it. 
Cities and places we will visit:
Jerusalem, Tel-Aviv, Haifa, Judea Desert, Dead Sea, Sea of Galilee, Galilee, Mediterranean Sea, Negev Desert, Jerusalem Mountains, Golan Heights, Jordan River.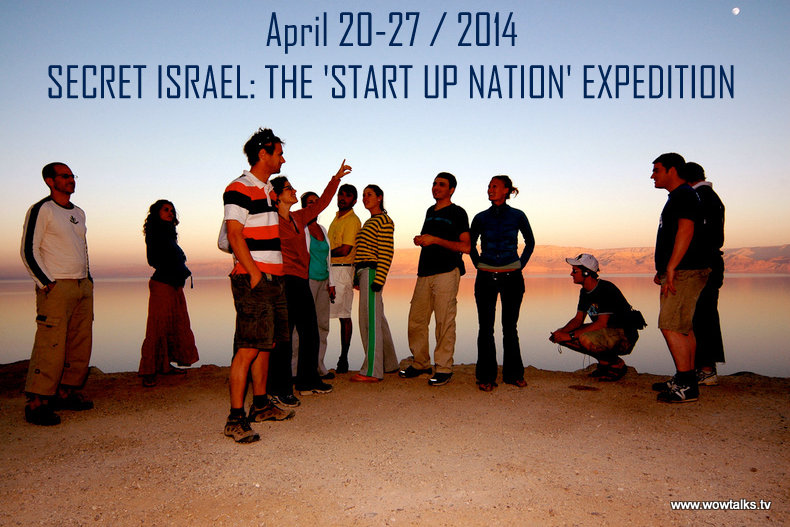 Israel's amazing breakthrough technology wows the international business community–and now you can be a part of it! Explore the remarkable entrepreneurial spirit behind Israel's success as a global business superpower. You will go beyond the headlines to network with Israel's business visionaries and thought leaders, gaining access to the Israel's most successful firms. Meet leaders all with the inimitable Israeli passion, savvy, and chutzpah. Enjoy first class service, hotels, restaurants, wineries and spas for a world-class experience.
Old City of Jerusalem, Church of Holy Sepulchre, Via Dolorosa, Mount Zion, Carmel mount Ancient City of King David, Masada, Baha'i Temple, Western Holy Wall (Kotel), Kotel tunnel, ecological farms, active archaeological excavations, Yad-Vashem Museum
Activities:
Hiking, Sailing, Kayaking, Horse Riding, Cycling, 4x4 Cross Country, Navigating, Water Hiking and Swimming.
People we will meet:
CEO's of Hi-Tech Start Up Companies and local Entrepreneurs, Kibbutz Members,  Artists and Fashion Designers, Archaeologists, Member of Parliament and possibly the president of the State of Israel Shimon Perez.  
Cost: Starting from £1650 All Inclusive (Kayaking, Hot Air Balloon, Sailing, 4x4 Cross Courtney, Cycling), Excluding Flights.
Once you fill up the application we'll send you detailed Itinerary and more details about cost.
Itinerary Highlights: April 20th - April 27th:  8 Days (7 nights)
Day 1: Sunday: Haifa, Mount Carmel & Med Sea, Bahahi Temple.
Day 2: Monday: The North of Israel, Sea of Galilee. Hiking. Watersport. Vineyards. 
Day 3: Tuesday: The old city of Jerusalem, a journey through 3000 years of history.
Day 4: Wednesday: Selected museums. Visiting local Start-Ups. Tel-Aviv Nightlife.
Day 5: Thursday: Visiting and interacting with the local creative scene (Hipsters) of Tel-Aviv.
Day 6: Friday: Adventurous 4x4 Desert in the Negev Desert & Ramon Crater
Day 7: Saturday: Experiencing the Judea Desert & The Dead Sea. Visiting a Kibbutz
Day 8: Sunday: Luxury Spa in the Dead Sea and back to Airport in the Afternoon
Trip will be led by Gal Stiglitz (Educator and Founder of WOW TALKS) and other tour guides.
If you've never been to Israel before, I suggest you go on one of Gal's adventures. You'll be taken into the hub of the Old World, the centre of Jerusalem-and taken on an historical and archealogical journey through the ages. Wow. 

You're also likely to see most corners and some borders of the country from the Dead Sea, across two deserts and across to the med. We met with local families, friends of Gal's and heard all about their lives living in Israel -some of this quite different from the sheltered lives many of us live.

Gal managed all on board well, including organising all elements of the tour, whilst giving a running commentry -boundless energy, which was much appreciated. Not to mention, 5 days of 24hr excitement and social activities in Tel Aviv. Go.

 

Gal – That trip is beyond all my expectations. You've put together a fantastic package for a really unique -and complete- experience. Waking up at 7am in holidays is certainly a bit difficult  but worth it. From the Golan heights, Jerusalem, the Neiev desert to the dead sea, the old city of Akko and Haifa … we see a lot. I feel lucky to have met with a family and shared their concerns over the Golan Heights, discussed with a group of youngsters in kibbutz about their hopes and future and partied with your friends in Tel Aviv. Places we stay at are also remarkable. Thank you for avoiding the traditional touristic hotels. I hope the organic villa in the desert will remain off beaten tourist tracks. Thank you for accommodating a group of 5 demanding women, and even staying at a spa! I'll come back (for some trekking:-).

 

Gal has done an incredible job to show us Israel in a very special, unique way. I had been to Israel a number of times before but the activities he had planned and the places he took us to were off the beaten track and fascinating both in their sheer beauty and the history behind it all. I felt like I discovered Israel for the first time. While the schedule is tight and very structured there is enough flexibility to please everyone. Fun fun fun - don't miss it!

 

This trip is faboulous... very intense but you see everything, and you hang out with friends and Gal is there to make sure you really enjoy the experience to the full... not to be missed.. loved every minutes.. (yes even the bycicle... 

 

The Easter 08 trip was an amazing experience. When I've recounted to friends all the things we did they find it hard to believe we were only out there for 6 days. The history and culture were fascinating, and our resident Archaeologist Aran did a terrific job trying to educate us! We were lucky enough to spend time with local Israelis, which gave a real insight to the country. I came away feeling like I'd seen the true Israel, which I doubt I could have achieved as a tourist finding my way around with a Lonely Planet! We were especially lucky to have beautiful weather (a heat wave in fact!) and being able to visit many holy sites at Easter was the icing on the cake. Gal has done a wonderful job developing and organising these trips and is genuinely passionate about sharing his beautiful country with as many people as he can. An inspiring trip and an absolute must for anyone who loves travelling and learning about different countries and cultures.

 

For me this was a truly inspiring and mind-blowing trip - a feast for the senses and most definitely one of the best holidays I have been on! The combination of fun, culture, religion, history VS present, sports, culinary delights and nightlife was amazing - a truly creative, adventurous but also very educational holiday with heaps of excitement in a small, intimate, multicultural and fun-loving group! The absolute highlight for me was experiencing the Israeli way of life. From travelling with Gal's family and friends, to visiting a truly inspiring Israeli leadership camp, the spontaneous joining of the pre-army camp training, us partying till dawn in Tel Aviv, visiting Israeli army friends and their families in their homes, cycling in the beautiful countryside with locals ... all of these experiences added a completely new dimension to the trip,which made this adventure a truly unique, fascinating and breathtaking experience. This holiday will leave you speachless. Enjoy!

 

Expecting a trip for of laughter fun and relaxation, I arrived in Jerusalem to our command leader (Gal) to be put through a vigorous 6 day program that would stretch our fitness through 5am marches, enduring emotional/mental torture with Gal's humour which could not be switched off through the entire journey. On a serious note what a great trip! Not only did we see the many sacred sites from past history but visited friends & family to have a greater understanding of current issues whilst enjoying the hospitality and trying local customs and food. From floating in the Dead Sea, visiting Masada to spending time with children looking to improve their way of life this was a trip I won't forget. Highlight for me was the time we spent in the desert. Fantastic trip so highly recommended. Gal, can you feel it?

 

Israel has an aura of mystery about it. I went on this trip with an expectation to see how this Israelis live their lives and continue to shape history, to visit the holy places and of course to just to have a great time. This trip was so much more. We got to experience the diversity and intensity of Israeli cities, this nation's hospitality and warmth and beauty of its landscape. This trip was not without an adventure and challenge but this even made it more memorable! We made really great friends during this trip and that is what counts most. C

 

Video: Technology in Israel:

Priya Amin, London is writing:
'The vibe of Israel is totally different to how I imagined it. It is so much more multicultural and the people are much more liberal minded than I had expected (sorry about my previous perceptions, Gal!). The landscape too is totally different to what I expected - you seem to have everything - gorgeous beaches, lush green farmland/ wine areas and then dry desert-like areas. Fantastic. Israel is also a lot smaller than I expected. I would definitely recommend the trip to friends.'

Priya Amin

 

Israel: What to expect:

Snehal Amin, London writes:

'Was just reflecting on what an amazing trip it was. Thank you very much for putting it together and letting priya and I tag along. I've been telling all the friends I meet to go to israel and experience it, although I know they won't have nearly the same quality experience as the trip you put together!'

Snehal Amin


Carlos Rubio, Journalist, Madrid/Spain writes:

'A particularly interesting feature of the trip was the opportunity to spend time with Israelis who live there, with friends of Gal, with young people, to see their lifestyles, their hopes and fears, etc; Even though the trip was very demanding, it provided a great opportunity to get a good glimpse of the country in just 6 days. Jerusalem is a very particular place, and the Holocaust Museum in particular should be mandatory visit; Combining city tours with hikes in the countryside also was a good way to experience the country'; 

Carlos Rubio



Israel Hi-Tech by Channel 4:
__
For more info:
info@wowtalks.tv
Do you have questions about iEXPLORE: THE 'START-UP NATION' EXPEDITION?
Contact WOW TALKS
When & Where

Israel - All Over

Tel-Aviv
Israel

Sunday, 20 April 2014 at 11:00

-

Sunday, 27 April 2014 at 18:00 (BST)
Add to my calendar
Organiser
Inspiring people to make a living doing what they love
WOW Talks is a social enterprise that delivers engaging live events and digital content to inspire people to reconnect with their WHY – their purpose - so they can attain greater fulfilment in their professional lives. 
Using a unique format of multiple short talks, WOW Talks events create an insightful, entertaining and inspiring experience. The events feature people from different industries, cultures and disciplines who are committed to creating a life doing what they love most and who share their personal stories and Words of Wisdom (WOW).
iEXPLORE: THE 'START-UP NATION' EXPEDITION