Location
Watermans Park
6 North Road
Brentford
TW8 0BJ
United Kingdom
A dance to celebrate all those who came before us welcoming older women to take their rightful place at the centre with DJ Texas Ranger
About this event
Event Details
A dance to celebrate all those who danced before us - welcoming older women to take up space and their place at the centre - for our friends, our mums, our daughters, our grandmothers, our sisters with DJ Texas Ranger playing records and requests throughout the afternoon, plentiful food and dancing rain or shine .
Access and what to bring
Accessible toilets on site
Drinking water refreshments and food provided.
Parking available next to the park at the Waterman's Art Centre parking, public transport and FAQ's about the event will be issued via email.
Please contact us directly to discuss how can support you to access the event
Bring yourselves and comfy outdoor clothes.
Who's it for?
This event is to celebrate older women. All women are welcome. This is not an event for children but they are welcome to accompany adults.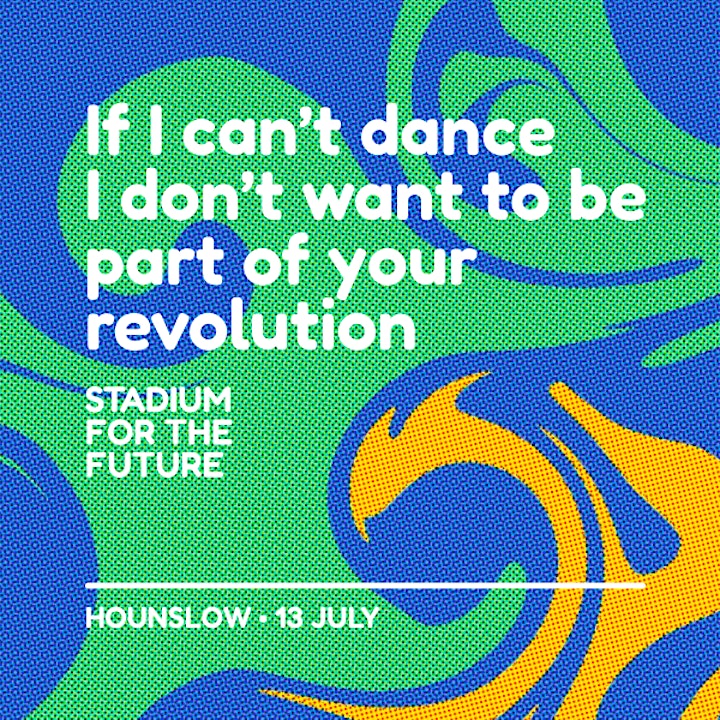 About Stadium for the Future (If I can't dance I don't want to be part of your revolution)
Idle Women are planning a stadium for the future - a living stadium conceived, engineered and hand built by and for women. Not a concrete monolith but a stadium to re-imagine environmental recovery and reciprocity, a self-sustaining ecosystem of women's doing, creating, training, playing and manifesting a different world.
During and as part of the UEFA Women's EURO 2022 football championship in July, women from across the UK will gather in fields and underpasses to dance the stadium into existence at site specific women only raves.
Coordinated with community groups, older women, activists, musicians and DJs, Stadium for the Future will culminate in a sound piece which will broadcast until the stadium build is complete.
Stadium for the Future celebrates and makes place for all women along the canal networks that connect the #WEURO2022 locations - an underpass in Milton Keynes, Pennington Flash Nature reserve, beside the river Thames in Hounslow and a community sports centre in Brent. Amplifying women's essential role in solving the social and environmental challenges we face as a global community.