Location
Trinity Park Conference & Events Centre
Felixstowe Road
Ipswich
IP3 8UH
United Kingdom
Refund policy
Contact the organiser to request a refund.
Eventbrite's fee is nonrefundable.
Norfolk and Suffolk IFE Branch sponsored by Rockwool present a conference on Emerging Risks, Fire Safety for Tomorrow
About this event
Our Speakers
Neil Gibbins QFSM
Alison Phillips - Head of Fire Safety Risk Management Ocado Group
Lynsey Seal QFSM
Matt Deadman Kent FRS and NFCC
Matt Canham Suffolk FRS and NFCC
Anna Stec MSc PhD CSci CChem FRSC FIFireE FHEA
See below for Bios and overviews of the Seminars.
You do not need to be a member of the IFE to attend this conference.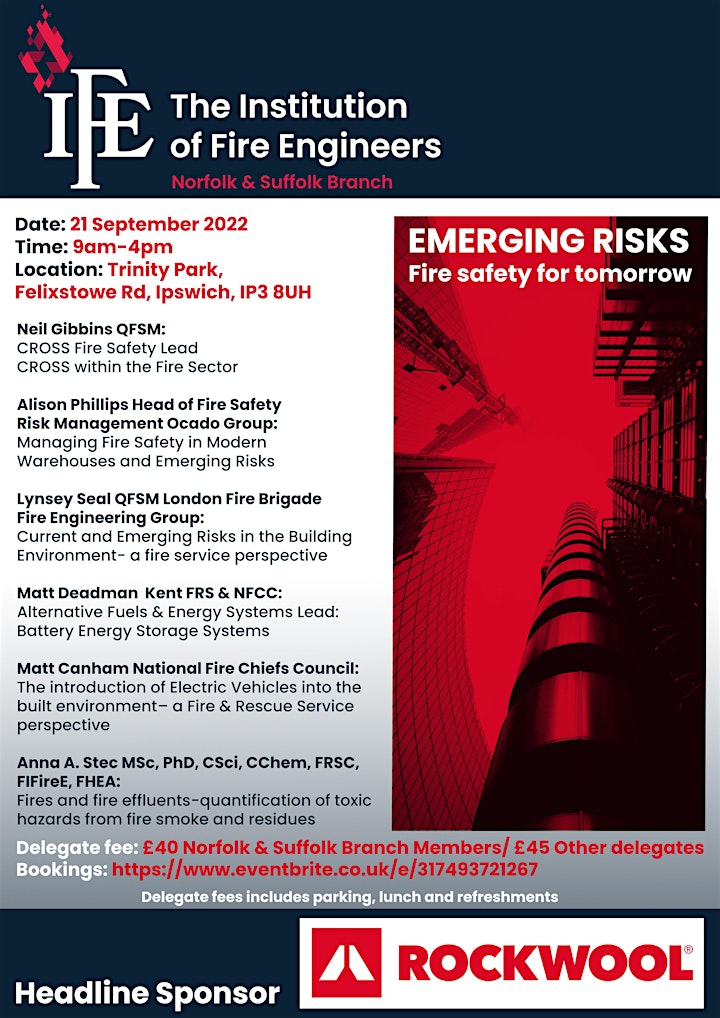 Neil Gibbins
Neil's career commenced as an operational firefighter in the late 1970's, he progressed through the ranks to become Deputy Chief Fire Officer of Devon and Somerset Fire and Rescue Service, following the successful merger of the two services. Neil was lead officer for fire protection within the UK Chief Fire Officers Association (now NFCC) from 2007 to 2013, chairing the group that managed the implementation of the Regulatory Reform (Fire Safety) Order. Neil was elected President of the Institution of Fire Engineers in 2013 and took the role of CEO the following year. He was chair of a national working group set up to improve product safety recalls, appointed by the then BEIS Minister Margot James. The working group's report lead directly to the creation of the Office for Product Safety and Standards (OPSS). As technical lead for the Institution of Fire Engineers he supported the post Grenfell industry led competence work, as a member of the steering group and secretary of the fire engineers working group and made a significant contribution to other workstreams including construction products and safety case development. He is now working with CROSS, Collaborative Reporting for Safer Structures, , a well-established process supporting structural safety, leading the expansion of CROSS into the fire sector. Neil is Deputy Chair of the trustee board of the Firefighters Charity and chair of the Beneficiary Services Committee. Neil has been awarded the Queen's Fire Service Medal and is a Fellow of the Institution of Fire Engineers and Honorary Fellow of the Institution of Structural Engineers.
Seminar
CROSS was founded in 2005 by structural engineers. Following a recommendation made by Dame Judith Hackitt, that CROSS should be strengthened and extended, Neil has been leading the development of CROSS into the fire sector. Neil will give an overview of CROSS, what it does, how it works and give examples of recent reports. He will focus on how CROSS is positioned to help support an open learning culture and to identify pre-cursors.
Lynsey Seal
Lynsey's current role is as a Principal Fire Engineer at London Fire brigade, having been part of their Fire Engineering Group since 2004. This Group act as technical fire safety consultants on matters such as planning and Building Regulations consultations, providing advice and expert witness reports on complex enforcement cases, supporting LFB fire investigators where buildings have exhibited unusual or unexpected fire behaviour and supporting multiple internal teams such as operational policy, special operations group and others with technical fire safety advice and guidance. Her scope of responsibility has now increased with the creation of a new centralised team at LFB that will manage all the circa 11,000 building regulations consultations London receive each year and Town and Country Planning consultations. While working as a fire engineer in the team Lynsey has personally been involved in multiple high profile projects such as the London 2012 Olympics, St Pancras Chambers redevelopment, Tate Modern extension, Elizabeth Tower refurbishment project and Westfield Stratford City, to name but a few.As a principal engineer she is now in more of a strategic role but is still involved in regular technical peer reviewing of work as well as representing LFB and the National Fire Chiefs Council on multiple technical committees and working groups. These include;
• Contributing to Dame Judith Hackitt's Independent Review of Building Regulations and Fire Safety through both submission of evidence and participation in Working Group 1 (design, construction and refurbishment)
• BSI; BS 9991, BS 7974, FSH/14 parent committee
• She is also supporting with the provision of expertise on the current technical review of Approved Document B, with involvement on multiple aspects of this project including participating in the Building Regulations Advisory Committee ADB Working Group.
Lynsey is a Chartered Engineer with degrees in both Mechanical and Fire Engineering. She is a Fellow of the Institution of Fire Engineers and is the current Vice Chair of their Ethics Committee. She is also a keen STEM ambassador promoting engineering careers to young people (with a focus on under-represented groups) and is a Member of the Women's Engineering Society. She was also named in the New Years Honours list in 2020 being awarded the Queens Fire Service Medal for distinguished service.
Seminar
Lynsey will be discussing the changing built environment and impact on fire safety including; increased use of modern methods of construction, changing risk profiles of buildings to reflect modern living and whether public expectations and behaviours should drive changes in the way in which we design and account for fire safety risks. Topics will include examples such as modern warehouses/distribution centre designs (from a fire service perspective), increased number of residential design schemes that include aspects such as communal working spaces and other amenity provision, and whether single staircase designs in residential schemes should be limited.
Alison Phillips
Alison Phillips is an innovative Risk Engineer with a career spanning over 20 years. She has held dynamic roles within consultancy, financial services and working directly for clients. After graduating from Leeds University in Fire Safety and Management, Alison's career progressed from a Building Health and Safety Scientist to Senior Property Consultant. She then embarked on a career in the insurance industry, working for Marsh McLennan and AIG global. She worked extensively on some of the biggest challenges facing the built environment, collaborating with a wide range of stakeholders to deliver positive fire safety outcomes. In recent years, Alison has devoted her time and career to delivering meaningful change within the construction industry. Alison is now the Head of Fire Safety Risk Management, spearheading the fire safety strategy within Ocado.
Seminar
Join Alison Phillips the Head of Fire Safety at Ocado Group, to hear about the lessons learned from the Andover fire in 2019 and hear how these lessons have enabled the business to become a leader in fire prevention and mitigation.
Matt Canham
Matt joined Suffolk Fire & Rescue Service in 2001 as a firefighter having previously worked as an electrical engineer, progressing through the ranks, and joining Protection (Fire Safety) in January 2011. He became the Technical / Legal Fire Safety and Fire Investigation Lead in 2017 and was seconded to the National Fire Chiefs Council Protection Policy and Reform Unit (PPRU) Building Safety Programme (BSP) Team in March 2020.Matt is an experienced Protection officer with knowledge and experience in enforcing the Regulatory Reform (Fire Safety) Order 2005, carrying out Building Regulations consultations, and completing and overseeing Fire Investigations. He is a Fire Engineer with experience in reviewing and commenting on technical reports and information. As a member of the PPRU BSP Team, Matt works with the Government and partners in developing and implementing the recommendations of Dame Judith Hackitt's Independent Review of Building Regulations and Fire Safety. He engages with FRSs representing their views, providing professional support and guidance on fire safety matters, as well as engaging external stakeholders in the development of advice and guidance.
Seminar
The introduction of Electric Vehicles (EVs) into the built environment – a Fire & Rescue Service perspective – the presentation will cover the societal drivers and policies behind the ever increasing need for reduced carbon emissions along with the targets indicated by government. It will then compare the risks posed and characteristics in event of fire of EVs compared to those posed by traditionally powered vehicles, and how these risks may or may not be captured in current guidance in pursuance of the Building Regulations (as amended) and the Regulatory Reform (Fire Safety) Order 2005. This will highlight challenges the FRS have when responding to Building Regulations consultations, auditing premises under the FSO, as well as when responding to requests for fire safety information from members of the public (as a core duty under section 6 of The Fire & Rescue Services Act 2004). The presentation will finish with some key considerations at operational incidents in the built environment, looking ahead to further research required to inform the sector.
Matt Deadman
Matt is the Assistant Director for Response at Kent Fire and Rescue Service. He is responsible for managing fire stations across Kent as well as operational policy, vehicles and equipment. Matt is the National Fire Chief's Council lead officer for Alternative Fuels and Energy Systems. This portfolio of work involves working with fire and rescue services, government departments, industry and academia to understand the risks and hazards associated with alternative fuels, and develop strategies for dealing with them. This includes a focus on Battery Energy Storage Systems (BESS) and Electric Vehicles. These are global issues and, as such, the NFCC are now engaged in a network of FRS partners from across the world looking improving capabilities in this area.
Seminar
Battery Energy Storage Systems (BESS) – there is an increase in use of Lithium-ion Battery Energy Storage Systems (LiBESS) from domestic to grid scale use and everything in-between, with a lack of guidance of what constitutes safe system design, what are the challenges and potential risks? This presentation and discussion will focus on identifying how fire and rescue responders can use current capabilities to respond effectively to incidents in these installations. It will also explore what more can be done to ensure fire services engage with sites and planning authorities in the development of suitable and consistent emergency arrangements.
Anna Stec
Anna Stec is Professor of Fire Chemistry and Toxicity at University of Central Lancashire. She has undertaken research into fires and fire effluents, including quantification of toxic hazards from fires, and understanding the factors that affect the short- and long-term toxicity of fire smoke and residues. She co-edited the major reference book in this area, "Fire Toxicity" and has around 100 peer-reviewed publications on fire science, fire toxicity and fire residue analysis.
Prof Stec presented evidence to the UK Parliament's Environmental Audit Committee on "Toxic chemicals in everyday life". She served on an expert panel for Dame Judith Hackitt's Review of Building Regulations. She was an invited expert to the Scientific Advisory Group working on the Grenfell Tower soil contamination study, chaired by Sir Patrick Vallance. As an expert witness to the Grenfell Tower Inquiry, Prof Stec undertook an investigation to determine the fire-derived toxicants and related deposits present in the Tower to determine the extent to which construction product effluents penetrated the Tower. Recently, she was invited by the US National Academies of Sciences, Engineering and Medicine to be a member of the Chemistry of Urban Wildfires Committee and a member of the UK's Wildfires Project Advisory Group working on the report on Health Effects of Climate Change. She has also served as Invited Specialist on the International Agency for Research on Cancer (IARC) Monographs on the Identification of Carcinogenic Hazards to Humans, Volume 132: Occupational Exposure as a Firefighter. Currently, she is also leading a research project, co-funded by the Fire Brigades Union, to identify the causes and rates of cancers amongst UK firefighters. She serves also on several scientific and conference programme committees and journal editorial boards.
Seminar
Fires and Fire effluents-quantification of toxic hazards from fire smoke and residues.