IGDA North West Games Party; Sponsored by SmashMouth Games and Kyoto Lounge

Thursday, December 2, 2010 at 6:30 PM

-

Friday, December 3, 2010 at 2:00 AM (GMT)
Event Details

IGDA North West UK Chapter Event
Sponsored by SmashMouth Games & Kyoto Lounge
Thursday 2nd December - 6:30 pm till late,
Kyoto Lounge (Map on Next Page)
131 Grosvenor Street, off Oxford Road
Manchester, M1 7HE

Tel: 07771 744 909
Tel: 07764 748 955
PLEASE PRINT OFF YOUR EVENTBRITE INVITATION AND BRING IT WITH YOU TO PRESENT TO THE IGDA DOORSTAFF.
THIS IS THE ONLY WAY TO GET INTO THE EVENT AND GET YOUR FREE DRINKS!
Hello to you all.
To all IGDA North West members and everyone, I would like to say 'Hello' and it's good to be back! The last few years have been quiet on the chapter front; finding sponsorship has been difficult, coupled with our chapter members being very busy and also many have flown the North West coup. But I would like to take this opportunity to invite you all to our first event in the last couple of years, where I will be looking for interested individuals to join the IGDA North West committee to drive its initiatives forwards.
Now details of the event...
To celebrate the recent launch of Ongaku on the PC as part of the Blitz 1UP Initiative, and the launch of the upcoming new iPhone/iPad game Drag Tag Smash from SmashMouth Games, the IGDA North West Chapter together with SmashMouth Games and Blitz Games Studios are pleased to announce a launch party at Kyoto Lounge in conjunction with Scan Computers from 6.30pm on Thursday 2nd December.
We're inviting guests to join us in celebration and we'd love you to come and share a few drinks with us.
Normally each of our gatherings has been attended by more than 100 people from dozens of different companies in the North West. However this will not be a typical IGDA event as Kyoto Lounge will be hosting this very special party.
Kyoto Lounge is Manchester's very first gaming bar, which offers customers the opportunity to socialise, drink, eat and play in a dedicated gaming environment.They are fully loaded with the very best 3xs systems, monitors, gaming orientated mice and keyboards all housed in a dedicated gaming zone. They also have the latest 3D vision gaming systems, consoles linked to both 46" HD LCD TV's and a 90" projection screen and HD projector.
Ongaku will be available to play within the gaming zones, together with some of the other Blitz 1UP Initiative titles, including KrissX, Fluttabyes, Your Doodles are Bugged, Buccaneer and Super Yum Yum.

The event is aimed at Videogames professionals. As usual everyone involved in development in the North West of the UK is welcome to come, even if they are not IGDA members. (You do not have to be an IGDA member to attend, but given that the location is a bar, you do need to be over 18.)
I hope to see you there!
Zuby Ahmed
IGDA North West UK Chapter Coordinator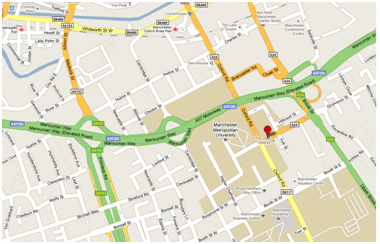 More details about SmashMouth Games, Ongaku, the Blitz1Up Initiative, Kyoto Lounge and Scan Compuers can be found here:
When & Where

Kyoto Lounge
131 Grosvenor Street, off Oxford Road
M1 7HE Manchester
United Kingdom


Thursday, December 2, 2010 at 6:30 PM

-

Friday, December 3, 2010 at 2:00 AM (GMT)
Add to my calendar
Organizer
SmashMouth Games
SmashMouth Games is an award-winning independent development company focusing on creating casual and innovative videogames for the download market. Since SmashMouth Games was established in 2006, the company has released a Flash Version of its first game, Ongaku, which achieved over 100 000 downloads in its initial two week launch (now nearly 500 000 downloads). Ongaku went on to become a leader in its field, winning the prestigious, "Armor Games Rhythm Action Competition" hosted by the international website Newgrounds - the most visited Flash-Portal on the Internet today. In May 2008, Ongaku was nominated for Game of the Year by Newgrounds. Currently the company is working on three projects, the first of which is Ongaku, for multi-platform release www.ongakugame.com. SmashMouth Games is also a registered Wii Ware developer, Apple iPhone developer, and is part of the Microsoft Empower Program. The company also has successful educational ties with The University of Salford and is also based at Futureworks Manchester School of Media (www.futureworks.co.uk/), both of which are situated in the heart of Manchester. For further information visit: www.smashmouthgames.com
Kyoto Lounge 
Kyoto Lounge is Manchester's very first gaming bar, which offers customers the opportunity to socialise, drink, eat and play in a dedicated gaming environment.They are fully loaded with the very best 3xs systems, monitors, gaming orientated mice and keyboards all housed in a dedicated gaming zone. They also have the latest 3D vision gaming systems, consoles linked to both 46" HD LCD TV's and a 90" projection screen and HD projector. For further information visit: www.kyotolounge.com