Description
It's back, after a hugely successful first TeachMeet last year #IgniteTM is back on June 27th. Last year 130 teachers from all over the region and country came together to listen and interact on a wide range of topics, feedback was extremely positive so we are excited to be offering this opportunity again to any teacher who would like to present or just come and gather as many ideas as you can by being part of the audience. If you know of any great practice in your schools that could be shared, please also give people a nudge this way!!
At the end of the TeachMeet there will be a raffle open to all attendees to say thank you for giving up your time. Current prizes include: £150 Rising Stars resources voucher, Big Bag of Books (courtesy of Crown House Publishing), Several Educational Books from John Catt, a copy of 'The Working Class' by Ian Gilbert, an Amazon Echo Dot, £10 Google Play Gift Card with much more to be added.
If you have never been to a TeachMeet before, and although ours will have a little formatting to it for smooth running, you can get the idea of what they are about from this video. Here were just a few of the comments from last years event: 'Absolutely amazing – this is what I needed – real advice from the horse's mouth', 'The most useful bank of knowledge I have accessed so far in my training', 'Brilliant event', 'All it has cost is my evening but WELL WORTH IT!!', 'Really great event – learning from each other has been brilliant and great catering too', 'Inspirational presentations', 'Excellent to see and learn from highly motivated teachers', 'Thank you for the opportunity'
With such great feedback from last year make sure you don't miss out this time! The plan for the evening is as follows
4:30 - Event open to arrivals and networking. Complimentary Refreshments available

5:00 - Welcome and TeachMeet start.

5:05 - First Keynote - Ian Gilbert

5:35 - Audience Micro-presentations (presentations of 5 minutes)

6:15 - 7:30 BBQ Dinner and 2 sets of 20 minute optional presentations. First run 6:15-6:40. Second Run 7:05 - 7:30. BBQ, Ice Cream and other refreshments will be served throughout enabling people to choose to go to one, both or no workshops.

7:35 - Second Keynote - Victoria McConnell

8:05 - Audience Micro-presentations (presentations of 5 minutes or less)

8:45 - Raffle and Thanks

9:00 - Close
Anyone is welcome to come and present at the event, as long as the talk is practical and useful to those in the classroom and can be kept to under 5 minutes as a micro-presentation (and there will be a timer and maybe even a buzzer!) or to around 20-25 minutes as a workshop. This year we are going to have two short rounds of 'Just a Minute' talks, for people to take 1 minute to share something simple from their practice, a great way to ease into talking at this kind of event, and to help us share as many ideas as possible throughout the evening. The idea is to have an evening full of talks based on practice that is effective that others can take away and use the next day. To register your intent to present please select the appropriate presenter ticket. We will then be in touch to clarify the content of your presentation or workshop and will list it on this page so all of you who will be attending can start to see a picture of what to expect from the 30 or so talks you will encounter. We are excited that the most inspirational part of this TeachMeet will be the sharing of practice from within the profession, so if you are thinking of presenting but want to discuss it first please get in touch via drichards@ormistonventureacademy.co.uk


List of Speakers
Keynotes
Ian Gilbert - @ITLWorldwide - Ian is an award-winning author and editor, a leading educational speaker and entrepreneur and a man who the IB magazine named as one of its top 15 educational 'visionaries'. Ian has lived and worked in the UK, South America and the Middle East and so has a special perspective on classrooms and systems, what works and what definitely doesn't. He is the author of several best-selling books including Essential Motivation in the Classroom and Why Do I Need a Teacher When I've Got Google? (spoiler alert – you need good teachers now more than ever), is the man behind the Thunks® phenomenon and has also edited many books for the Independent Thinking Press. His latest book, The Working Class, has only just been published and received excellent reviews.
Victoria McConnell - @VEMcConnell @WensumJunior - Victoria is the Headteacher at Wensum Junior School. She is a primary school teacher passionate about letting kids be kids! Victoria believes in investing in wellbeing for everyone and genuinely believes happy, healthy staff and students are the keys to success. We all need to learn to be brave and give our students the curriculum and opportunities they deserve. They are #morethanascore. Victoria has taught for nearly 20 years across numerous primary schools in Camden, Hackney, Harringay and Norfolk in primary main stream, special schools and referral units and a two-year stint in a secondary school. She is a Mum of three who loves travel, gardening and good wine (preferably in combinations together!)
Workshops
Anna Catlin - @330training - Peer 2 Peer Coaching
Paul Osborne - @studio_posborne - Immersive learning: High stakes problem solving and developing the class team culture
Amy Fordham - Debating and Critical Thinking
Russell Prue - @russellprue - Hands on Masterclass in Radio Broadcasting
Andrew Howard - Direct Modelling: Developing Thought Processes.
Alison Borthwick - @easternmaths - Reasons to Reason in Primary Mathematics
Graham Lodge - @GrahamLodge1 - Outdoor Learning
5-minute Micro-Presentations
Russell Prue - @russellprue - How can you make Young People be more confident with their speaking and writing?
Jake Sewell - Remembering to Forget
Tilly Burrows - @MissTBurrows - Student Disclosures: What to do 'in the moment'.
Jakob Werdelin - @werdelinEdu - Cooperative Learning in Norfolk. What is it and what can it be used for?
Karin Gibbons & Helen Banfill - Science in Maths or Maths in Science?
Michael Spicer - PRET - A routine homework task
Warren Holmes - How we maintain creativity amidst the demands of new GCSE specifications
Ian McInally - @Venture_Create - Cultural Capital
Rob Whalen - @rdw1985 - Taking risks to develop resilience
Sponsors
This event would not be possible without our sponsors who are helping us to ensure we can make this event free to all, so if you get the opportunity please take a look at what they have to offer either on the night of the event or in the lead up to it. It is great to see companies like these who want to support this development and networking opportunities for teachers.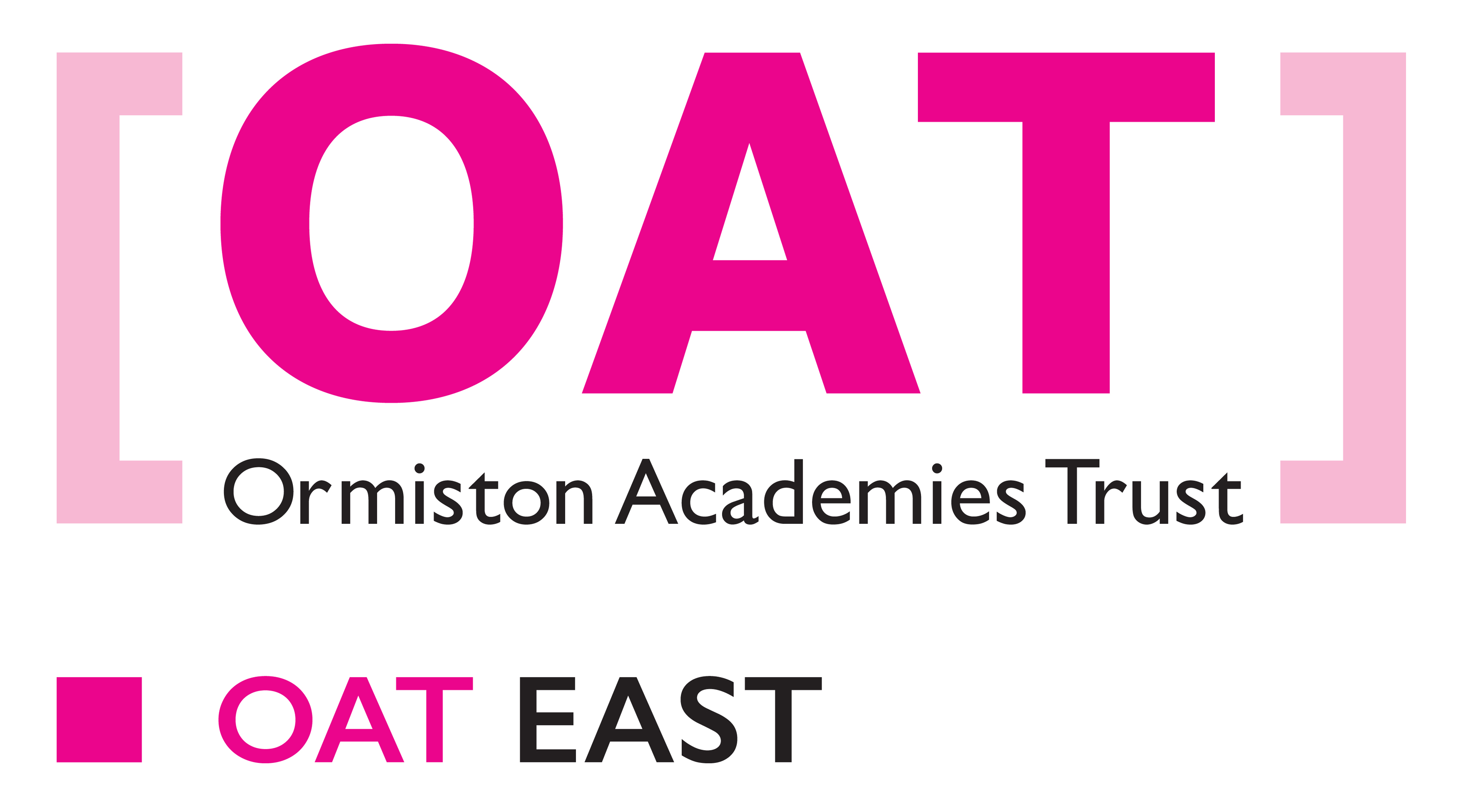 Ormiston Academies East

are a regional collection of academies who also form part of the Ormiston Academies Trust families.




Educake is a subscription-based online homework and revision website. It's used by thousands of teachers, saving them time with its easy-to-use auto-marked questions. Educake is currently available for AQA, Edexcel, OCR Gateway and WJEC GCSE Sciences, and AQA GCSE Geography. There's a free 30-day trial and subscriptions cost £480 a year, for a whole school. You can start your free trial at our website www.educake.co.uk


GCSE Pod is an online platform that allows students to watch 'pods' to help cover and revise content to support their studies.