Ignite Your Creativity - New Year Breathwork & Bioenergetics Urban Retreat
Description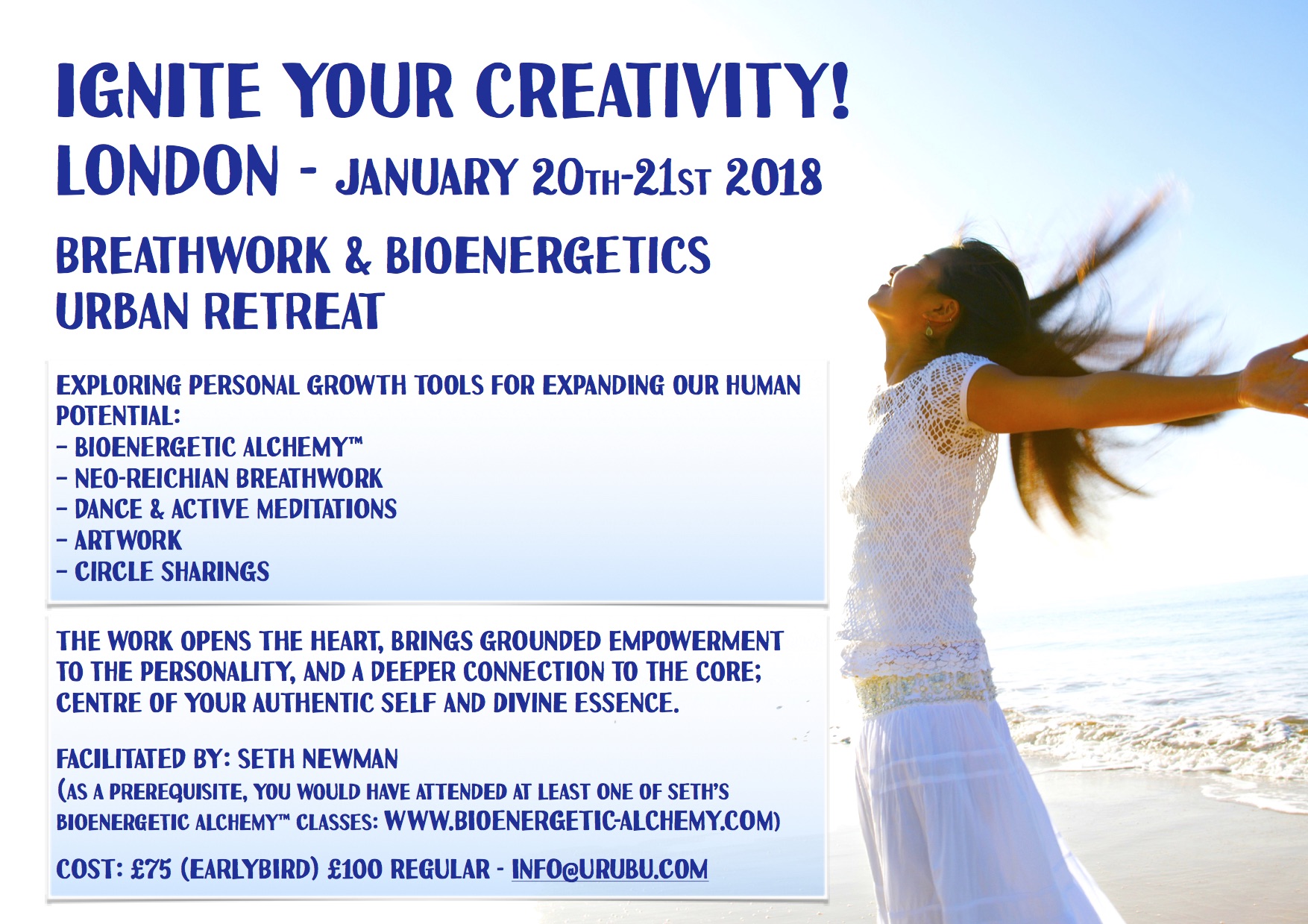 This weekend is Sold out, but we are running other weekends.
Our next one is on February 17th & 18th:
- Bioenergetic Alchemy Intensives - Earth - Grounding & Trauma Release
For more information please visit our website: http://www.urubu.com/events/bioenergetic-alchemy-intensives-bodymind-integration-earth-grounding-trauma-release/
Join us for this weekend Urban Retreat in Richmond, London. Over the course of the weekend, we will be exploring powerful tools for transformation including Bioenergetic Alchemy™, Neo-Reichian Breathwork, Ecstatic Dance/Authentic Movement and Osho Active Meditations. We will enter the deeper facets of our being, Body, Mind and Soul, and open our hearts to the mystery of all that we are and all that is.
Bioenergetic Alchemy™ is a body-mind approach to psychological, physical and emotional health and well-being. These classes are a unique movement experience, where we begin to soften the muscular tension and chronic holding in our bodies through a series of gentle stretches, grounding and self-expression exercises. Relieving stress, enhancing our emotional well-being and sense of self and beginning to open our heart to life.
"Learn to ride the waves of feelings and emotion without getting lost in the rapids..."
At the personal level, the highly experiential nature of Bioenergetic Alchemy™ is a catalyst for transformation, as participants work in the laboratory of their own process and their relationship to others. The work opens the Heart, brings grounded empowerment to the personality, and a deeper connection to the Core; the centre of your authentic self and Divine essence.
Bioenergetic Alchemy™ Breath & Bodywork Weekend
Saturday January 20th 12-6pm & Sunday January 21st 10:30-6pm
Cost: £120 - £75 Super Early Bird (if paid before January 18th)
Please contact Seth - urubu@mail.com if you have any questions. (Limited to 8 participants only. Early booking is recommended!)
This Breathwork & Bioenergetics Weekend incorporates 4 essential elements of:
1. Deep Connected Breathing;
2. Bioenergetic Alchemy™ exercises;
3. Movement and dance;
4. Osho Active Meditations.
_____________________________________________________________________
Feedback from our previous Ignite your Creativity workshop:
"Thank you Seth. The weekend was an exceptional experience of deep healing, awakening, and opening. I feel so light, peaceful, and full of Love. Through the journey we took, I touched some of my wounds, gently but deeply releasing and healing what was ready to be alchemised. Thank you to all the other lovely participants. Please organise the next one soon :-)" Tanja
"A truly awesome experience. A wonderful and safe space to learn and experience bioenergetic alchemy. Thanks again to Seth for the expert guidance and support." Amo
"Like the Bioenergetic Alchemy classes, but better. The weekend gave me the opportunity to go deeper into my body and discover new experiences which I hadn't been able to tap into before. It was a good mix of different exercises, and I had a really blissful experience with the breathwork." Vijay
" I feel so grateful I had the opportunity to attend this weekend event. I felt that Seth, through his presence, allowing, way of being, created a very unique, safe space in which I could release, discover, explore and meet different aspects of myself. I was amazed how during the two days I was - often unexpectedly and gently - led to bring forth and embrace a child, an ancient woman, an animal, a spoiled brat, a mother, a lover, a goddess... Also through Seth's guidance and suggestions I felt within very short spaces of time both my immense sorrow/yearning/pain and my immense joy/gratitude, realising how close to each other these seemingly opposites are. Today I feel a more solid belonging in the world, and a heightened awareness of the soles of my feet on the floor, like the earth was more magnetic!" Maria