Ignite your Digital Marketing Efforts in 2014

Thursday, 6 February 2014 from 13:00 to 18:00 (GMT)
Event Details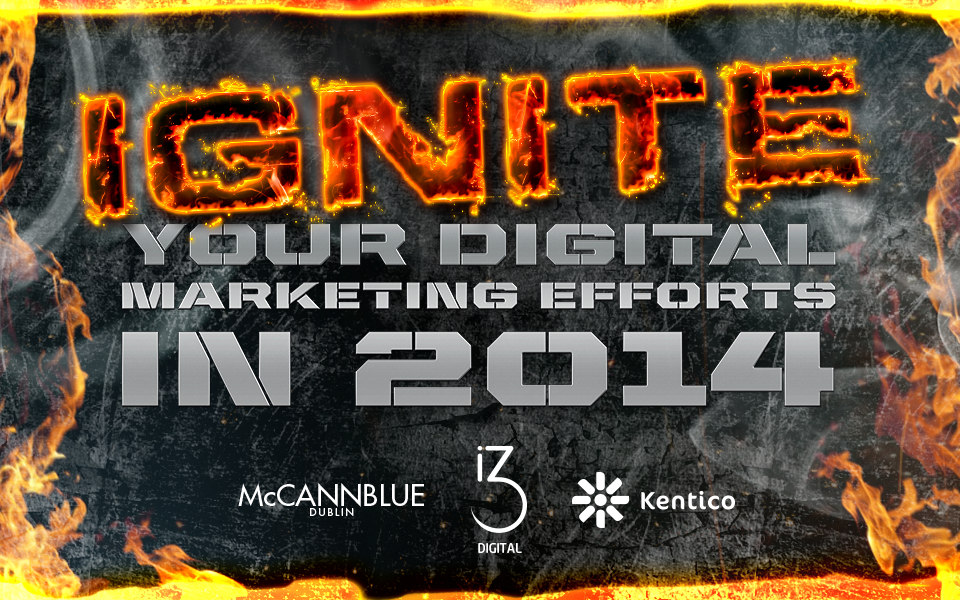 i3 Digital in conjunction with McCannBlue, Kentico and IBL-Software are delighted to be hosting an exclusive free Digital Marketing event at an even more exclusive location on 6th February 2014.  This event brings together some of the industry's leading Digital, Technology and Marketing experts from Ireland, USA and the Netherlands.  
Whether you are an existing user of the Kentico CMS considering upgrading, integrating to internal or third party CRM systems, wishing to avail of the platforms Enterprise Marketing Suite (EMS) or even considering the next steps in your content management and digital marketing efforts this is the event for you!
It promises to be a truly informative and engaging afternoon with industry insight of where digital marketing is at now and where it is going in the future with case studies and a real-time overview of marketing automation in action via the Kentico EMS platform.  
Mobile is also on the agenda with a full overview of how Kentico can be utilised to power cutting edge native and non-native mobile apps.  CRM integration has now also been added to the agenda with Netherlands based IBL-Software overviewing the integration capabilities between Kentico EMS and Microsoft Dynamics CRM via Connect and Conquer.
Attendees will also see for the first time in Europe a sneak peek of Kentico version 8 with its advanced e-commerce capabilities which will be officially launching mid-2014.
So if you are a Business Owner, CEO/COO or Marketing/IT Manager Director this is an event not to be missed.
1:00 – 1:30: Registration (Light Refreshments)
1:30 – 1:40: Kick-off with welcome and afternoon outline.
1:40 – 2:20: Digital Marketing Strategies (Thom Robbins, Product Evangelist - Kentico)
Marketing practices have dramatically shifted with the rise of social media and proliferation of devices, platforms, and applications. Your prospective and current customers are trying to communicate with you, and you can listen—and respond—faster, and with more personalization than ever before. This shifting environment presents new opportunities and challenges for marketers. Kentico EMS provides innovative ways to give your customers a great experience on every site visit. Join this session to learn how to identify strategies that drive customer experience, conversions and operational effectiveness using Kentico EMS.
2:20 – 3:00: Making Multi-channel marketing work for your brand (Sebastien Sicot and Jonathan Heron - McCannBlue)
3:00 – 3:20: Break – Tea/Coffee Break.  
3:20 – 4:00: Marketing automation (Eric Webb/Thom Robbins)
Too often, the phrase "marketing automation" conjures up images of "smarter" spam, inauthentic interactions and complicated if-then programming. But it shouldn't. Marketing automation doesn't have to mean automating spam. You can automate marketing people love. Marketing automation isn't just another piece of technology - it streamlines sales and marketing organizations by replacing high touch repetitive processes with automated solutions.  Used properly, marketing automation provides personalization, email marketing, lead scoring and links them together. In this session we will look at examples of how you can use marketing automation with Kentico to automate your marketing department.
4.00 to 4.40: Going Mobile! Can you afford not to?   (Adrian Bradley & Alan Anderson, i3 Digital)
This session will illustrate and showcase a range of projects delivered in the mobile space from responsive, native and augmented reality which allow for true one to one engagement with target audiences.
4:40 – 5:20: Achieving a single view point and source of customer information via Connect & Conquer, Kentico EMS and Microsoft Dynamics CRM. (Hans vd Linden)
In this presentation will provide a demo of the integration possibilities which are achievable between Kentico EMS and Microsoft Dynamics CRM. Valuable customer website behavior data can be gleaned and made available in Microsoft Dynamics CRM. Giving you one single point of customer view! All powered by IBL's Connect & Conquer technology.
5.20 To close: Kentico Version 8 Sneak Peek and overview of product set by Thom Robbins (Thom Robbins, Product Evangelist - Kentico)
Wrap up and ask the expert session.
6.00: Retire to the bar for refreshments, light bites and a live performance by Ireland's leading fire dancers outside Hotel.
---
Thom Robbins is the Chief Evangelist for Kentico Software. He is responsible for evangelizing on-line marketers, Web developers, Web designers and interactive agencies to Kentico CMS for ASP.NET. Prior to joining Kentico, Thom had been at Microsoft Corporation since 2000 and served in a number of executive positions.Most recently, he led the Developer Audience Marketing group that was responsible for increasing developer satisfaction with the Microsoft platform. Thom also led the .NET Platform Product Management group responsible for customer adoption and implementation of the .NET Framework and Visual Studio. He was also a Principal Developer Evangelist working with developers around the world on implementing .NET-based solutions.

Eric is responsible for sales operations worldwide and is accountable for all associated key business development initiatives. He provides input for the future development of Kentico EMS, and maintains strategic alliance partnerships. Eric joined Kentico Software in the fall of 2008 and brings over 9 years of experience in enterprise software sales and Web content management. His approach to building and managing the US team has given Kentico Software the ability to establish a successful North American presence and extend a 24/7 support service worldwide.




Adrian is a veteran of the Internet Industry and one of Ireland's most experienced Internet professionals with over 17 years' experience within the industry creating and delivering online strategies and solutions. Adrian is the founder/owner of i3 Digital and is a leader and expert in his field. Having worked with, directing and managing some of the UK and Ireland's leading organisations and brands such as Tourism Ireland, Translink, Enterprise Ireland, Bord Gais, Fáilte Ireland, Road Safety Authority and City of Westminster to name but a few.

He devotes much of his time and effort in understanding the client's needs and expectations and will always drive and encourage his team to push that extra mile in order to achieve a world class solution for clients. Adrian participates in all stages of the project process from conception, design to deployment, across all digital channels. 

Alan is a Specialist in Digital Engagment who joined i3 Digital a little over 2 years ago after 9 years working in branding, digital design, marketing and sales. He works with clients such as Dublin Bus, Safe Food, National Lottery Ireland, Tourism Ireland and National Council for Curriculum Assessment and their digital agencies to understand project requirements and participates in the planning, design and digital engagement phases of projects to deliver award winning websites and Mobile Application solutions.

Alan is a keen advocate of the creative industry within the UK and Ireland and since 2009 has been actively contributing to several initiatives and previously sat on an Invest Northern Ireland Steering Group for the Digital Industry.

Hans vd Linden is an internet technology specialist in a wide variety of business applications. Hans is co-founder of IBL-Software Netherlands which offers Kentico web development and Microsoft Dynamics CRM consultancy. After delivering many successful integration projects they bundled their expertise in a new software product named: "Connect & Conquer". Connect & Conquer gives you the ability to synchronize data between different back office systems. Our mission is to make synchronizations easy, fast and effective. This way exchanging data between back office systems will be less expensive allowing you a way to gain a faster ROI.

 
 

Jonathan Heron is our User Experience Director and leads the strategy and interaction design of our web projects. His core skills include user research and user-centred design methodologies, information architecture and web and mobile development. For the past 13 years, Jonathan has worked across a range of client sectors and project types for clients including Meteor, National Lottery, Nestle and WeightWatchers. Two years ago, Jonathan joined McCannBlue from the brand consultancy Huguenot, to bring a focus on user experience to our client's brands, products and campaigns.




 

Sébastien is Digital Director and will lead the online platforms strategy for your brand.  Sébastien champions digital, as a means of innovation, collaboration as well as brand and product development. He leads the development of the Irish digital platforms for the National Lottery, Meteor Mobile, L'Oreal, Deep River Rock and many other national brands. A leading creative and tech head, Sébastien spent the last 10 years building up the strategic, creative and tech capability of Bluecube Interactive. A founding member of McCannBlue, Sebastien leads, through innovation and digital integration, the planning, processes and outputs of the agency. 



Do you have questions about Ignite your Digital Marketing Efforts in 2014?
Contact i3 Digital
When & Where

The Marker Hotel Dublin

Dublin 2
Ireland


Thursday, 6 February 2014 from 13:00 to 18:00 (GMT)
Add to my calendar