About this Event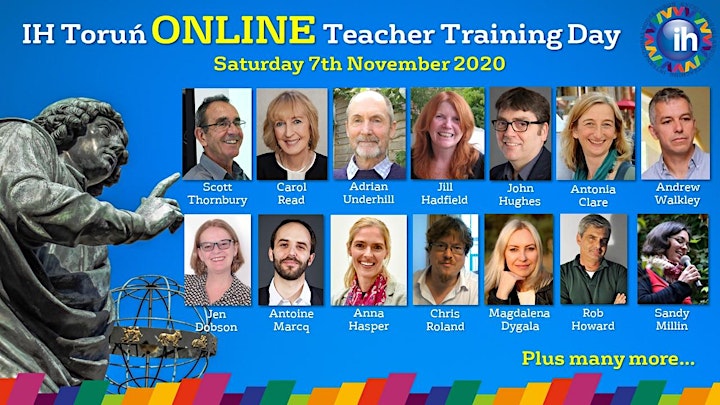 Due to COVID-19, The IH TORUŃ TEACHER TRAINING DAY 2020 (due to take place on 14th March 2020) will now take place ONLINE on Saturday 7th November.  
The world has changed a lot since we were about to host our annual conference back in March. Literally, the day it was meant to take place Toruń became a ghost town as we were all forced into lockdown. Fast forward several months later and we are now living in a very different world full of change. So this year the IH TORUŃ TEACHER TRAINING DAY will also change and will now take place entirely ONLINE from the comfort of your own home.
We have a really exciting line-up of presenters for you including Scott Thornbury, Carol Read, Adrian Underhill, Jill Hadfield, John Hughes, Antonia Clare, Andrew Walkley, Anna Hasper, Jen Dobson, Chris Roland and many more!
FAQs
Do you need to be a teacher at an IH school in Poland?
No, the event is open to ALL English language teachers from any school worldwide. It's free for IH staff and there's a small fee of 100PLN (plus 10PLN booking fee) for non-IH staff. All participants who had already registered and/or paid for the original event in March will automatically be assigned tickets for the new online event.
How many hours is the IH Toruń Teacher Training Day?
The formal part of the event runs from 9:00 till 19:00 (1 hours of online workshops and plenary sessions). There will also be the legendary IH Toruń Quiz from 19.30 which you are all welcome to attend!
What will the programme be like?
This year we want to make the event as green as possible. Therefore, we won't be printing out the programme but it will be available in advance online. Please bring along your amazing ideas! 
Will I receive a certificate of attendance?
Yes, all participants will receive a certificate of attendance. This will be e-mailed at the end of the plenary session.
What happens if I can no longer attend the online event?
The cancellation policy is: 
notification received by 10th October 2020 - full refund of paid fee
notification received by 24th October 2020 - 50% refund of paid fee
notification received after 24th October 2020 - no refund
Where can I contact the organiser with any questions?
Contact Glenn Standish (IH Toruń Director of Studies) direct at standish.torun@inthouse.pl.
DISCLAIMER: By registering for the IH Toruń Teacher Training Day, I hereby declare that I am older than 18 and that the given information is true and credible. I acknowledge that I can request a review and correction, erasure or restriction of the processing of my personal data, or file an objection to the processing and portability of my personal data by contacting IH Toruń at torun@inthouse.pl. My personal data will be processed exclusively by IH Toruń and will not be disclosed to third parties, to which I give my explicit consent