Description

The IH TORUŃ TEACHER TRAINING DAY 2020 will now be postponed to a later date in November 2020. We are pleased to confirm that our main plenary speaker will still be leading ELT expert Scott Thornbury.
"As a teacher and teacher trainer who worked for International House for many years, I have a special affection for the organization and try to visit as many IH schools as I can. So I was quick to accept the invitation to speak at the IH Toruń Teacher Training Day conference. I have also been coming to Poland a lot over the years (I can't count the times!) but have never been to Toruń – so this trip is doubly exciting!" - Scott Thornbury

Scott Thornbury teaches on the MA TESOL program at The New School in New York (but he lives mainly in Spain). Previously he spent his entire EFL career with IH: in the UK, Egypt, and Spain, as well as visiting scores of affiliates worldwide. His writing credits include several award-winning books for teachers on language and methodology, including The New A-Z of ELT (Macmillan). He is also series editor for the Cambridge Handbooks for Language Teachers. His website: www.scottthornbury.com
Other confirmed presenters include Rob Howard, Andrew Walkley, Elżbieta Chudoba, Lilia Kardenas, Sandy Millin, Luke Raymond, Glenn Standish, Chee-Way Sun, Christopher Walker, Alex Tilbury and many more!
The format will be similar to our previous successful Training Days. The first half of the day will be full of workshops held at IH Toruń itself. In the afternoon we will then transfer to a local hotel for the plenary. In the evening there will be a fun networking party right in the heart of beautiful Toruń.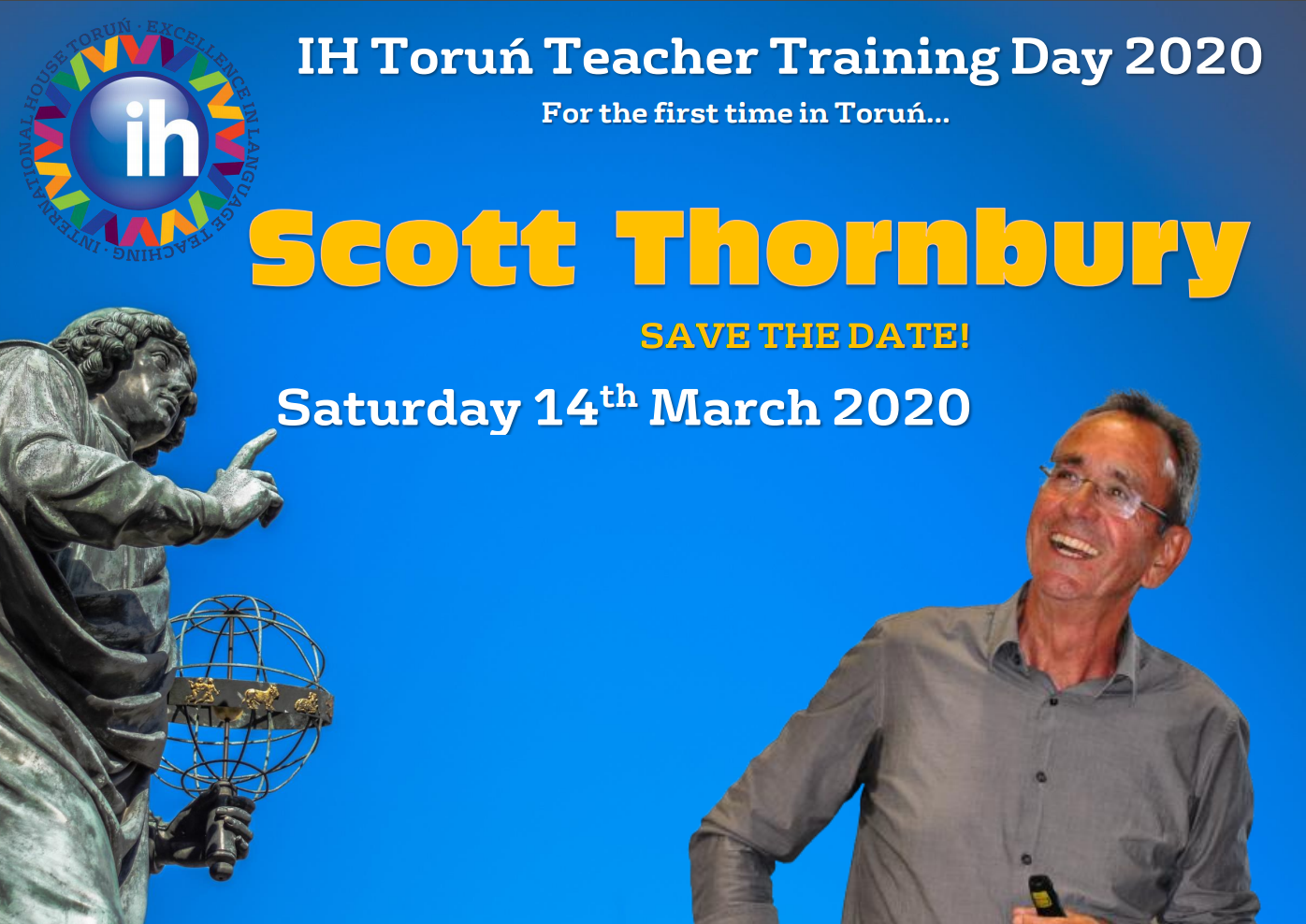 Many thanks to our kind sponsors:


FAQs
Do you need to be a teacher at an IH school in Poland?
No, the event is open to ALL English language teachers from any school worldwide. In the past, we have also had many local non-IH teachers of English and local state school teachers.
How many hours is the IH Toruń Teacher Training Day?
The formal part of the event runs from 10.30am till 18.30 (8 hours of workshops and plenary sessions). There will also be the legendary IH Toruń Afterparty from 19.30 which you are all welcome to attend!
Is it best to stay the night of the 14th March in Toruń?
Yes, absolutely! As there will be the IH Toruń Afterparty taking place in the evening...a great way to mingle with other participants and speakers and network!
What are my transport options getting to the event?
Toruń is situated in north-central Poland. Bydgoszcz airport (BZG) is 45 mins away by car or bus. Gdańsk airport (GDN) and Poznan airport (POZ) are both 2 hrs away with good train and bus connections. Warsaw has two airports. The main one is Warsaw Okęcie (WAW) and there is also Warsaw Modlin (WMI) which serves low-cost airlines. Warsaw is about 3hrs from Toruń by bus or train.
Flixbus offers good, cheap coach connections from many cities to Toruń. Advance booking is essential via their website.
PKP trains are now very modern and comfortable and you can book online in English!
What are the nearest car parks to the venues?
The event is divided into 2 venues. The main venue (where the workshops take place) is International House (ul. Legionów 15). There are no parking spaces directly at the school. However, you can park around the corner in ul. Bawarczyków or at the car park behind Cinema City (Czerwona Droga). In the afternoon, we will all move to Hotel Filmar. There is paid parking at the hotel.
What can/can't I bring to the event?
This year we want to make the event as green as possible. Therefore, we won't be printing out the programme but it will be available in advance online. There's definitely no need to print out your ticket as your details will already be registered. Please just bring along your amazing ideas!
How do I sign up for the different workshops?
You sign up for the workshops in advance through a link sent to you a week or two before the event. Due to limited space, the workshops are on a first come, first served basis.
Will I receive a certificate of attendance?
Yes, all participants will receive a certificate of attendance. This will be given at the end of the plenary session.
Will there be catering at the event?
Participants will be welcomed with cake and biscuits upon arrival (and there'll be some hot snacks delivered during the lunch break). There will also be tea, coffee and soft drinks available. After the plenary (approx. 18.30), participants can disperse independently to local restaurants before the big social party in the evening.
What happens if I can no longer attend?
The cancellation policy is:
notification received by 29th February 2020 - full refund of paid fee
notification received by 7th March 2020 - 50% refund of paid fee
notification received after 7th March 2020 - no refund
Who will be presenting at this year's IH Toruń Teacher Training Day?
Here are just a few of the speakers confirmed for this year's IH Toruń Teacher Training Day. We will have 30 presenters running workshops plus two plenaries by Andrew Walkley and Scott Thornbury. For the full programme please click here!
Rob Howard

Lilia Kardenas

Tatsiana Kryvetskaya

BriTannia'School Minsk

Sandy Millin

IH Bydgoszcz

Marina Morozova-Yesipenko

Andriy Ruzhynskiy

Vincent Smidowicz (LIVE ONLINE!)

Glenn Standish

IH Toruń

Chee-Way Sun

BKC-IH Moscow

Scott Thornbury

Alex Tilbury

Christopher Walker

IH Bielsko-Biała

Andrew Walkley

Malwina Żyrek

The Bay Education Bydgoszcz
Where can I contact the organiser with any questions?
Contact Glenn Standish (IH Toruń Director of Studies) direct at standish.torun@inthouse.pl.
DISCLAIMER: By registering for the IH Toruń Teacher Training Day, I hereby declare that I am older than 18 and that the given information is true and credible. I acknowledge that I can request a review and correction, erasure or restriction of the processing of my personal data, or file an objection to the processing and portability of my personal data by contacting IH Toruń at torun@inthouse.pl. My personal data will be processed exclusively by IH Toruń and will not be disclosed to third parties, to which I give my explicit consent