Mental Health service provision is complicated & under huge pressure. Come along & help us to create some positive improvement solutions.
About this event
In 2016 a 5 year forward view for Mental Health Services was published by NHSEI. In 2019 it was updated through the publishing of the NHS Long Term Plan. Commitments have been made, money spent, plans implemented and outcomes achieved. But...
IHSCM members report huge capacity issues, yawning vacancy rates, unreliable training and problems in finding data about what has been achieved.
We are where we are...
This conference will set context, explore strategies, hear from leaders and service deliverers and identify best practice solutions. If you are involved in design, delivery, management or assessment of mental health services, then get on board.
Start from the patient and work backwards. This conference absolutely will do.
Agenda & Presenters
2pm – Introduction & welcome (Jon)
2.05pm – Peter Carter (Independent Health Consultant) in conversation with Jon Wilks: where are we with mental health service provision now that we are at the end of the 5 year plan?
2.20pm – Julie Keith (Performance Manager, Birmingham and Solihull Mental Health Foundation Trust): how should we be transforming community services to better meet mental health demand?
2.40pm – Samantha Barker (NHS Graduate Leadership Programme): nursing in CAMHS – what are the challenges?
3pm – Surg Capt Darren Minshall RN, Defence Consultant Advisor in Psychiatry DCMH Plymouth - Service peoples' mental health provision - gaps, challenges, scale, scope and capacity.
3.20pm – Andrea Nichols-Jones, Director of Strategic Partnerships at ACTION FOR ELDERS: from community based exception to mainstream – how to better tackle loneliness & isolation for older people.
3.40pm – Jon Wilks, CEO IHSCM. Mental health funding – status and need.
4pm – Audience discussion: Silos and fractures between mental health service delivery systems – how can we better design pathway options for patients?
4.20pm – Audience discussion: demand v capacity & managing waitlists – are we exploring the art of the impossible?
4.30pm – Close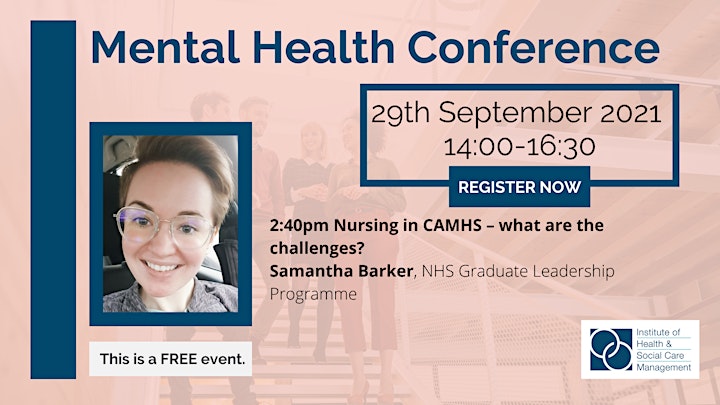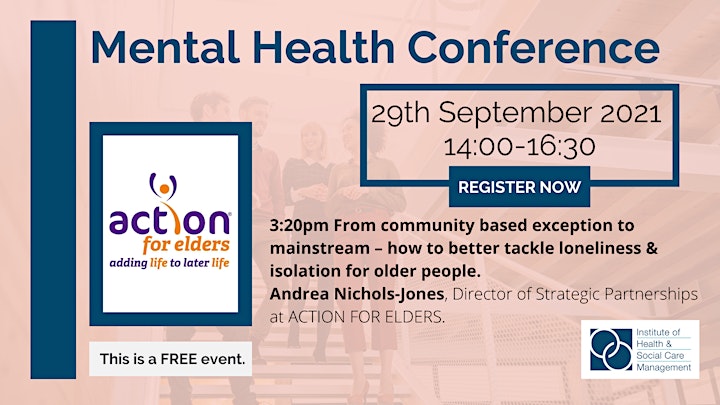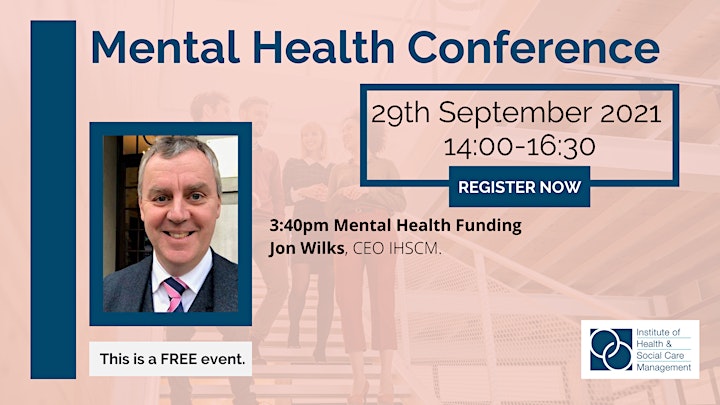 Organiser of IHSCM Mental Health Conference