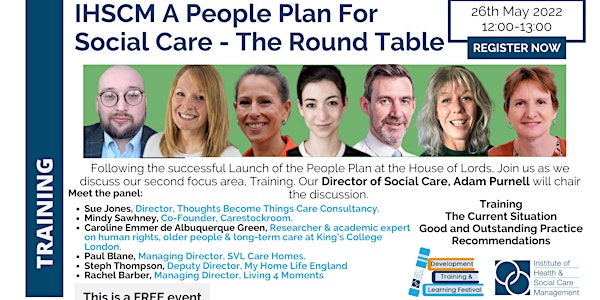 IHSCM Round Table: Training - A People Plan for Social Care
Join us as we discuss Training as part of our People Plan for Social Care Round Table Series
About this event
Following the successful Launch of the People Plan at the House of Lords, Join us as we discuss our second focus area, Training. Our Director of Social Care, Adam Purnell will chair the discussion.
Meet the panel:
Sue Jones, Director, Thoughts Become Things Care Consultancy.
Mindy Sawhney, Co-Founder, Carestockroom.
Caroline Emmer de Albuquerque Green, Researcher & academic expert on human rights, older people & long-term care at King's College London.
Paul Blane, Managing Director, SVL Care Homes.
Steph Thompson, Deputy Director, My Home Life England
Rachel Barber, Managing Director, Living 4 Moments
Are you interested in joining one of our Special Interest Groups?
Group aims:
Facilitate debate, exploration and sharing of ideas
Drive real action with impact
Support integrated care initiatives
We will do this by:
Meeting regularly as a working group, always welcoming new members
Publishing reports, practical resources and masterclasses
Hosting events and conferences
For more info, visit: www.ihscm.org.uk/special-interest-groups