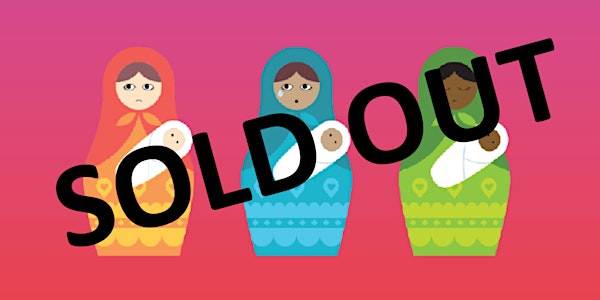 iHV Perinatal and Infant Mental Health (PIMH) Conference 2019 - Relationshi...
Location
Woburn House Conference Centre
20- 24 Tavistock Square
London
WC1H 9HQ
United Kingdom
Description
THIS CONFERENCE IS NOW SOLD OUT!
We are now operating a waiting list.
Please email admin@ihv.org.uk with details of name and email of those wishing to attend and we would be happy to add them to the list.
Should any further places become available, we will contact those on the list on a first come first served basis.
---
iHV Annual PIMH Conference 2019 in collaboration with the Maternal Mental Health Alliance

Perinatal and Infant Mental Health: Relationships Matter!
Achieving and enjoying good mental health for individuals, families, communities and societies relies on good relationships at every level. In the current context of perinatal and infant mental health (PIMH) care, there are many barriers and opportunities for this.
Aim:
The second annual iHV PIMH conference will do what is right: create time to prioritise and place relationships at the heart of perinatal and infant mental health care.
We will share, discuss and reflect together on the latest evidence, research and experiences of PIMH care in the context of relationships being fundamental to good parental and infant mental health.
Learning Objectives:
We look forward to welcoming you to learn and think together about:
Relationships at every level, including not only how the different practitioners/services at each stage in the pathway of care interact with families, but also how they interact with each other to ensure the right help is provided, by the right person, in the right place, at the right time

Experiences of perinatal and infant mental health care

Links between early intervention and later life outcomes

Arts and perinatal and infant mental health

Therapeutic relationships: What's needed?

Implementation of research into clinical practice: Key messages

Opportunities to make a difference

New ways of working: A

lternative approaches to relationships to support PIMH

Supporting the couple relationship during the perinatal period

Holism: Good mental health and the relationship with the sum of its parts

Infant mental health development and the parent-infant relationship

Policy across the UK – how to influence practice and service development
The programme is designed to be of value to iHV PIMH Champions, parents, policy makers, health visitors, GPs, midwives, commissioners, local authority children's service staff, specialist perinatal mental health practitioners and other practitioners working in mental health.
---
TICKET PRICES
Early bird rates are available until 7th July 2019, after which our standard rates will apply.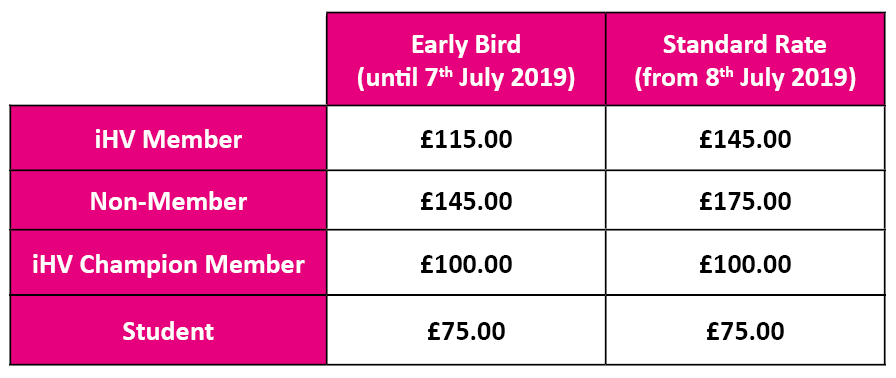 NB. iHV Champion member tickets are ONLY for iHV PIMH trained Champions who are also ACTIVE members of the Institute. If you are an iHV Champion WITHOUT membership, please select the Non-Member ticket. Any bookings made incorrectly will be cancelled/refunded so please ensure you choose the correct ticket type.
HOW TO BOOK
Payment by credit/debit card
Please click on the 'Tickets' tab at the top of this page to proceed to purchase. The default payment option is debit/credit card. Please insert your credit/debit card details and checkout to complete payment.
Payment by cheque/invoice
If you are unable to pay online using a debit/credit card, and wish to pay by invoice, please proceed to purchase your ticket(s) and pick "Pay by Invoice" from the drop down menu in the payment section*. You will be prompted to confirm whether you have funding from your organisation. If so, please enter the billing information (name and address of organisation and purchase order number) when requested. If you do not have confirmation of funding yet and are booking to secure early bird rates, please ensure that you email confirmation of funding and billing details as soon as you can to info@ihv.org.uk.
*Please note, there is a £10 additional administration charge for invoicing. This charge is per invoice and is non-refundable.
---
iHV TERMS AND CONDITIONS
By completing this transaction, you agree to the following terms and conditions: -
The price of your ticket includes complimentary refreshments, lunch and conference materials.
Registrations can only be accepted on receipt of a completed Eventbrite booking.
An Eventbrite booking constitutes a legally binding agreement to pay any invoices raised associated with registration including any cancellation fees as detailed below.
No paper or electronic tickets will be issued for this event.
If you choose to pay for your ticket(s) by credit/debit card, following completion of the Eventbrite booking, your place at the conference will be confirmed immediately.
If you choose to pay for your ticket(s) by invoice, your place at the conference will only be reserved. Your place is not guaranteed until full payment has been received.
All invoices and cheques must be processed/paid prior to the event. Failure to do so may lead to your entrance to the conference being refused.
We will write to all confirmed delegates around 2 weeks prior to the event with further event information. If you have not heard from us by 30th August 2019 at the latest, it is your responsibility to contact us to ensure your place is booked.
Cancellations will be accepted in writing BY EMAIL ONLY; verbal cancellations will not be accepted at any time. Should you need to cancel, please send your cancellation request to admin@ihv.org.uk.
Cancellations received on/prior to 5pm on Friday 9th August 2019 will be refunded in full subject to a £10 administration fee; any outstanding invoices awaiting payment at the time of cancellation are subject to the same terms and conditions.
Cancellations received after 5pm on Friday 9th August 2019 will not be refunded. However, you can transfer your booked place to a colleague but MUST notify us in writing of any name changes by email to admin@ihv.org.uk AS SOON AS POSSIBLE. You will need to confirm the title, name, job title, employing organisation and email address of the new attendee together with any dietary or other requirements.
In the unlikely event that the Conference is cancelled by the iHV due to unforeseen circumstances, the ticket cost will be refunded in full (via the original payment method) but any travel or accommodation arranged by the delegate shall not be covered/refunded.
By submitting an Eventbrite booking, you agree to these iHV booking terms and conditions which incorporates the Eventbrite privacy policy and terms of service.
The iHV reserve the right to make necessary changes to the conference programme (which may include speakers).
By booking a place/places at this conference, you agree to the iHV's privacy policy. Subsequently, your details will be stored on our secure database and you may be contacted from time to time. Should you not wish us to contact you following your attendance at this event, please email admin@ihv.org.uk.
---
FAQs
What are my transport/parking options for getting to and from the event?
Woburn House Conference Centre is situated near Euston Station, London.
For further information about the location of the venue including train, bus and car parking information, please visit http://www.woburnhouse.co.uk/contact
Full postal address: Woburn House Conference Centre, 20-24 Tavistock Square, London WC1H 9HQ.

When will I know I have arrived?
On arrival at the venue, you will enter a reception area. The iHV conference registration desk will be situated on the right hand side of the reception area where you will be met by members of the iHV team. If you have any problems on the day please contact us on 07712 123705.
How can I contact the organiser with any questions?
You can contact us with any queries by email to admin@ihv.org.uk or by phone to (0) 207 265 7352.
What's the refund policy?
Please view Clauses 9 to 11 of the terms and conditions for our full refund policy.
Will I receive a ticket to the event?
No. You will receive a confirmation email but will not receive an actual ticket.
Can I update my registration information?
Yes - please send any updates to admin@ihv.org.uk
Is my ticket transferrable?
Yes - if you are unable to attend, you must inform the event organiser in writing as soon as possible to admin@ihv.org.uk with full details of the new delegate details including title, full name, job title, employing organisation and email address. Please refer to Clause 11 of the terms and conditions.
I have specific dietary requirements. What do I need to do?
Please notify us at the time of booking with any dietary requirements you may need for the conference. If you need to notify us of any changes after you have booked, please do so by email to admin@ihv.org.uk.
I have other requirements. What should I do?
Please notify us at the time of booking should you have any other requirements.