IIC Edinburgh Congress 2020
Event Information
Refund Policy
Refunds up to 30 days before event
Eventbrite's fee is nonrefundable.
About this Event
IIC's Biennial Congresses are always a major event in the conservation calendar, and this year's #IICCongress promises to continue that tradition.  Our theme is built heritage, a subject area with which many conservators and cultural heritage professionals are either directly involved or interface, and on which IIC has not previously held a major conference. 
Our 2020 Congress was devised to bridge the divide between built heritage and in-situ collections. Since we first started planning in 2019, months of lockdown, uncertainty, reduced travel and social distancing have meant we have had to bridge not just disciplines, but fissures in the world as we know it. It was inevitable that our Edinburgh Congress would need to go largely online.
However, the paradoxical result is we can create a Congress that, for the first time in our 70-year history, every member of IIC has the chance to be part of, unrestricted by borders or cost. We are delighted to announce that attendance will be FREE for IIC members – and we have also taken measures, described below, to make particpation affordable to all and as accessible as possible. Whether you are in Addis Ababa, Lima, London, Singapore or Sydney, we welcome everyone with a passion for cultural heritage and a professional interest to attend, knowing that it has never been easier to do so.
Special programming spanning the world, from East Anglia to Sudan 
Our incredibly diverse week long programme online will be as global as our audience, and ranges from conserving wall paintings at Fengguo Temple in Yixian, China, to preservation strategies for painted tombs at El-Kurru, Sudan, geothermal technology in a historic house museum, post-earthquake conservation in Nepal and conserving medieval rood screens in East Anglia. 
Opportunities for real world meet ups
We are also hoping to work with IIC Regional Groups, our Institutional supporters as well as wider network including universities, museums, galleries, libraries, studios and other interested parties to host live 'hub' events, where conservators, cultural heritage professionals and students can gather in their network and watch presentations as a group in person. Please talk to us at the IIC Office, office@iiconservation.org if you would like to discuss hosting a live 'hub' event.
Funding to Support Participation Online
IIC is also offering a number of grants and bursaries to support fully funded registrations to participate in this year's Congress for students, early career and individuals from low-or middle income countries, along with support for a place whatever your location, employment circumstances or career stage.
You can initially register under one of the funded places: Brommelle Memorial Fund (for student and recent graduates) or for a Tru Vue funded place, which is open to all conservators including individuals recently furloughed, laid off or imacted by Covid-19. The IIC Office will be in touch regarding your application. Full details about our available grants and bursaries, along with details regarding the application process, can be found here.
The full registration fee includes:
Special preview of posters and papers through the Congress platform online in October 2020
Participation in ALL Congress web-streamed sessions and live Q&A's through the Congress Platform between 2 - 6 November 2020
Access to ALL sessions on-demand after the Congress week for a period of 30-days
Digital access to papers and posters through the platform with download of the Congress Preprints (printed version available to pre-order seperately)
Opportunity to view IIC's Point of the Matter Dialogue and participate in a live Q&A session.
Access to virtual exhibition, exhibitor demonstrations, meetings and networking sessions online
Option to attend selected and specially arranged virtual tours of Edinburgh and Scotland
Registration is FREE for all new and existing Members of IIC. Join IIC now to secure your place and get the benefits of membership straight away!
Pre-order a printed copy of the IIC Edinburgh Congress 2020 preprints with your registration by 31 August 2020, as there are only a limited number of prinetd copies avaialble. Please note a seperate charge is made for the printed copy. All participants will receive a digital version of the preprints as part of their online registration.
See you in virtual Edinburgh
Our receptions, meetings as well as our local tours are an opportunity to network and experience the remarkable built environment of Edinburgh, a UNESCO World Heritage. We hope to create virtual tours and broadcast live from sites around Edinburgh, so that participants can still see some of these remarkable places online and in real time. Our events will experiment with the boundaries of the possible, making us ask new questions about community, sustainability, travel and access, which we expect to shape our thoughts long after coronavirus has passed.
We look forward to seeing you in November!
A Very Special Thank You
We are very grateful to our sponsors Historic Environment Scotland and CXD International, as well as the unwavering support of the Getty Foundation and Tru Vue for enabling greater participation globally alongside our wonderful local organising partners for making this all possible.
Digital Access information 
The Congress will be held in English with English transcriptions made available through the Congress platform.
All submissions and presentations should be in English. Subject to the levels of global participation IIC will look to provide translations for sessions and presentations in a number of languages.
Please let us know any additional accessibility requirements on the registration form to ensure we can best accommodate and support your participation online.
Privacy, Data Information and Community Guidelines
We (IIC) need to collect some personal information from you to process your registration. This includes your name and contact email address, or accessibility requirements you tell us about. We will only use this personal data to contact you about the Congress beforehand if necessary and to facilitate your attendance at the Congress online.  You can find out more about how we manage your personal data and about your rights in IIC's Privacy Policy. We use third-party organisation Eventbrite to process the registration for us. Eventbrite is based in the United States and is registered with the Privacy Shield. You can see how they manage your data in their privacy notice.
IIC has introduced a Code of Conduct alongside our Community Guidelines to support online participation, which can be viewed on the IIC Website.
IIC recognises its responsibility to create an inclusive culture that does not tolerate inappropriate, discriminatory, offensive or harmful behaviour towards any person who works for, volunteers with, is a member of, or comes into contact with the Institute.
We also strive to make IIC, both in terms of its events, meetings, office and all other services, including online, a place where people's wellbeing and mental health are valued and promoted, so that anyone working at the IIC or coming into contact with the Institute is encouraged to value and invest in their own health and wellbeing.
FAQs 
How "Green" is this event?
IIC is taking positive steps to reduce its carbon footprint and during 2020 we will be introducing policies and practices to help make sure IIC, including our operations, do not negatively impact the environment. A big first step for us is making sure all our events have an online component. The impact of Covid-19 has pushed forward our momentum and we are pleased to be able to take the IIC Congress online. We are also trying to limit the amount of print material we distribute and this year, and for the first time, our Congress preprints will be included in the registration fee as a digital download only through our Congress Platform.
We will also be working in partnership with other like-minded organisations, such as Julie's Bicycle, to help measure our carbon footprint. To help move us towards becoming carbon neutral, we may look to support carbon offset schemes against certain activities by reducing emission impacts, for example, tree planting initiatives and methane capture projects.
Our carbon footprint represents just a small percentage of that from the entire cultural heritage sector, but we hope that we serve as a role model for others, who like us are a committed to our field operating in an environmentally responsible and sustainable manner. We need your help to make sure we can do everything we can to reduce our carbon footprint. 
Will the congress be recorded and available to view after the live programme?
Yes, the sessions will be available on-demand to registrants for the Congress for a period of 30-days. Our Congress partners, Cadmore Media, are contracted by the Organiser and will be supporting this event managing the web-streaming and recordings through the IIC Congress platform.
Any recordings and images may be used subsequently, without further notification, at a later date by IIC within the following materials and media: livestreaming, brochures, newsletters, marketing material, videos, hoardings, and/or as digital images such as those on the IIC website and social media channels. 
If participants online do not wish to be recorded during certain online or networking sessions, such as the live Q&A's, then they will need to include this information on the registration form or let the IIC Office know by email, iic@iiconservation.org.
Will the Congress be live?
We are aiming to webstream the main technical programme with each session having a live Q&A, there will be plenty of opportunities to partipate in online networking events, meetings and during the exhibition. 
All presentations, Q&A sessions and recordings will be available on-demand for participants to view for a period of 30-days. 
Can I attend just one or two sessions?
We are providing access to the full congress programme as part of the congress registration. Participants are able to choose to attend all or just select the sessions that they would like to attend. All sessions will be availble to watch on-demand via the congress platform for a period of 30-days. 
Am I eligible for a Student or Early Career registration?
There are 150 spaces available for students and early career professionals. Students must be enrolled in a full-time programme of education, training or work experience under the supervision of a conservation professional. Early Career professionals must have graduated or qualfied within the last 5-years. Relevant documentation (such as a Student I.D. card) to verify your eligibility may be requetsed by IIC during registration.
Am I eligible for a Presenter, Congress Organising or Technical Committee FREE registration?
Yes, spaces are available for presenters and members of the technical and local organising committee.Only one presenter per paper or poster may register for the Congress Presenter FREE rate if they are not a member of IIC.
What's the refund and cancellation policy?
If a registrant is unable to attend the Congress online for any reason they may substitute, by arrangement with the IIC Office, someone else to attend in their place or if they need to transfer to a different registration type, we are happy to refund the difference between lower priced registrations upto 30 days before the congress.
Where the registrant is unable to attend, and is not in a position to transfer his/her place to another person or registration type, then the following refund arrangements apply:
Registrations cancelled more than 30 days before the event are eligible for a 80% refund of the registration fees paid - this is to cover processing and administrative costs.
Registrations cancelled less than 30 days before the event are no longer eligible for a refund.
How can I contact the IIC Congress organiser with any questions?
If you have any queries please contact the IIC Office by email: iic@iiconservation.org .
Please note the general terms and conditions for congress registration are also available to view on the IIC Edinburgh Congress website.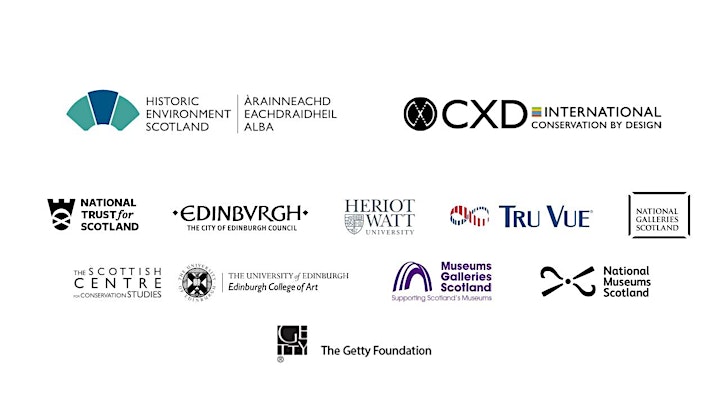 Location
Refund Policy
Refunds up to 30 days before event
Eventbrite's fee is nonrefundable.