Event Information
Location
MCR Clubroom, Hughes Hall, University of Cambridge
Mortimer Road
Cambridge
CB1 2EW
United Kingdom
Our third sarau explores the Brazilian term SAUDADE, inviting you to celebrate your roots and share what home means to you + exhibition.
About this event
III SARAU DA CUBS - SAUDADE
Our third sarau is around the corner and this time we're celebrating the Brazilian notion of Saudade, plus special guests and exhibition (see below).
📍Thursday, 28 April 2022, 7 pm at Hughes Hall @hugheshallcam University of Cambridge - free entrance; pay for what you drink at the bar.
Saudade is a nostalgic longing to be near again to something (or someone) that is distant. It's sometimes described as "the love that remains". While the feeling of saudade can be melancholic, it can also be happy, it can be a celebration of the things we miss, a way to be closer to home, no matter how far away.
CUBS invites our Cambridge city community to join us in celebrating our different roots and sharing what home means to each of us.
Sarau
Sarau is a cultural and musical event where people gather to socialise, share cultural experiences and express themselves artistically. Dancing, listening to music, reciting poetry, chatting, reading books, singing, playing instruments... Everything is allowed and every form of expression is welcomed!
Other artistic performances in music and poetry with very special guests to be announced.
*Please report to the porter's lodge upon arrival*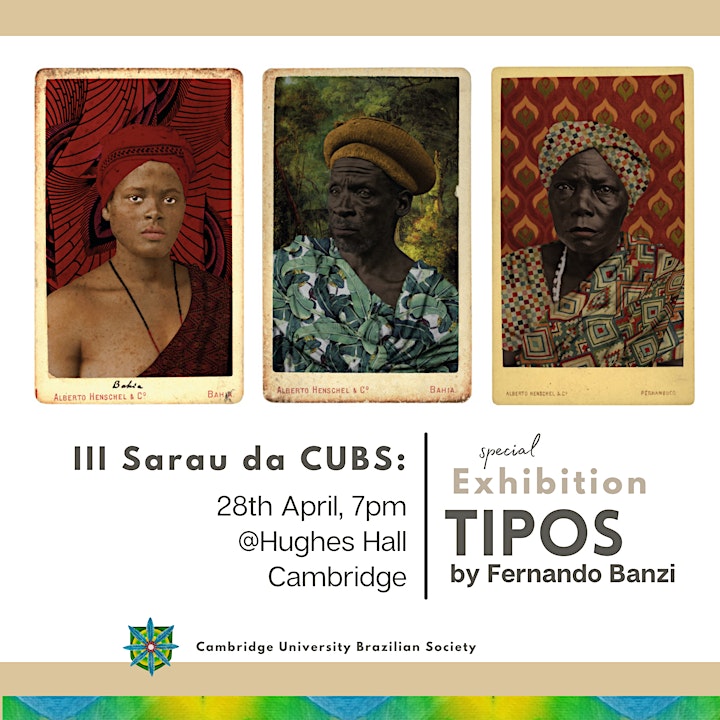 Special exhibition: "TIPOS"
CUBS is pleased to host at the next "Sarau da CUBS" the special exhibition "TIPOS", by Brazilian photographer Fernando Banzi.
In Tipos (Types), Fernando Banzi re-signifies the work of Alberto Henschel (1827-1882), a German-Brazilian photographer who documented all social extracts of 19th century Brazil. His "carte-de-visite" portraits were taken from the nobility, wealthy merchants, middle class, and black people enslaved and liberated during the period before the Golden Law (Lei Áurea).
Fernando Banzi's work focuses on reinterpreting Henschel's images of people of African descent and/or origin, dating from the late 1860s, made in Recife and Salvador. Tipos reworks the past through the pigmentation of portraits, giving back to these individuals the right to their subjectivity. The selection of images that compose this work presents black individuals with diverse characteristics already in the colonial period. His imaginative use of colour invites the viewer to question commonplace narratives about black men and women who were historically and structurally victims of unprecedented violence.
Fernando Banzi is a journalist, post-graduated in photography, member of Goma Oficina Plataforma Colaborativa and photography teacher at Senac São Miguel Paulista/ SP.
Other artistic performances in music and poetry with very special guests to be announced.
Date and time
Location
MCR Clubroom, Hughes Hall, University of Cambridge
Mortimer Road
Cambridge
CB1 2EW
United Kingdom