Event Information
Location
Clayton Hotel Belfast
22 Ormeau Avenue
Belfast
BT2 8HS
United Kingdom
Description
The March IINI Masterclass will take place on Thursday 9th March 2017 from 08.30–11.00 (the session will commence with a light breakfast) at The Clayton Hotel, Ormeau Avenue, Belfast. Speaker details are below.
An individual ticket for this event costs £20+vat (£24) and can be booked on this page. Those wishing to purchase a season ticket covering all 6 events should click here.
Branko Bjelobaba An FCA Update (Double Session)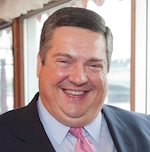 Branko has a first class reputation for his expert knowledge on UK compliance and regulatory matters and their impact on the financial services and general insurance industries. Combining comprehensive knowledge with an engaging and unique presentation style, Branko manages to deliver sessions that inform, enlighten and even entertain! Branko has delivered at events for CII Institutes across the UK and many of these have had standing room only, which is unsurprising given the feedback that his sessions receive.
This special (double-session) masterclass will highlight the key changes made by the FCA and several key initiatives including: Thematic Reviews, Section 166s, Approved Persons' Attestations and Director Fines/Bannings plus the huge focus on Conduct Risk. Branko will explain what is expected by the FCA and the changes you should have made/will want to make.
Attendance at this event will attract 2.5 Structured CPD Hours. Printed CPD certificates will be made available to attendees at the send of the session.
For any additional ticket inquires, or to request payment by invoice, please contact Podiem on 028 9076 1030 or email info@podiem.com.

Date and Time
Location
Clayton Hotel Belfast
22 Ormeau Avenue
Belfast
BT2 8HS
United Kingdom