Description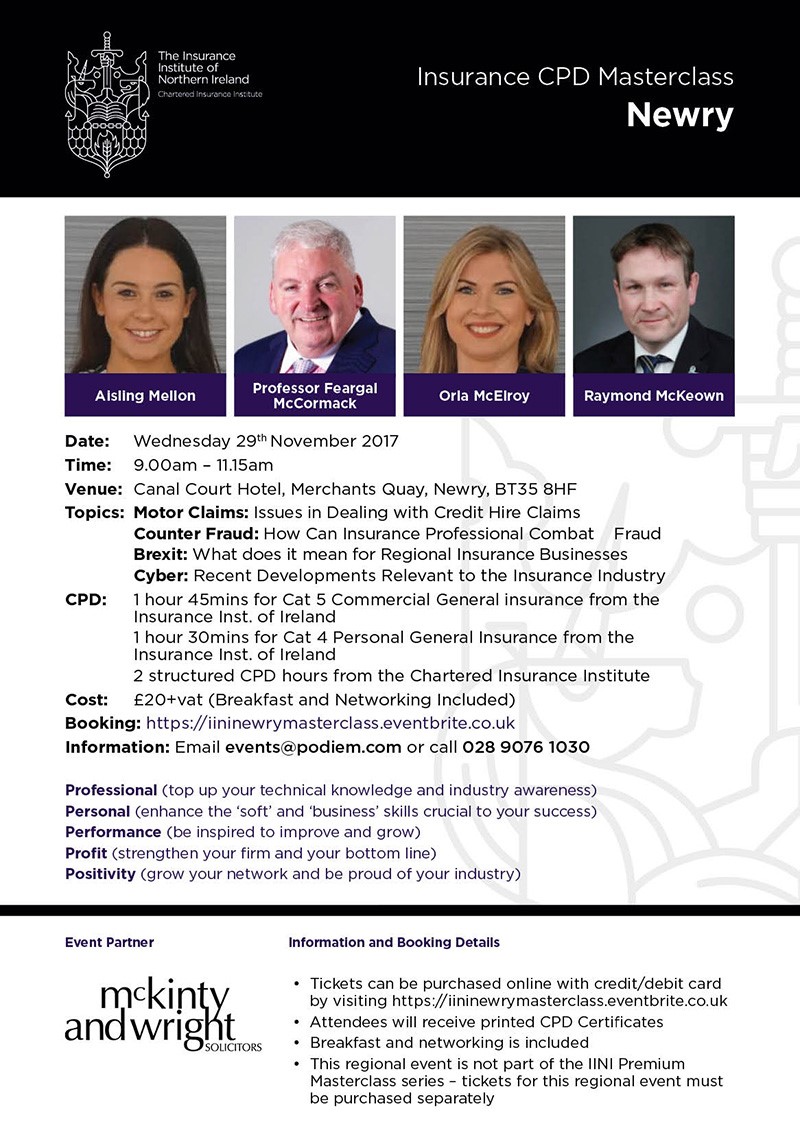 The IINI is delighted to host a Regional Masterclass at The Canal Court Hotel in Newry on Wednesday 29th November 2017 from 9.00am–11.15 (the session will commence with a light breakfast).
Date: Wednesday 29th November 2017
Time: 9.00am – 11.15am
Venue: Canal Court Hotel, Merchants Quay, Newry, BT35 8HF
Topics: Motor Claims, Counter-Fraud, Brexit and Cyber Security
CPD: 1 hour 45mins for Cat 5 Commercial General insurance from the
Insurance Inst. of Ireland
1 hour 30mins for Cat 4 Personal General Insurance from the
Insurance Inst. of Ireland
2 structured CPD hours from the Chartered Insurance Institute
Cost: £20+vat (Breakfast and Networking Included)
Booking: https://iininewrymasterclass.eventbrite.co.uk
Information: Email events@podiem.com or call 028 9076 1030
Masterclass series – tickets for this regional event must be purchased separately
Speaker Details:
Aisling Mellon: Motor Claims
Partner at McKinty and Wright, Aisling Mellon, is a defence litigation specialist for leading insurers. Aisling is a key member of the McKinty & Wright motor team,responsible for leading subject matter expertise in this area, particularly around issues such as credit hire. Aisling will provide an update on motorclaims, including a refresher on the issues faced when dealing with credit hire claims, particularly in light of the 2017 McCauley decision from the High Court in Northern Ireland.
Professor Feargal McCormack: Brexit
Feargal is the Founder and MD of PKF-FPM Accountants, an awardwinningall-island accountancy and business advisory practice. Following the 2016 EU Referendum, PKF-FPM recognised that their Island-of-Ireland location and cross-border expertise uniquely positioned them to steer clients confidently through Brexit's unprecedented uncertainties. Feargal leads their Brexit planning team and will speak on the challenges and opportunities that Brexit brings.
Orla McElroy: Counter-Fraud
Orla McElroy's area of expertise is civil defence litigation, primarily dealing with personal injury, representing a variety of clients in the areas of motor, public and employers' liability. Specialising in handling suspicious and fraudulent claims, Orla is McKinty and Wright's lead counter-fraud specialist and Insurance Fraud Investigators Group (IFIG) representative. Orla will examine the methodology and tactics used to successfully defend suspicious and fraudulent claims, providing practical guidance on fraud triggers/red flags and the steps that can be taken by insurance professionals to combat a fraudulent claim.

Raymond McKeown: Cyber Security
Raymond is the Chief IT Officer for PKF-FPM Accountants and has amassed a huge amount of practical and technical knowledge in the areas of Information Systems' Review/Control and more recently in the areas of Cyber Security and GDPR. As more companies use online services and applications, the risk of becoming a target of cybercriminals increases. Raymond will offer an overview of the latest cybersecurity threats that companies face, and provide preventative measures that businesses can take.

Event Information & Running Order
09.00 Registration, Light Breakfast & Networking
09.15 IINI President: Welcome & Opening Remarks
09.20 Professor Feargal McCormack:Brexit
09.40 Raymond McKeown: Cyber Security
10.00 Q&A
10.05 Coffee Break
10.20 Aisling Mellon:Motor Claims
10.40 Orla McElroy: Counter-Fraud
11.00 Q&A, Closing Remarks & Informal Networking
11.15 Close