Description
The Premium Masterclass series is a series of 6 CPD events for the Northern Ireland insurance industry in 2016-2017.
A season ticket costs £70 + VAT and is a cost effective way for members of the Insurance Institute of Northern Ireland (IINI) to secure a place at all 6 events, helping members to achieve 15 of the required 21 Structured CPD Hours.
Each event will attract 2.5 Structured CPD Hours and printed CPD certificates will be made available to attendees at the end of each session. Breakfast and networking is also included.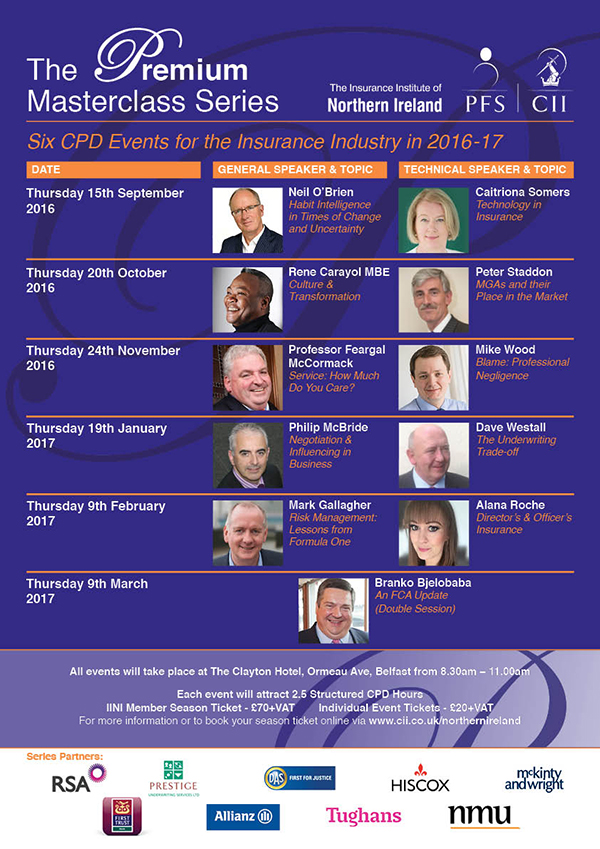 Click here to view a copy of the full series brochure, including speaker details and profiles.
Tickets for individual events and non-members are priced at £20+VAT. For any additional ticket enquires (including bulk bookings), or to request payment by invoice, please contact Podiem on 028 9076 1030 or email info@podiem.com.

Season tickets may be transferred a maximum of two times and only to IINI members within the same company. Season tickets must be allocated to a named individual - in the event of a move, the Season Ticket remains the property of the purchaser.