IISP - Masterclass - Behavioural Change Q&A
Description
This event will focus on the Behavioural Change (A5) skill of the IISP Skills Framework.
Agenda
18:00-18:10 – Introduction by Chris Hodson
18:10-18:25 – Daisy McCartney - PwC
18:30-19:45 – Q&A – Daisy McCartney, Sarb Sembhi & John Burnett
19:45-20:00 – PwC Careers
20:00-21:00 – Networking
Speakers include:
Daisy McCartney, Senior Manager - Cyber Security at PwC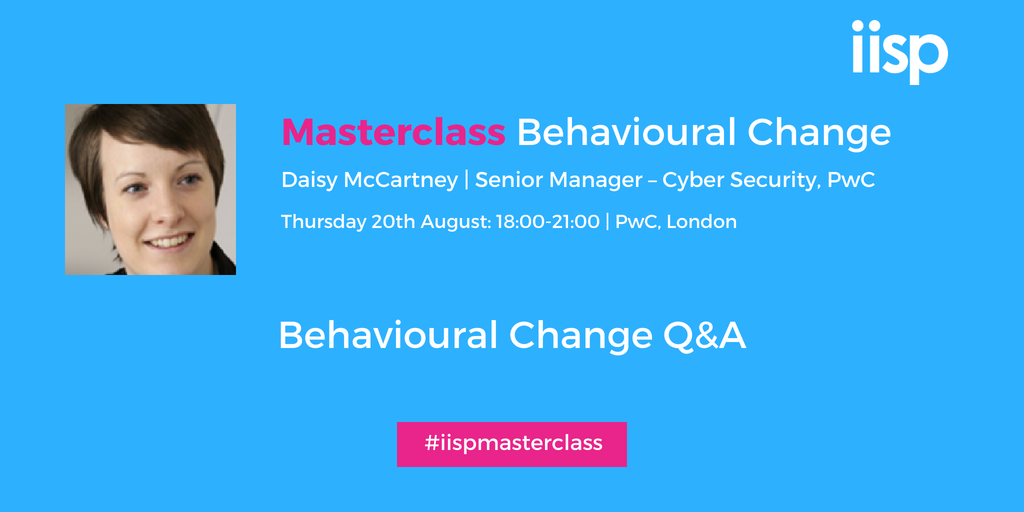 Daisy is a Senior Manager in our Cyber Security team, she specializes in the human aspects of cyber security, including security culture and behavior. Her current and recent projects include:

Designing a programme for senior executives to support them in achieving effective cyber leadership. The programme includes engaging awareness briefings, interactive game play, walking through key threat 'kill chains', governing cyber risk, personal security and digital footprinting.

Overseeing a large security culture assessment for a global banking organisation. This involved defining desired behaviors, conducting a gap analysis using a range of qualitative and quantitative techniques (including red teaming, survey, focus groups, review of security metrics and policy review). Then designing detailed recommendations and bringing these together in a roadmap for change which cut across the organization and bought together a multidisciplinary team.

Designing a behaviour measurement framework to enable management to monitor employee behaviour on an ongoing basis which included proposing key culture metrics and their associated tolerances.
Prior to specialising in cyber security behaviour, she worked in our broader Culture and Behaviours team. This involved undertaking behavioural assessments and designing measurement frameworks which drew on her previous experiences of working in our Risk Assurance practice. She also worked as part of multidisciplinary teams on culture and behaviour change programmes, which also drew on her people management experiences and abilities to effectively work across and bring together teams across different disciplines, cultures and geographical boundaries.

Sarb Sembhi, CTO & CISO, Virtually Informed
Sarb is the CTO & CISO at Virtually Informed and has previously been a CTO & CISO for the Noord Group. Also, he has worked as a consultant covering most issues in risk and security. Sarb's contributions to the industry include the London Chamber of Commerce and Industry Defence and Security Committee and its Cybersecurity working group, an Advisor to the Internet of Things Security Foundation, Smart Buildings working group. Other contributions include: Past President of the ISACA London Chapter, Chair of ISACA International GRA Region 3 Sub-Committee, Chair of ISACA International GRA Committee, ISSA UK Advisory Group member, InfoSecurity Magazine Editorial Group member.

Sarb has also served on several Security Standards Groups and continues to write and speak at risk and security events around the world. Sarb was shortlisted in the IFSEC Global Most Influential people in Cyber security 2018: https://www.ifsecglobal.com/ifsec-global-influencers-2018-cybersecurity.
Sarb has contributed to and written several white papers including the most recent one on Large scale IoT Projects (smart buildings and smart cities) and GDPR compliance available in June 2018.
Most recently Sarb has been working on "Making end-user awareness training more effective for employees".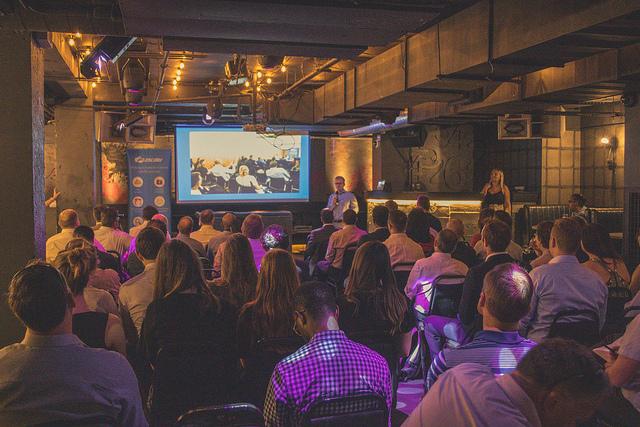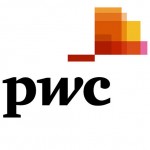 This event is kindly sponsored by PwC
Our Masterclass Programme events are aimed at all levels of membership and are run by subject matter experts to knowledge share and assist you in progressing your IISP membership.
---
FAQs
Where can I contact the organiser with any questions?
For further information please contact events@iisp.org
Am I eligable to attend?
The event is FREE for IISP Members
Will there be futher events?
Yes, we will running futher Masterclass events on Behavioural Change and Insider Threat skills of the IISP Skills Framework.