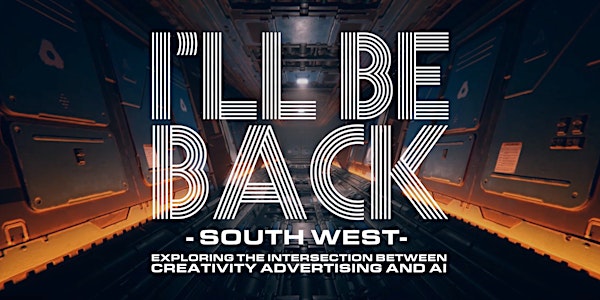 I'll Be Back South West - AI, creativity and ads - February 2020
Location
Kinneir Dufort Head Office
5 Host Street
Bristol
BS1 5BU
United Kingdom
IBBSW is a FREE monthly gathering where explore the intersection of creativity, AI and advertising. Innovation and inspiration lead the way.
About this event
GAN me up big style! It's the first I'll Be Back South West (IBBSW) of 2020. Hosted by our new besties, the awesome peeps of Kinneir Dufort. Three days shy of Valentine's Day, love will most definitely be in the air.
PLEASE NOTE: IBBSW sells out. To avoid disappointment, get your tickets sooner rather than later.
Now what exactly is I'll Be Back South West?
It's a monthly gathering for anyone interested in the impact of artificial intelligence/machine learning/emerging technology on the creative process in the ad and marketing industry, and wider society.
If you're having thoughts like 'Is that machine text generator better than me' or 'Will I lose my job to a robot?' or 'Tensorflow? What the hell is Tensorflow?' or 'Is Alexa listening to me all the time?' then this is definitely the event for you.
You'll receive the timeless gift of valuable information planted in your brain, and you'll exit the event feeling excited and inspired about the future. (Well, that's the plan.)
Plus - drumroll, please - it's FREE... we'll say that again... FREE! How good is that? Answer? Real good.
You want to know about our fabulous February speakers? Here's the facts as they currently stand.
Ellie Foreman, South West Creative Technology Network
Sandeep Roy, Innovate2Grow
Marco Marchesi, Happy Finish
Derek Ahmedzai, Tiny Giant
As ever your hosts will be Kerry and Norts of Tiny Giant.
How does IBBSW will play out?
18:00: Arrival and a-mingle
18:30: Talks kick-off
20:30(ish): Talks finish followed by post-event drinks.
Everybody leaves thrilled and energised.
If AI, machine learning and shiny new tech matters float your boat, then consider IBBSW a massive bar of your favourite chocolate that's been left on top of your pillow amidst rose petals. See you there. Any questions, email norts@tinygiant.io