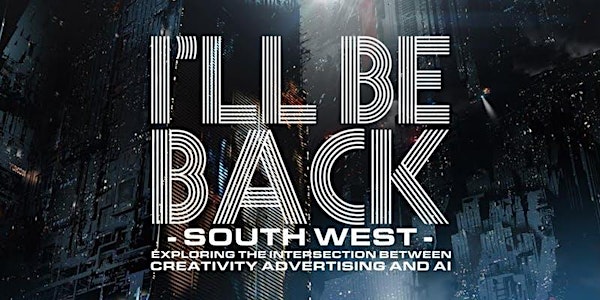 I'll Be Back South West - Creativity, Ads & AI - Christmas Party!
Location
McCANN BRISTOL
5th Floor, Tower Wharf
Cheese Lane
Bristol
BS2 0JJ
United Kingdom
Description
I'll Be Back South West Go 4 (The Christmas Party) is now a thing and you can be part of it.

Be there, get loaded (on knowledge and inspiration), don't get outmoded!
Each month, we have four super-talented guest speakers from brands, startups, agencies and academia to share their unique perspectives on Creative A.I.
You'll find out how Creative A.I is transforming advertising and marketing right now. And, crucially, what might happen next.
Come along... listen up... meet like-minded people... enjoy a well-deserved cold beer or two during and afterwards.
Our gracious hosts for IBBSW Go 4 are McCann Bristol.

There will be FREE food and drinks.
And you'll be able to sample, try and taste a WORLD-FIRST AI-Human collaboration. Ooooooooooh.
What teases we are. More details nearer the event date.
Our four speakers on the evening are:
Rob Van Den Bergh - Scribeless
Derek Ahmedzai - Digital Sharpshooter
Your comperes will be Kerry Harrison and Norts.
It's the last #IBBSW of the year. Thanks so much for your support this year. This is a Christmas Party so like the output from BigGAN literally anything could happen. See you there. Spread the word. Christmas creative AI epicness is assured.