I'LL FIGHT DAY

Saturday, 3 May 2014 from 09:00 to 23:00 (BST)
Event Details
I'll Fight Day is an event for young people to share the gospel through practical acts of kindness in the heart of your local commuinity.
When your youth group signs up, we'll send you a resource pack with ideas for what you could do for your community as well as  the plans for connecting everyone together. We'll send you a t-shirt for all participating young people and youth leaders to wear during the day (and you can keep them!).
What you do during the day is totally up to you - depending on what you're able to do and what you think is needed in the commuity! The most important thing is that you do something in your community for FREE. And if anyone asks? You're doing it because God is love and you want to demonstrate that love!
You can have the opportunity to connect with other people who are taking part in the day via Twitter and Facebook. We're also hoping everyone can link up to our video/webcast.
We'd LOVE for you to get involved...and we'd love to hear what you're planning on doing. So sign up and keep in touch!
When & Where

IN YOUR LOCAL COMMUNITY!!




Saturday, 3 May 2014 from 09:00 to 23:00 (BST)
Add to my calendar
Organiser
ALOVE UK: The Salvation Army for a New Generation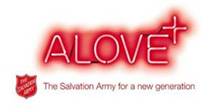 Who we are
ALOVE UK is The Salvation Army for a new generation - an expression of The Salvation Army for young people and young adults.
As The Salvation Army's national youth office, we are responsible for the implementation of The Salvation Army's national youth work strategy for the UK and Republic of Ireland.
We work with young people (primarily aged 12-25), youth workers and youth focused services within and external to The Salvation Army.
The work of ALOVE UK is facilitated by a national team and 18 regional youth officers. The roles within our national team are described below. You can also contact the ALOVE UK office for their contact details (and those of your nearest regional youth officer).
Territorial Youth Secretary: Major Mike Lloyd-Jones
Associate Territorial Youth Secretary: Major Lisa Lloyd-Jones
PA to Territorial Youth Secretaries: Rebecca Mitchinson
Team Administrator: Joseph Rose
Communications and Resources Manager: Hannah Kingston
 Facilitating the ALOVE Youth Movement/Programme and Training
Programme Development Manager

: Dave Cotterill

Training Programme Manager: Matt Leeder
Training and Programme Coordinator: Anita Gellatly
Youth Worker Development Manager: Joanna Taylor