ILM Accredited Emotional Intelligence for Leadership Development
Sales Have Ended
Ticket sales have ended
We are sorry you missed getting a ticket for this event.
Sales Have Ended
Ticket sales have ended
We are sorry you missed getting a ticket for this event.
Description
Emotional Intelligence (EQ) for Effective Leadership Workshop - ILM Accredited*
Welcome to our EQ for Effective Leadership Workshop, at the wonderful Allia Future Business Centre. How would you like to join us for a day of discovery, growing, leading and inspiration?
We know that being a leader can be a minefield, with so many misconceptions and demands placed on us, especially when we have targets to meet and people to develop. Well what about your development? This unique course will uncover some of the myths associated with leadership, and help people in management to lead well, reduce stress and be at their very best so they reach their full potential and thrive.
This one day workshop has been created by Grace Graham, a highly skilled professional who has amassed 20 years' leadership experience in various organisations, such as the Office of the Deputy Prime Minister, Local Authorities, Sure Start Programmes as well as recruitment. Grace's tailor made training shows participants what it takes to become highly effective as a leader so they function in a way that creates a positive and productive work environment.

---
COURSE DESCRIPTION
This is a one-day ILM accredited training course that will give you an understanding of EQ and how it connects to strong and successful leadership. We understand that many people in leadership experience burn out within the first two years of undertaking their roles, then want to quit before they have a chance to really show what they're capable of. We don't want that, which is why this course helps to create calm, and focuses on:
Emotional Intelligence (EQ)
Leadership methodologies and practice
Effective Communication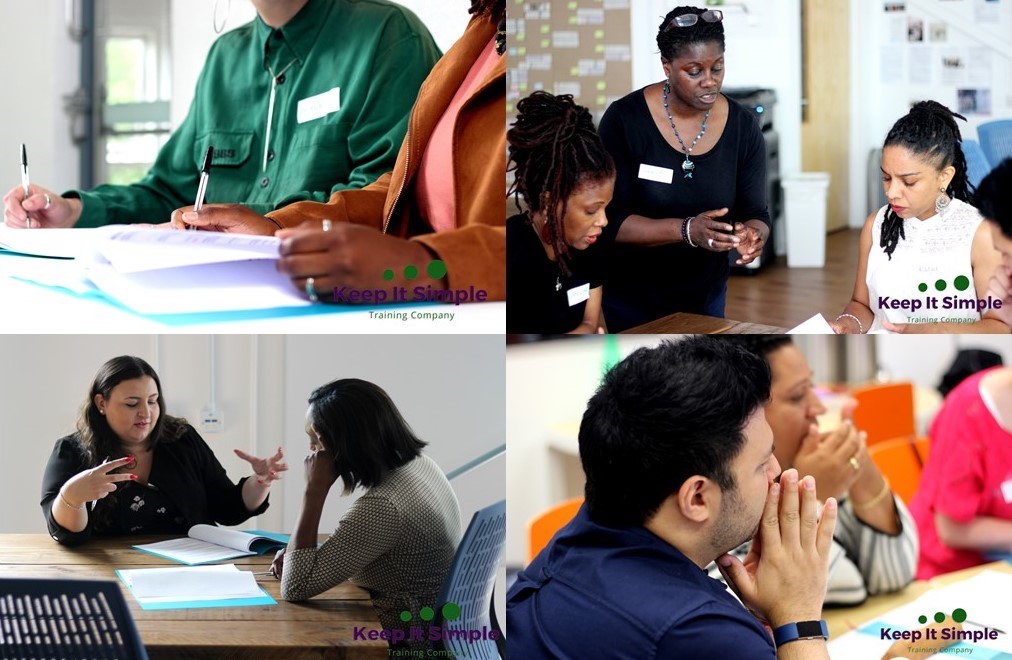 This very practical training has been designed to ensure that those who have not had any formal leadership training get all the essential and practical skills needed to boost their energy, and careers. This is why there are only 10 spaces at a time to ensure participants get maximum benefit. We don't even do role plays.
Keep It Simple has developed 4 pillars which go towards positive, constructive and successful leadership:
Discover your style as a leader and play to your strengths
Grow as an individual by being aware of your areas of development
Lead from where you are to support growth and change
Inspire those you work with, and create future leaders
The aim of this training is to ensure that you leave with all the necessary skills you need to be at your best now so that you're at an advantage when it comes to planning your progression. Most importantly, we want you to have one of the greatest learning experience you've ever had on a course.
This one day workshop includes:
Professional training using real life situations, and peer support

A leadership workbook

Free Wi-Fi

Fun, encouragement and much more
Lunch will be provided!!!
---
WHY DO THIS COURSE?
This course is for you if you:
Want to take charge of your own career progression
Have gone from team member to team leader
Want to take charge of your own professional development
Are a business owner who wants to lead with confidence and develop your team
Are an organisation who would like to reduce burnout among your staff who are in early leadership
**Organisations who can't release your staff during the week

---
ENTRY REQUIREMENTS
This training is for leaders and managers who:
Have not had any formal leadership & management training

Manage one or more people, or are in a project management role

Are in their first or second leadership role

Want to combine the task management and people management aspects to become even more effective

---
WHAT THIS TRAINING WILL GIVE YOU
Training with us will help you:
Lead well and have stronger relationships with your peers and those you manage
Have the skills needed to cope with challenging or demanding situations
Build resilience to bring calm within yourself and cohesion within your team
Have the emotional strength to lead with compassion and positive energy
To have a concrete 3-year action plan that supports your leadership growth.
On completion of this training you will get:
An ILM accredited leadership development certificate

One year's membership to the Institute of Leadership & Management

Access to online and printed resources to help you advance as a leader



---
Here is what some of our last cohort said:
"Real examples make a huge difference. Grace was really positive and gave me a lot to think about, like getting to know my team more."
"The group work enabled wider learning in terms of universal and unique approaches to leadership & management, in order to achieve aims and objectives!"
"As a result of this training I've realised that 'Manage up' leadership is also about service to other people!"
"I will now use my EQ more conciously and support my team to assess their own!"

---
Travel: We are 2 minutes away London Fields Overground station, and there is parking available... for the whole day!!!
Check out our website for more information on who we are and what we do.
We look forward to meeting you!

---
*ILM, leading providers of leadership & management qualifications in the UK, have accredited this course.
**If you are an organisation who wants to send your staff on this training, and raise a purchase order, email us on: keepitsimple@impactcandc.co.uk to arrange this.
Privacy Policy: Any personal information taken from you will be held by Keep It Simple Training Company Ltd, when you sign up to do a course. Your name and date of birth will be shared with the ILM for the purposes of producing your accredited certificate. We take an address from you so we can send you your certificate. We take photos and film parts of our training days and will ask you for your written permission before we include you. Once you complete your training you will have the option to opt out of receiving any further emails from us. See it in full here