About this Event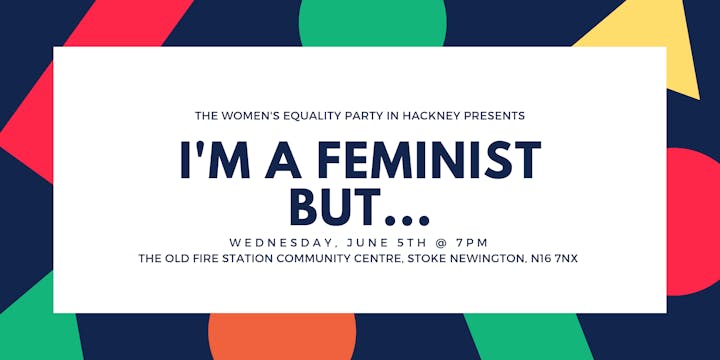 As per the famous saying from the Guilty Feminist podcast, Hackney Women's Equality Party will be gathering an amazing group of experts to discuss and try to answer some of today's leading questions on what it's like being a feminist in the modern world. Join us for some stimulating conversation on what feminism means in 2019, such as:
Why is Diane Abbott abused more than any other MP on Twitter?
What is intersectional feminism?
Why do we feel guilty about being a feminist?
Panel members
Gemma Abbott
Gemma is a Director of Free Periods, a campaign group calling on the Government to provide free menstrual products in all schools and colleges across the UK. She is also the coordinator of Red Box North Hackney and Stoke Newington, part of The Red Box Project, a community-based, not-for-profit initiative, which aims to support young people throughout their periods by providing free menstrual protection. Gemma is a trustee of A Mile in Her Shoes, a charity encouraging women who are risk of homelessness or affected by related issues to try fitness as a way of exercising, socialising, boosting confidence and self-esteem. Gemma has written for the Guardian, Metro UK and Huffington Post, as well as appearing on the BBC and ITV, on the subjects of grassroots activism, policy change and the issue of menstrual justice.
Lucy Russell
Lucy Russell is Head of Girl's Rights and Youth at Plan International UK, a children's charity striving to advance children's rights and equality for girls all over the world. She leads the UK Because I am a Girl campaign, a global movement that's taking action to see a world that values girls, promotes their rights and ends injustice. In 2014 she turned the campaign spotlight on the UK and began the organisation's UK girls' rights campaign. In the past, she has run campaigns to support vulnerable children and girls, impacting policy for young mothers, female apprentices, children in prison and the UK's Violence Against Women Strategy.
Christine Dean
Christine was a Public Access Family Law Barrister at Temple, London for over 7 years, working extensively in the area of child social care and child protection and advised and represented women on domestic violence and other related social care issues. She is now a legal consultant and still passionate about fighting for women's equality and improving women's ability to protect and/or care for their children. Christine is a 2020 List candidate for the Greater London Authority.
Chair – Tabitha Morton
Tabitha left school with no formal qualifications, and started work at 16 at a local market, and later in cleaning - her future was severely limited by other people ideas of what she should be. In 2017 Tabitha ran for Mayor of Liverpool and, along the way, created a strategy to end violence against women and girls in Liverpool working with the new Mayor. Tabitha now lives with her lesbian partner and works in London and is also standing as a 2020 candidate for the Greater London Authority.