Description
Barts Pathology Museum will be hosting an art exhibition of expressions of living with Diabetes and Dementia, on Wednesday May 2nd. The work is by Manchester artist Tony Pickering (web site pick-art) who is himself a Diabetes sufferer, and the exhibition is in two parts.
From 14:00 - 16:00 you are welcome to come along and view his work and take a look around the museum. We hope to have support groups in attendance for free advice. Entry is also free but please select one of the two time slots so that we can spread attendance out across the afternoon.
In the evening, from 18:00 - 20:00, we have invited experts to come along for an open discussion on these conditions. From about 18.30 we will start a panel discussion where you can raise any questions you might have. The experts will not offer a diagnosis but will focus on helping you to understand what it is like to live with these conditions. Latest research will be presented (in layman's terms) and we will have a number of pathological specimens for you to examine. You can submit questions "live" or in advance by going to the web site www.slido.com and entering event code barts-art. Questions can be tabled from April 23rd up to and on the day (questions will be moderated). We appreciate the evening event is a little earlier than usual but we do hope that you can make it and please book your tickets for this separately to the afternoon session, which will include refreshments.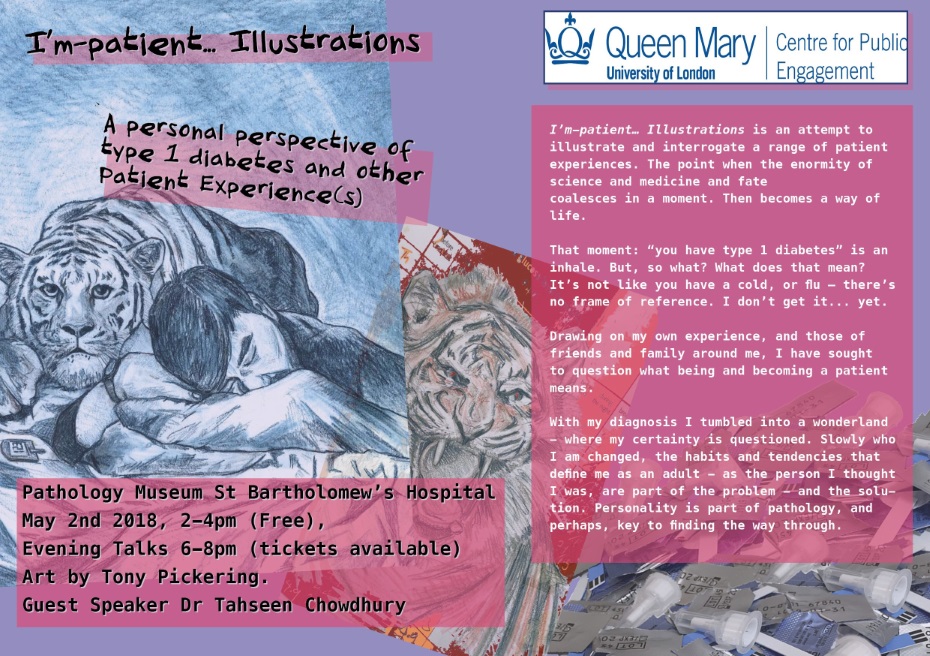 May 2nd 14:00 - 15:00 free (tea/coffee available)
May 2nd 15:00 - 16:00 free (tea/coffee available)
May 2nd 18:00 - 20:00 £7 + booking fee (wine and non-alcoholic drinks available)