Description
Our IMA Europe meeting in Milan will take place in Copernico Isola for S32.
Copernico Isola for S32 is the physical headquarters of Milan's Fintech District, it was developed with the aim of creating an ecosystem specialized in technologies for financial services.
The event will cover in depth knowledge and sharing in the below topics
Target Research -Consumer's perception of digital rewards in loyalty programs: insights from a multi-country research – 3rd edition
Carrefour – Empowering brand and consumer, the new era of gift cards from the retailer perspective
Parma University – What's next for Loyalty Management?
Procurement International - Incorporating gifts into your reward scheme portfolio.
epay/Cadooz - The Future of Retail - Digital-Trends in the Age of Acceleration
Luca Brighenti Group - The usage of data in our industry - The Zalando media Case study
Global Hotel Cards – The myth of globalization in the incentive and loyalty industry
NEXI - The new SmartPos and how it can be used in the loyalty/incentive industry
About the Host Sponsor - Amilon
Amilon's mission is to support companies in defining and managing Branded Currency strategies, enabling them to create added value and offer their customers an exclusive experience through each touch point.

All those retailers who understand now the importance of emerging in this ecosystem and exploiting its potential will become the "retailers of the future".

Amilon is a leader in this business, being the first company to promote the Branded Currency revolution in Europe. Its main focus is on creating and managing Branded Currencies — such as loyalty points, gift cards and coupons — opening new horizons and significant sales opportunities.

But Amilon is much more than this, the value of Amilon's market is further increased due to the premium data gathered from gift card sales and digital rewards, which significantly improves the effectiveness of marketing campaigns.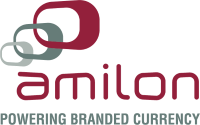 About the 2019 Events Sponsor - Procurement International
For nearly 40 years we have been a leading, award-winning specialist supplier of aspirational brands and premium products offering a fulfilment service, supporting the World's biggest reward and recognition vendors. Procurement International's ultimate aim is to provide clients with the most rewarding experience, with seamless fulfilment and a stress-free solution, regularly rewarding participants in over 125 countries across all continents of the world.