Imagine, Challenge, Transform. Doctoral Conference 2018
Description
UPDATE: Conference Schedule and Keynote Speakers outline Below.
Delegates will be emailed a copy of the handbook with details of keynote speakers and abstracts shortly.
We are delighted to confirm our four distinguished and interesting keynote speakers:
Professor Bruce Macfarlane
from the School of Education, University of Bristol, who will speak on 'Researching withIntegrity...or how to be a good researcher when no one is watching'
'The Politics of Knowledge in Educational Research: decolonial challenges'
'Striving for Doctorateness: the written word and the spoken word'
Professor William Browne
from the School of Education, University of Bristol, who will speak on 'How do we solve the statistics skills gap?'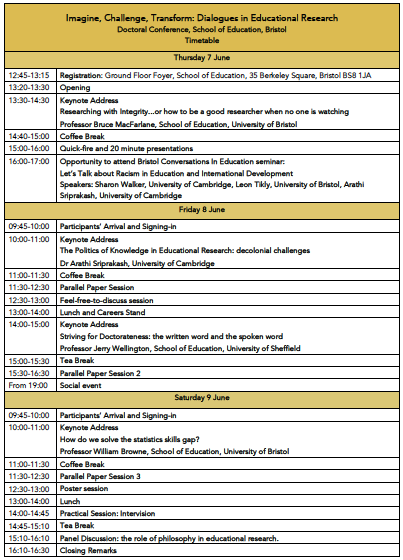 We invite you to join us for University of Bristol, School of Education 2018 Doctoral Conference
Imagine, Challenge, Transform: Dialogues in educational research
Conference Timings: Thursday 7 June, 12.45-4.30 pm
Friday 8 June, 10am-4.30pm
Saturday 9 June, 10am-4.30pm
It is possible to reserve tickets for individual days or for the full three day conference. If you are only able to attend one or two days of the conference please use the single day ticket option.
Conference Abstract
We live in a political, social, technological and educational landscape whose contours are constantly changing. Even the nature and role of scientific and research knowledge are being challenged. What counts as trustworthy is up for (re)negotiation.
As early career educational researchers, we often occupy a liminal space within this landscape, identifying with both the professional and academic communities in which we work. This is a unique vantage point to imagine possibilities beyond established, taken-for-granted assumptions about educational purpose, research and knowledge. What are the challenges and possibilities? What is imaginable? Where are the tensions and sticking points?
This student-led conference will provide a space to explore some of these questions, reflect on our work and refresh our aspirations to contribute to transforming education. It will provide a forum for invigorating and thought-provoking dialogue, about and within educational research and between research and practice.
We are delighted to invite you to join us for discussion, presentations, networking events and workshops in a supportive and friendly environment. We welcome contributions from people from any area of education and at any stage of their doctoral journey, from those who are contemplating starting a doctorate to those who have recently completed. You can find more information, read the call for submissions and register for the conference by clicking here.