| | |
| --- | --- |
| | |
Event Details
Following the success of our previous festivals, we are running our 3rd Annual Imagine Festival. The Imagine Festival is a unique event bringing together leading minds from UK industry, research and government to uncover the future of transportation. This year's theme will be Intelligent Mobility – the future of transport today and tomorrow. The event is cross modal, looking at road, air, rail and maritime - as well as going beyond to new mobility solutions like driverless vehicles, ride sharing apps and virtual mobility.
Festival visitors can expect to learn about new and emerging ways of using, planning and managing the movement of people and goods. They will learn how the boundaries between transport modes could be broken down in order to achieve seamless end-to-end journeys, and discover how technologies like autonomous vehicles, smart phones, data visualisation and virtual reality will transform our experience of travel. Key areas being explored at this year's festival include cyber resilience, automated transport, driving UK Intelligent Mobility across the globe, and inward investment and export opportunities for UK business.
Meanwhile, the Imagine Festival exhibition will allow attendees to get to grips with innovative and emerging technologies. The festival will also play host to the IMCreate2 Intelligent Mobility Hackathon showcase (www.IMCreate.co.uk).
Imagine Festival Day One commences at 9.00am with the IMCreate2 Showcase being held in the evening and continuing with Imagine Festival Day Two at 9am on Wednesday.
IMCreate 2 Showcase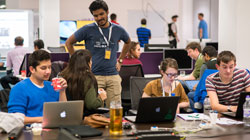 Top three teams will deliver 5 min pitches at The Showcase in front of expert judging panel 1st, 2nd and 3rd places announced!
Teams will have a couple of weeks after The Hackathon to develop their prototype solution further for pitching at 

The Showcase, including business model and marketing ideas

One hour stints of networking, drinks and food will take place at the start and end of The Showcase

200 industry, government and academic leaders in technology and transport will be present at The Showcase
Please register for each event you would like to attend:
Imagine Festival Day One: Tuesday 14th June, 9am - 5.30pm
IMCreate2 Showcase: Tuesday 14th June, 6.30pm - 9.15pm
Imagine Festival Day Two: Wednesday 15th June 9am - 5.30pm
When & Where

Transport Systems Catapult
Imovation Centre, The Pinnacle
170 Midsummer Boulevard
MK9 1BP
United Kingdom