IMAGINE IF! is a global accelerator for early-stage science start-ups. The top Swiss teams will pitch for a place at the gloabal finals!
About this event
Service info: the issue with the registration form has been fixed. We're sorry for the trouble.
The IMAGINE IF! Swiss Finals will take place on June 23rd at 18h00. Selected start-ups will pitch in front of a jury panel of experts in the fields of entrepreneurship, medtech and cleantech. The audience will also take part and vote for their favourite project for a suprise prize!
Discover the start-ups in this article.
Meet the judges:
Ricardo Gago, MBA (Venturelab): Ricardo recently joined the Venture Kick team as Program Manager, after several years gaining experience in portfolio management and business development at Nestlé and the World Road Transport Organisation. He now handles the Venture Kick jury sessions and Kickers Camps to offer support to innovative Swiss startups.
Nasri Nahas, MBA (Biopôle): Nasri is the Chief Executive Officer of Biopôle SA, relying on his experience as both scientist and manager to successfully lead a thriving community of life science entrepreneurs and researchers. Biopôle's campus hosts over 90 companies innovating in the fields of oncology, immunology, personalized medicine, and others.
Aniello Pollio (MSC and ISUP): Aniello is currently IT Senior Director, fostering technology and innovation at MSC (Mediterranean Shipping Company). In collaboration with the Italian Chamber of Commerce in Geneva, he spearheads the International Start-Up Award (ISUP), aiming to gather international startups to showcase their work and meet investors.
Maximilian Grimm (Kantonsspital Baden): Maximilian is currently in charge of the Health Innovation Hub at Kantonsspital Baden, and collaborates with researchers and startups to implement the best technologies for healthcare. Maximilian focuses on innovation, AI in healthcare and social entrepreneurship.
Bahaa Roustom, MBA (CSEM): Bahaa is Head of Corporate Business Development at CSEM. After accomplishing his PhD at EPFL, he cumulated more than 15 years in industrial innovation management and technology transfer. He also obtained an MBA and occupied management positions at Swatch Group and Iford before joining CSEM.
Laurent Horvath, MBA (BlueArk/Altis): Laurent is the Innovation Manager at BlueArk, an innovation hub aiming to facilitate the development of innovative solutions in the domains of water and energy. He has deep knowledge especially in the fields of energy efficiency, clean energy, water and innovation.
Laura Penn, PhD (The Leadership Speaking School): Dr. Penn is the Founder of The Leadership Speaking School, based near Geneva, and specializes in transforming leaders and changemakers into speakers who are authentic, accessible, and memorable. Award-winning international speaker, featured on the TED.com platform, teacher, and author, Dr. Penn is a passionate advocate for disrupting the status quo for how we speak in front of audiences.
Here are the exclusive prizes:
Register now!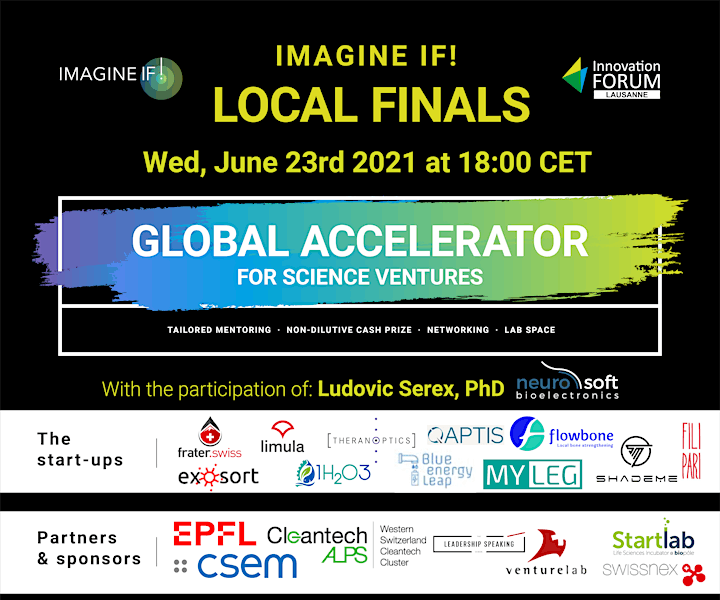 Organiser of IMAGINE IF! Swiss Finals