Event Information
Location
Frankopan Hall
West Court
Jesus College, Jesus Lane
Cambridge
CB5 8BQ
United Kingdom
Description
A turn-based game building up an intuitive understanding of quasicrystalline materials. Participants will work in teams of 4-5 and solve puzzles exploring ideas related to crystal tilings, forbidden crystal symmetries and higher-dimensional mappings onto quasicrystal structures. A presentation at the start of the session and between turns will explain the physics concepts and give clues to tackle the next stage of the puzzle.
The workshop will be led by Dr Tiffany Harte. Tiffany studied for her undergraduate degree in physics at the University of St Andrews, graduating in 2012. During her time there she became involved with research in the quantum degenerate gases group, where she worked on new methods for designing holograms to be used as traps for ultracold atoms.
She then pursued her PhD in the same field, working at the University of Oxford in Chris Foot's ultracold quantum matter group to develop methods for confining atoms using a combination of static magnetic fields and radio-frequency radiation. You can find a brief (3-minute!) summary of her PhD research in this video. While at Oxford, she also became interested in undergraduate teaching and tutored the third year Quantum, Atomic and Molecular Physics course at St Peter's and St Catherine's colleges, before becoming a stipendiary lecturer and first-year tutor at St Peter's College.
On completing her PhD, Tiffany moved to Cambridge to join the Many-Body Quantum Dynamics group led by Ulrich Schneider. She is currently working on a new experiment which aims to confine ultracold atoms in complex lattice structures created using laser beams, and will image the resulting system with single-atom precision. This work will provide the precisely tuneable environment that will allow the creation of a quantum simulator for condensed matter systems.
Join us on Twitter: @UltracoldTiff @intellforum @camscience

How do I get to West Court, Jesus College?
The entry to West Court is directly on Jesus Lane, near to the intersection with Park Street. Please DO NOT ENTER through the main entrance to the Porters' Lodge, known as "the Chimney". A map is included below to assist you in finding our entrance.
Our what3words address is tree.heat.bravo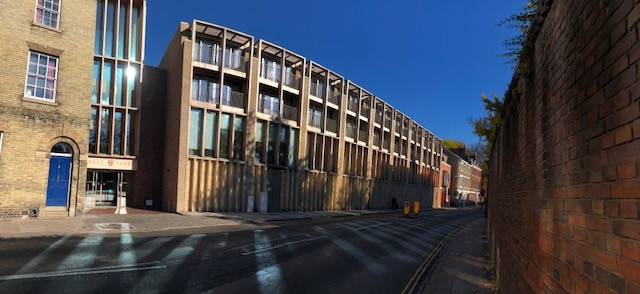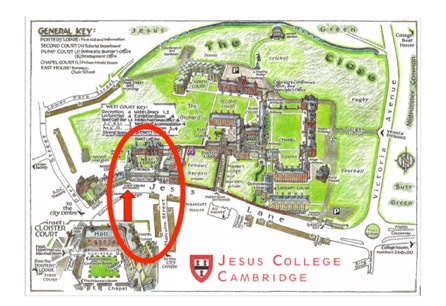 What transport options do I have?

There is no on-site car parking at Jesus College for those attending our events. There is limited on-street parking outside the College and the Park Street Car Park is very close. There are also multiple Park and Ride options to the City Centre, a short walk from the College.
A regular train service runs to Cambridge from London's Kings Cross Station, London Liverpool Street Station and many other mainline UK stations. The College is located approximately 2 miles (3.2 kilometres) from the railway station. Buses run about every 10 minutes and there is a taxi rank outside the station and one here in the city centre for your return.

What time do I need to arrive?
We ask that you arrive 15 minutes before the event and doors will close at the face time on your ticket. We may not admit latecomers, especially if seating is full or filming is taking place. Our staff will be on-site to validate tickets and so it would be helpful to have either an electronic or printed form of your ticket with you. Please also bring photographic ID for validation.
Does my ticket guarantee entry?
Unfortunately, not everyone who books a ticket turns up on the day and so we have to over-issue tickets to ensure a full event. We decide carefully how many tickets to issue as it is important to have a full event but the last thing we want to do is disappoint people. In order to be as fair as possible, we admit ticket holders on a first-come, first-served basis. It is helpful to us if you cannot attend that you cancel your ticket. More accurate numbers mean less overbooking in the future and reduce the risk that people with tickets will be denied entry. For some events, we may be able to ticket at the door and this will be advised to the waitlist. Please join the waitlist if the event is sold out and we will let you know if this will be an option.

What can I bring with me?
There are coat hooks around our building, but there are no storage or coat minding facilities and we cannot take any responsibility for items left unattended. Mobile phones are allowed but must be silenced or placed on airline mode during the event. Flash photography is prohibited.
What if I have access requirements?
West Court is access friendly and there are hearing loops. Please let us know about any access requirements at least three days in advance of any event via if-coordinator@jesus.cam.ac.uk. There is limited permit disabled parking, and again this must be prearranged. The building has extensive access-friendly bathroom facilities and some limited seating in the waiting area.
Is there food or drink available?
For refreshments, our College Cafe or Bar will often be open across the courtyard selling drinks and food around our events. Details of the opening times for the cafe can be found at https://www.jesus.cam.ac.uk/college/life-jesus/food-and-drink/cafe and for our bar can be found at https://www.jesus.cam.ac.uk/college/life-jesus/food-and-drink/bar.
Filming, social media and data protection
The Intellectual Forum often films and live-streams its events. Notices about any filming will be placed around the venue, and if you have any concerns please contact if-coordinator@jesus.cam.ac.uk.
By signing up to attend this event, those attending give permission to the Jesus College Intellectual Forum and those authorised by Jesus College to record images and/or sound at the event by photograph and/or video/film and/or recording. A full waiver is required in the ticketing process.
You can find information on how we manage your data at https://www.jesus.cam.ac.uk/college/about-us/data-protection.
How to cancel your ticket
Many of our events are oversubscribed and we operate a waitlist. In order to allow the maximum number of people to be in attendance, we ask that if you find you can no longer attend, please cancel your order. Instructions on how to cancel your ticket can be found here: https://www.eventbrite.com/support/articles/en_US/How_To/how-to-cancel-your-free-registration
Date and Time
Location
Frankopan Hall
West Court
Jesus College, Jesus Lane
Cambridge
CB5 8BQ
United Kingdom