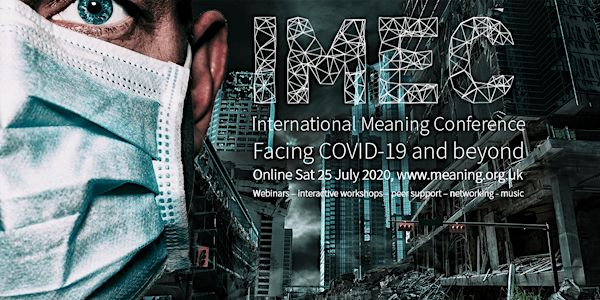 IMEC International Meaning Conference: Facing COVI
Refund policy
Contact the organiser to request a refund.
Eventbrite's fee is nonrefundable.
Inspiring webinars from world-leading psychologists and therapists, interactive workshops, social connections & networking, live music!
About this event
'He who has a why to live for, can deal with almost any how.' (Viktor Frankl citing Friedrich Nietzsche)
The COVID-19 pandemic has significantly altered how many people live their lives. Many countries have been in strict lock-down, people worry about their loved ones getting infected, frontline workers are overburdened, and the political landscape is changing. Uncertainty and worries are on the minds of many, due to health disparities, unemployment, and financial uncertainty. Experts fear that this situation may not disappear soon, as we have entered an era of pandemics, fundamentally changing how we live. How can we live a meaningful and satisfying life in these circumstances? In this virtual conference we will explore what the challenges are that we are facing in this era of pandemics, and how we could cope with these challenges, now and in the future. Be prepared for inspiring webinars, interactive workshops, warm socialising, effective networking, creative live music, and much more, to help us survive COVID-19 and beyond!
This is the third IMEC International Meaning Conference, the first completely virtual conference. We connect thinkers and doers from many disciplines, to create together a vision of a meaningful world for all people and nature. How can we envisage this? How can we research this? What can we do, in our daily lives, and as psychotherapists, coaches, or political activists? What could politicians do? How is social justice possible in these challenging times? We want to connect and learn from each other's theoretical and practical wisdom, from different disciplines: existential philosophy and therapy, coaching, positive and phenomenological psychology, sociology, politics, history, theology, anthropology, business, HR, and art. We are researchers, practitioners in mental health care, philosophers, activists and artists. Researchers share their findings. Psychologists, sociologists and activists describe their experience, and workshops offer hands-on skill workshops for therapists, researchers and activists. This not your ordinary conference. We walk the talk, by creating meaningful connections during the conference. We have many interactive and creative forms of connecting, via lectures, workshops, debates, experiential exercises, live client demonstrations, social events... We aim to publish lectures from each conference online, in scientific articles or book series.