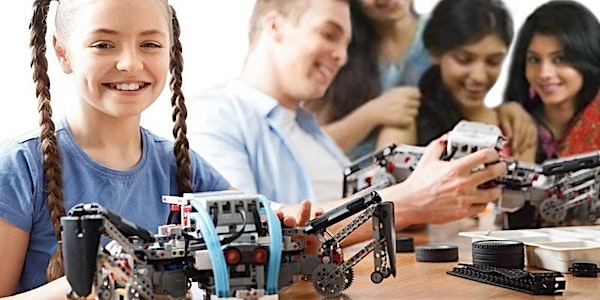 IMechE Engineering Tinkering Event December 2021 (Online)
IMechE Engineering Tinkering Event 2021 (Online)
About this event
Join us for an exciting and enlightening evening to be held online on 16th December 2021 between 17:30 and 19:00. This event is being organised and produced by the Institution of Mechanical Engineers.
"Engineering Tinkering Dec 2021" is a fun educational evening for kids and big kids alike to experience what it is like to work as an engineer and what it is like to pursue a career in STEM.
Universities and industrial companies alike will be coming together to put on a series of fascinating, exciting and inspirational talks from a some of the most inspired thinkers and leading minds in the world of science and engineering. There will of course be plenty of opportunities for you all to ask our speakers questions.
We are sure that these talks will inspire each and every one of you!
We hope that you will join us in to see how engineering can improve our world.
Speakers:
Mr Esfandiar Khaleghi, Visiting Lecturer in Design Engineering, Kingston University London, and University of Hertfordshire, Council Member – Vice Chair of IMechE Greater London Region
Mr Timothy Carew, Senior Lecturer in Automotive Engineering, University of Hertfordshire - PhD Student, University of Cambridge
Ms Marzia Milan, Programme Leader – BSc (Hons) Technology (Automotive, Motorsport) and Lecturer in Supply Chain and Manufacturing Management, University of Hertfordshire, Young Ambassador, Women & Technologies womentech.eu
Priyanka Ruprai, Assistant Engineering Adjuster, Charles Taylor
Philip Rowles , Vice President of Engineering, Martin-Baker Aircraft Company
The event starts online at 17:30 via Microsoft Team.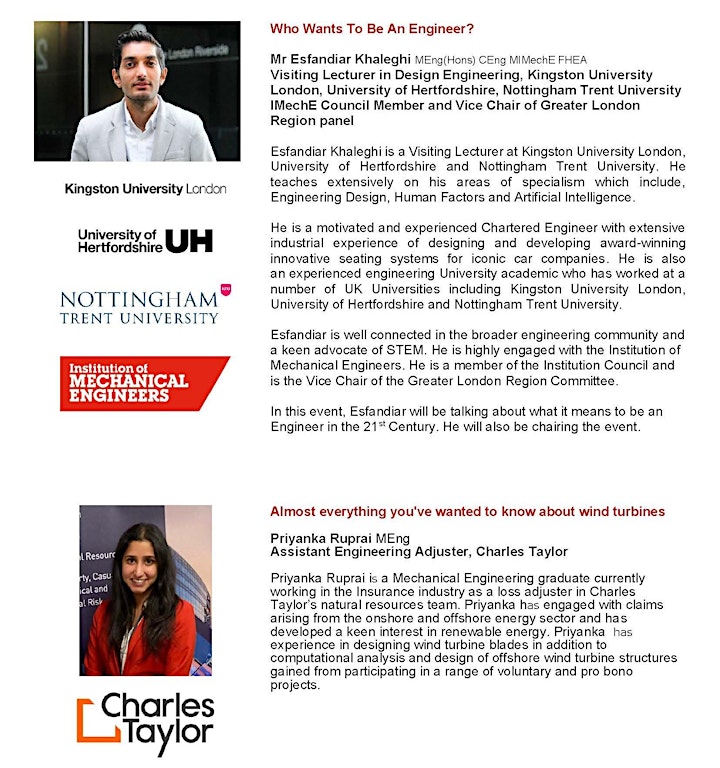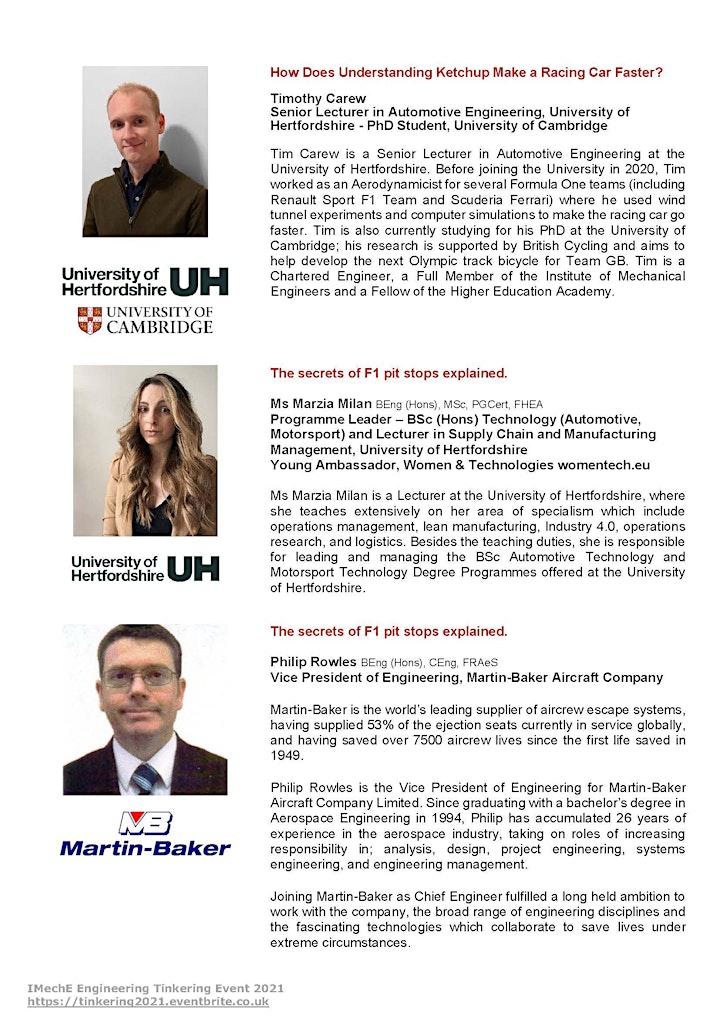 Suitable for ages 6 to 90+. Admission is by e-ticket. Tickets are limited. So please book to avoid disappointment. Details and ticket booking at https://tinkering2021.eventbrite.co.uk.
This event will be streamed via Microsoft Teams platform. Access the event poster via here.

Organiser of IMechE Engineering Tinkering Event December 2021 (Online)