Description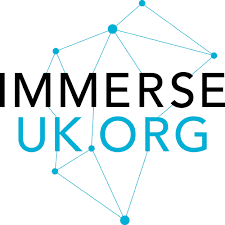 The Immerse UK team will be running a series of free open drop in sessions for members in the coming weeks to provide support for individuals and companies working in the immersive tech sector coming to terms with the challenges created by the COVID-19 outbreak.

This session is scheduled for 31 March 2020 from 10:00 - 14:00

These sessions are free and open to all. If you would like to book a zoom meeting, please register on this page and we will email you a meeting time.
Statement of Intent
The Knowledge Transfer Network is committed to increasing diversity and advancing equality of opportunity to create a vibrant climate of inclusiveness across the sectors that we serve.
As a responsible business, it is important to us that we represent the diversity of our people and communities, and that we create an inclusive innovation ecosystem in the UK in which everyone can reach their full potential.
It is vital that we monitor and analyse diversity information so that we can ensure that our processes, events and communications are fair, transparent, promote equality of opportunity for all, and do not have an adverse impact on any particular group.
Your cooperation in providing us with accurate data will ensure that we design and apply policies and processes that embrace a diverse and inclusive environment.
Any information provided on this form will be treated as strictly confidential and will be used for statistical purposes only.
No information will be published or used in any way which allows any individual to be identified.