Description
Virtual and augmented reality are gaining traction in many aspects of our lives - from entertainment through to education. This event considers the role of virtual reality in healthcare and provides opportunities to test out these new technologies for yourself!
Dr Keith Grimes, a VR doctor and lifelong geek and gamer, will share how he is using virtual reality in his primary care practice. Keith is the founder of 'VR Doctors': an online community dedicated to exploring Virtual & Augmented Reality in Health & Social Care. As @theVRDoctor, he publishes a regular vlog exploring the use of Immersive Reality technology in healthcare. Joining the panel will be Dr Sarah Daniel, clinical director at Motion Rehab - neurological rehab specialists; and Stephanie Heys, a registered Nurse and Midwife undertaking PhD research on the application of virtual reality educational interventions for maternity professionals.
This workshop is suitable for anyone interested in how to apply virtual and augmented reality to healthcare practice.
About our speakers:
Stephanie Heys
A registered Nurse and Midwife practicing in East Lancashire for the past ten years, I am passionate about addressing health inequalities in the UK, improving maternity care experiences for minority groups and an avid activist for social justice. Currently in the last year of my PhD funded by the NIHR Collaboration for leadership in applied health research and care, North West Coast. My current study aims to reduce experiences of birth trauma amongst disadvantaged women by developing an educational intervention for maternity professionals. The study adopts an innovative approach to research dissemination by applying empirical findings into practice through the means of immersive technology using VR. Using VR to address current issues faced in the NHS relating to health inequalities, interpersonal interactions in practice and human factors associated with negative and traumatic birth experiences allows technology to create a new wave of reformative education that really does 'bring research to life'.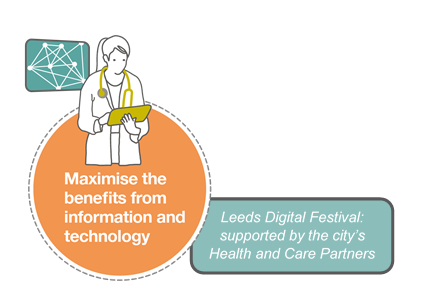 Our city's Health and Wellbeing Strategy 2016-2021 sets out a clear vision that 'Leeds will be a healthy and caring city for all ages, where people who are the poorest improve their health the fastest'. This includes maximising the benefits from information and technology as a key priority. The health and wellbeing strand of the Digital Festival is a celebration of the diverse and innovative work taking place to help us achieve our shared, bold ambition for Leeds to be the best city for health and wellbeing.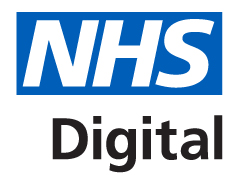 Based here in Leeds, NHS Digital is harnessing the power of technology and data to improve the use of health and care resources and make lives better.
As the national IT partner to the health and social care system, we provide a range of services and expertise including infrastructure that keeps services working 24/7, data security services, more than 200 official statistical publications and vital information that helps patients, doctors and nurses every single day.
We are one of the largest employers in not only this city, but nationally as a leading organisation for technologists, analysts and specialists from a spectrum of fields, from communications to finance, who want to make a difference.
We will be taking part and hosting events throughout the festival so come along and find out about what we do, why it matters and how you can get involved.